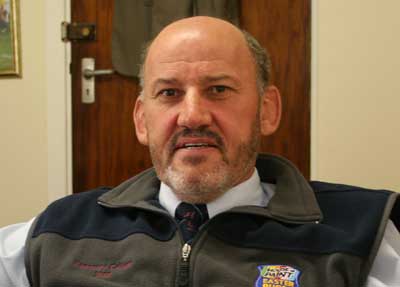 Having enjoyed playing and coaching sport at the highest level he brings to Kearsney not only experience but a genuine desire to see the school produce top class athletes whilst at the same time providing an environment which ensures that the boys enjoy every match and every training session they are involved in.
Keith Thompson recently spoke to School Sports- The Magazine about his role at Kearsney and his dream of seeing the school continuing to produce well rounded sportsmen.
_____________________________________________________________________
Yes I must say that I am very happy at Kearsney College. It is a totally different environment to that which I was involved in before. Previously I was involved in club rugby and now being involved at school boy rugby it is easy to see that it is a far more professional and competitive game that is being played at the school level. Sadly at club level there is no camaraderie anymore and the professionals don't really play for the clubs so obviously there is no crowd support.
Our cricketing team is probably the best in the history of College
Looking back on 2010 and the sport we played at Kearsney College it would be true to say that there is always room for improvement obviously and we need to always need to try and look at ways of
doing that. But having said that, this year has been an exceptional year for the College, our rugga has had an average year according to the standards but we improved and managed to produce some really big performances, however most of the other sports have really done well.
Our cricketing team this year is probably one of the best we have had in the history of the College. Our hockey had an absolutely fantastic year, they only lost two matches in the whole season and overall they were great. Our swimmers for the first time ever came 2nd in the Durban and Districts Gala and our water polo guys have just won the U14 and U15 age group in the Top Ten Schools tournament. We are very pleased with the sport that is being played and it is really on a high at the moment.
I would say that at Kearsney tradition plays a big part in a school like this and the sport played here. The ethos you want to try and create is that the boys must be strong on traditions but at the same time you also want them to play in the spirit of the game. You need to accept that you win some and loose some and it's not the end of the world if you loose but at the end of the day you have got to compete as best you can regardless of the sport or level and it must be enjoyed. So that is the attitude we have towards sport here the College, we strive for a balance, there is a place in the sun for every single boy at the College regardless of talent.
Sport at schools is virtually semi-professional
We offer 13 sports and we like each boy to have the same opportunity to play his chosen sport whatever it is. We try as much as possible to give them the same quality of facilities and coaching as what we would give to the so called bigger sports. If you were to walk around the campus and look at the facilities you will see that we don't skimp on the smaller sports. For example tennis, we have 6 courts and a tennis pavilion and it is on a par with what rugby has. We even have boys who have achieved school honours for sailing so we try to recognise the achievements of the boys regardless of the sport.
Look all sport at school level is very competitive and I don't think you can compare them to the club set up because no matter what the sport is, when you go onto the sports field or the tennis court you are going to give it your all and play as competitively as you can and that is all you can ask of someone.
But I think that if you compare the standard to days gone by, the quality of play has definitely improved because of all the facilities and back up that the boys have today. For example if you look at the emphasise on conditioning, the gyms they attend and all the back room staff from biokenetists to physiotherapists it has got to have produced sport that is at a very professional and competitive level.
Like it or not the sport at schools is virtually semi professional because the support and back up is that of a professional sport. If you focus for example on rugby and you look at what is in place at most of the top schools it is probably better than the majority of the professional soccer clubs have in our country, I don't believe that they have what the schools have. In my opinion I don't think it is anymore competitive that it was 10 years ago however the level of the play is so much higher and that is why it seems so much more competitive.
Obviously the boys must compete at a high level, you want your team or players to perform at their best, but it has to be controlled and not too much emphasis being placed on a win at all cost attitude. A lot of schools use sport as a marketing school but at the end of the day I think the KZN schools have got the balance right especially when compared to the up country schools where they play for trophies that are at stake. We don't compete for a trophy in KZN regardless of the sport so we have it pretty much under control. Sport must be played at a competitive level but it is primarily there for enjoyment, you have to strike that balance.
A classic example is Bradley Barritt, he Matriculated from Kearsney College in December and he played his first full Super 14 rugby match in February out of position by the way! So he was so well conditioned as a school boy that he could step up into the world of professional rugby in a couple of months, that is how good the school was able to prepare him. We are a relatively small school in terms of numbers and to keep being competitive against the bigger schools meant that we had to come up with a plan. One of our Old Boys, Dr. Glen Hageman who was at that stage still the Sharks doctor, with his expertise and input we put together our High Performance Centre. This has been a fantastic tool for the boys and at that stage I think we were the first school in the country to go that route. Don't confuse this with an 'Academy' it is totally not that at all.
When you see these little guys you sometimes wonder if they will cope!
Our High Performance program is a scientifically based program with experts in their fields in charge. We have Target and Goal groups in the various sports from the U15 age group which have special training time in the gym. There they get tested by the biokenetist Justin Bircher. 16 tests which analyse the explosive power, agility and speed work and from those results he will work out a gym program for that individual which is sport specific. He takes them through the correct techniques of the training. We then have a nutritionist Kathy Krogg who gives constant advice to the boys regarding nutrition and correct eating habits. Then at the same time we have Sandra Wakefield who is our Sports Psychologist who once worked for the Swiss National Olympic team and she consults with the boys on a one on one basis or in the team environment.
Of course what we really rely upon heavily here at Kearsney College are our Old Boys. Our Old Boys are very supportive we have a very big support base, the Open Weekend is very special for them and the majority attend that event. They are kept up to date with the goings on at the College and they provide a solid foundation to this school. When we need them I can assure you that they will move heaven and earth to assist in anyway that they can. Yes we are very fortunate to have them.
Looking back on my time at Kearsney it is true to say that there is a lot of things that I am proud of being a part of, but I would say the most rewarding is when you start with a group of thirteen year old youngsters and you see them progress through the ranks and they go on to achieve great things. Take Brad Barritt for example, he came to this school as a hooker and he was converted into a centre and you can see how he has progressed! Just to see these boys grow and progress into full grown men and go on to achieve is fantastic and there is nothing more rewarding for me. When you see these little guys you sometimes wonder will this little boy ever cope and then the next moment he is this magnificent athlete. That for me is priceless!