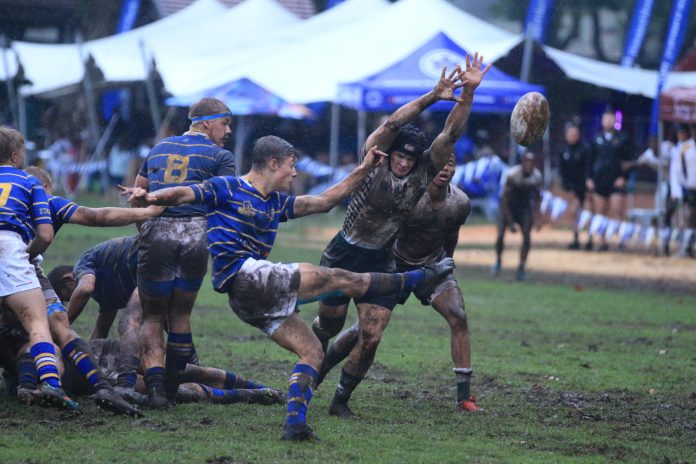 HOëRSKOOL WATERKLOOF 27 – 7 HOëRSKOOL NOORD-KAAP
Conditions would not suit the Noord-Kaapers as they would normally be able to jinx their way through, but with the treacherous underfoot conditions, the heavier Waterkloof forwards were able to dominate.
Flank and captain Tyler Veldman scored from a forward rush, converted by Reuven Ferreira for Waterkloof to lead 7-0.
This was increased to 12—0 when Kennith Strydom forced his way over, the conversion going wide.
In the last five minutes of the half, Noord-Kaap managed to get into the Waterkloof 22m area.
From a good forward move, Noord-Kaap eighthman Gareth Kriel scored in the corner and an excellent touchline conversion by Eldridge Jack narrowed the gap to just five points.
Waterkloof, after absorbing a lot of pressure from Noord-Kaap, gradually worked their way up the field to work their way over in the corner.  This put Waterkloof into a 17-7 lead with 10 minutes remaining.
Almost immediately they were back on the attack when Guillaume Marais went over to increase their lead 22-7.
Waterkloof were not finished and from a lineout they mauled over the line for Juanco Maritz to score a try. The conversion was on target but fell short of the crossbar, leaving Waterkloof 27-7 leaders.  Despite a last-minute kick ahead where Noord-Kaap kicked ahead but just failed to score, leaving Waterkloof 27-7 winners.
Point scorers:
Waterkloof: Tries Veldman, Strydom, Makate, G Marais, Maritz; Conversion Ferreira
Noord-Kaap: Try Kriel; Conversion Jack
Facebook: Kearsney College
Photographs uploaded daily throughout the day.
#SBSchoolsFest   #KERF22
Twitter: @KearsneyNews
#SBSchoolsFest   #KERF22
Issued on behalf of the STANDARD BANK KEARSNEY EASTER RUGBY FESTIVAL
For further information, please contact:
SUE MILES at [email protected]
083-222-5211
Photo:Waterkloof scrum half- Johan Stroh
All photos by TRACEY VAN DEN AARDWEG