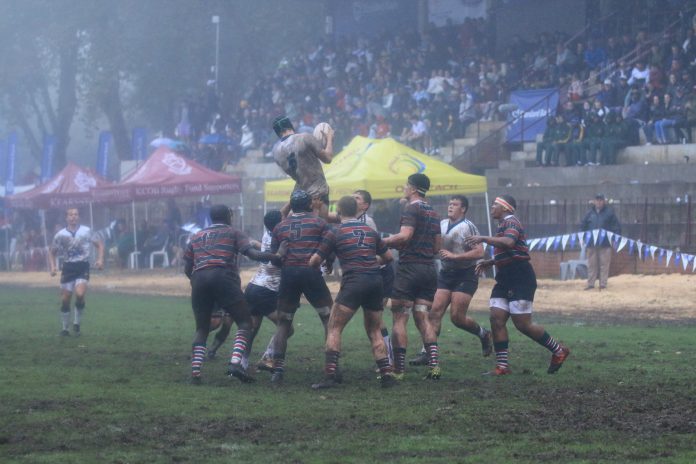 Three teams go into today, the final day, of the 2022 Standard Bank Kearsney Easter Rugby Festival having won both their matches – Durban High School (DHS), Hoërskool Monument and Glenwood.
HOëR LANDBOUSKOOL MARLOW 10 – 21 PRETORIA BOYS HIGH
With the mist swirling in, only as it does at Botha's Hill, play disappeared only to reappear as the wind moved it.
A penalty was awarded and after a number of minutes, waiting for an injury to a Pretoria player, Tattersall was seen to take a penalty. With the breeze behind him, his kick was successful to give Pretoria Boys a 3-0 lead.
Two further penalties were awarded within kicking distance and Tattersall was successful with both, leaving Pretoria Boys 9-0 in the ascendancy.
Just on half-time, with play obscured by the mist, Pretoria's Litha Mkunqwana went over and Tattersall was again accurate with his kick, leaving Pretoria Boys 16-0 up at the break.
In the second half, Marlow had the wind at their backs and they spent the first 10 minutes in the Pretoria quarter. MC Strydom got over for a try, converted by Aiden de Villiers, to take the score to 7-16.
Midway through the half, again playing in thick mist which obliterated vision, Marlow were awarded a penalty which De Villiers converted, narrowing the gap to 10-16.
A rare move towards the field against the wind, saw Jason van der Merwe go over for a Pretoria try, to take them into a 21-10 lead.
There was no further scoring, leaving the final score a 21-10 victory for the boys from Pretoria.
Point scorers:
Marlow: Try Strydom; Conversion De Villiers; Penalty De Villiers
Pretoria Boys: Tries Litha, Van der Merwe; Conversion Tattersall; Penalties Tattersall (3)
Facebook: Kearsney College
Photographs uploaded daily throughout the day.
#SBSchoolsFest   #KERF22
Twitter: @KearsneyNews
#SBSchoolsFest   #KERF22
Issued on behalf of the STANDARD BANK KEARSNEY EASTER RUGBY FESTIVAL
For further information, please contact:
SUE MILES at [email protected]
083-222-5211
Photo:Marlow Lock Sebastain Greyling
All photos by TRACEY VAN DEN AARDWEG