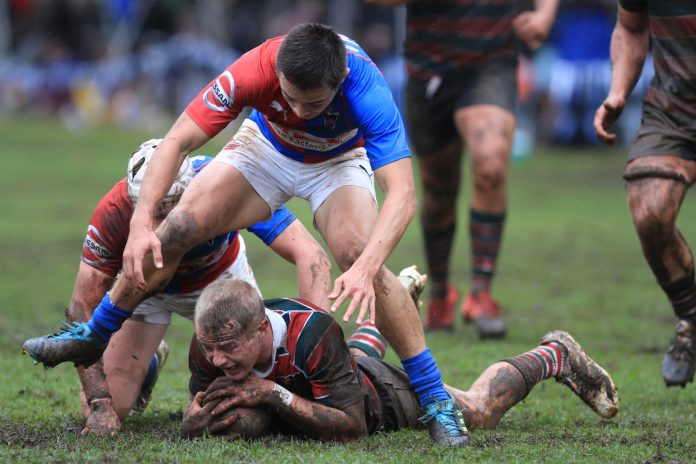 PRETORIA BOYS HIGH 14 – 14 FRAMESBY
The penultimate match on the second day saw Pretoria Boys High against Framesby, the team that came from behind to win on the first day.
The first half was cut and thrust with the boys from Pretoria holding the sway, but unable to score. Framesby did more of the defending.
In the last minute, the Pretoria boys had a chance to get over in the corner, but the ball evaded all.  They were, however, awarded a penalty on the opposite side of the field and from this the lock and captain Lilitha Matsiliza got over for his second try of the festival. The conversion by Justin Tattersall was successful for the Gautengers to lead 7-0.
The second half was again tight with conditions underfoot very difficult. Framesby spent most of the time defending, but a kick ahead got them into the red zone where lock Gideon Barnard got over the line. It was converted by Logan Muller to tie the scores 7-apiece.
The game livened up with both teams intent on winning the game. Pretoria Boys scored when fullback Keethan Fitz managed to evade the defence following a long pass out to him, dangerous in the conditions. Tattersall converted from close to the touchline for Pretoria to lead 14-7.
Framesby's never-give-up again for the second time this festival came from behind when Barnard scored his second try from a maul. Muller converted to tie the match 14-14.
Points scorers:
Pretoria Boys: Ties Mutsiizo, Fitz; Conversions Tattersall (2)
Framesby: Tries Barnard (2); Conversions Muller (2)
Facebook: Kearsney College
Photographs uploaded daily throughout the day.
#SBSchoolsFest   #KERF22
Twitter: @KearsneyNews
#SBSchoolsFest   #KERF22
Issued on behalf of the KEARSNEY EASTER RUGBY FESTIVAL
For further information, please contact:
SUE MILES at [email protected]
083-222-5211
Photo: Pretoria Fly Half Justin Tattersall
All photos by TRACEY VAN DEN AARDWEG