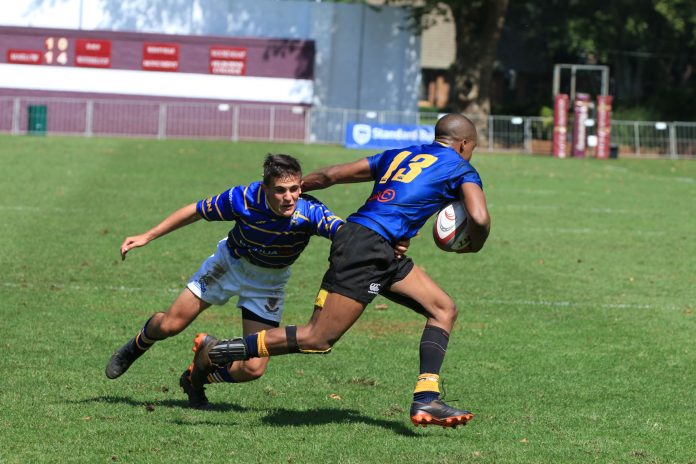 The second game of the festival saw the KZN team Durban High School (DHS) against Waterkloof from Pretoria, with the visitors again taking some time to assert themselves.
DHS went ahead early on with a penalty by fly-half Deano Boesak. A couple of minutes later pace by right wing Hopewell Ntshangase saw him go over in the right-hand corner again converted by Boesak for a 10-0 lead.
Waterkloof came back into the game helped by a number of penalties given away by DHS. With two minutes before the break, following another penalty, Waterkloof pressed on the try-line and eighthman Zander Tharion dived over. The conversion went wide, leaving DHS 10-5 leaders at half-time.
The second half saw play move up and down until Boeksak scored a penalty after 10 minutes of play to put DHS in a 13-5 lead.
The Durban lads maintained the pressure and after a scrum the ball was moved rapidly to the right, reaching Ntshangase who again outpaced the opposition to score close to the poles. Boesak converted for a 15-point lead.
Boesak converted his fourth kick at the poles following a penalty for the lead to increase to 23-5.
Waterkloof, who had made a number of mistakes on attack, were given a reprieve when the DHS utility back ran 90m to cross the line, only to drop the ball in the in-goal area.
Final Score: DURBAN HIGH SCHOOL 23 – 5 HOëRSKOOL WATERKLOOF
Point scorers:
DHS: Tries Ntshangase (2); Conversions Boesak (2); Penalties Boesak (3)
Waterkloof: Try Tharion
Issued on behalf of the KEARSNEY EASTER RUGBY FESTIVAL
For further information, please contact:
SUE MILES at w[email protected] 
083-222-5211
Photo: DHS vice captain and Tholithembasibisi
All photos by TRACEY VAN DEN AARDWEG