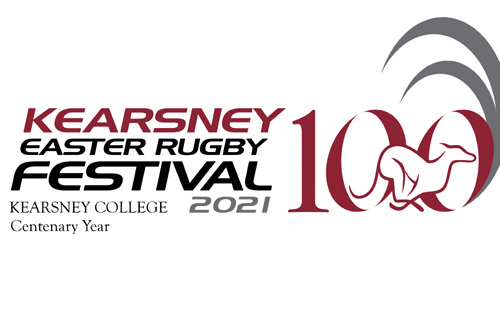 KEARSNEY EASTER RUGBY FESTIVAL TEAMS ANNOUNCED FOR CENTENARY
The 2021 Kearsney Easter Rugby Festival takes place in Kearsney's centenary year and schools with which Kearsney College has enjoyed long relationships and friendly rivalries over many decades have been invited to this special edition of the festival. 
Participating schools and the fixtures were announced today, with three schools invited for the first time to celebrate the milestone – KwaZulu-Natal Midlands schools Michaelhouse and Hilton College and fellow Methodist school Kingswood College from Makhanda (Grahamstown).
Together with Kearsney's traditional KZN rivals Maritzburg College and Glenwood High School, they will be joined by the perennially strong Eastern Cape outfits of Selborne College (East London), Dale College (King Williams Town) and Hoërskool Framesby (Port Elizabeth), as well as Hoërskool Noord-Kaap (Kimberley), Hoërskool Dr EG Jansen (Boksburg in Gauteng) and Pretoria Boys High. 
The five KZN teams are expected to add a great sense of local celebration to the festival, whilst also increasing the number of participating high schools to 12. 
Traditionally the three play days of the festival, held over the Easter long weekend, attract strong teams from across the country, offering an exciting mix of playing styles – and 2021 promises to be no different. 
Selborne College will undoubtedly play the special brand of rugby which they have displayed each year since the inaugural 2008 edition of Kearsney's festival.  Regular participants Glenwood and EG Jansen have both played at 10 previous festivals. 
Hosts Kearsney will open the festival playing against the habitually strong Hoërskool Noord-Kaap.  The lunchtime game between Hoërskool Framesby and Dr EG Jansen should provide a tough tussle, together with the later game between Dale and local newcomers Hilton.
Hilton will play festival regulars Dr EG Jansen on the second day, with Glenwood facing Selborne College on day two and Hoërskool Framesby on the third day, who in turn will play Maritzburg College in their second clash.  Selborne, up against Glenwood on day two, promises to be a thrilling game and is sure to attract much crowd interest.  The final game of the festival will see Kearsney play against the Eastern Cape's Kingswood College.
Three primary school teams, which will play the KZN Ibutho-Mark Godefrey U13 development team as the curtain-raiser each day, are still to be confirmed. 
Kearsney College headmaster Elwyn van den Aardweg said: "We are delighted that schools, both independent and State, drawn from across the country, have accepted the invitation to celebrate Kearsney's centenary year with us at this festival.
 "The different styles of play that characterise each participating school will ensure that every fixture is set up to produce thrilling contests in the finest traditions of schoolboy rugby."
 Considered to be one of the most prestigious and well-organised schools' rugby festivals in South Africa, played in the most beautiful environment, the festival sees teams travel with families and supporters to enjoy top schoolboy rugby in a family-friendly festival atmosphere on Kearsney's exquisite campus, whilst enjoying the province's glorious Easter weather. 
 This year's festival was cancelled three weeks before kick-off, due to the country's unfolding coronavirus pandemic.
 Preparations are now well underway to ensure the year-long programme marking Kearsney's Centenary is commemorated in style. 
 Special events include a 24-hour inter-house sports challenge, a relay marathon reading of the New Testament in the Kearsney Chapel, an outdoor musical proms event featuring old boy musicians and performers, a Centenary Ball, with the year's celebrations culminating in a 140km Kearsney Epic, a relay run from the chapel at Kearsney College in Botha's Hill to the chapel at Old Kearsney, near Stanger on the KZN North Coast, where the College started in 1921.
2021 KEARSNEY EASTER RUGBY FESTIVAL
FIXTURES 
 Day 1    Thursday, 1 April 2021
08h30   Primary School TBC vs KZN Ibutho-Mark Godefrey U13
09h30   Kearsney College vs Hoërskool Noord-Kaap
10h45   Michaelhouse vs Selborne College
12h00   Hoërskool Framesby vs Dr EG Jansen
13h15   Maritzburg College vs Kingswood College
14h30   Glenwood High School vs Pretoria Boys High School
15h45   Hilton College vs Dale College
 Day 2    Saturday, 3 April 2021
08h30   Primary School TBC vs KZN Ibutho-Mark Godefrey U13
09h30   Hilton College vs Dr EG Jansen
10h45   Hoërskool Noord-Kaap vs Pretoria Boys High School
12h00   Kearsney College vs Dale College
13h15   Michaelhouse vs Kingswood College
14h30   Maritzburg College vs Hoërskool Framesby
15h45   Selborne College vs Glenwood High School
 Day 3    Monday, 5 April 2021
08h30   Primary School TBC vs KZN Ibutho-Mark Godefrey U13
09h30   Hoërskool Noord-Kaap vs Dale College
10h45   Michaelhouse vs Pretoria Boys High School
12h00   Hilton College vs Selborne College
13h15   Maritzburg College vs Dr EG Jansen
14h30   Glenwood High School vs Hoërskool Framesby
15h45   Kearsney College vs Kingswood College