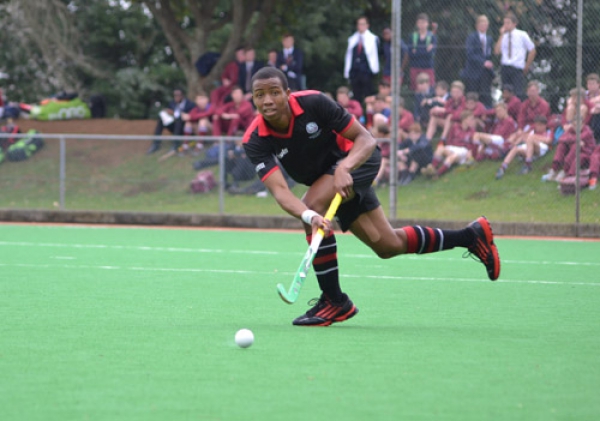 Why? It goes like this: Despite achieving heights of success in schoolboy hockey that thousands upon thousands of young South African players can only dream of, there is one niggle, one precious item on the Tyson bucket list that remains elusive. He has never won a national interprovincial tournament (IPT) at any age level, from U13 upward.
Huh? Hang on, we're talking a KZN Inland hockey province that despite its relatively small size punches way above its weight division and has regularly featured among the IPT winners?
Yet since U13 IPT and all the way through, including the last two years' SA U18 IPT the Inland teams Tyson has played in have been out of the gold medal enclosure. And in those last two years Tyson made SA U18 on both occasions, including best defender last year at Pape's Astro, Maritzburg College, so you can hardly fault his own performance.
And this year, despite the 18-year-old's own singular success in being selected for the SA U21 team of 18 players who will be taking part in the senior men's IPT early September – and his Maritzburg College being comfortably placed at the top of the SA School Sports rankings – Tyson is especially cautious about Inland's chances at the upcoming boys' U18 IPT at Grey College and Eunice in Bloemfontein early July.
"There are so many really close matches across the country this year amongst the best first teams that it looks like any province amongst about six could take IPT gold," Tyson says wistfully. "Make no mistake, I back the Inland team to the hilt in winning gold but you have to acknowledge that the competition for the U18 IPT title this year is probably as fierce as it's ever been.
"This is my last chance, though," says the grade 12 lad, "we've got a good group of players and I want to make it count."
Hence the bet. In trying to instil positivity, yours truly challenged the tall, well-defined Tyson to in a rather bizarre pact. Some background: At Maritzburg College the "Zarm Farm" is the stuff of legend. For nearly four decades parents have made toasted cheese sandwiches for the boys during break time at amazingly low prices. Since the outset, the boys have lathered what became known as "Zarms" with tomato sauce, mustard and other robust flavours.
So, the bet is as follows: If Inland win IPT, Tyson has to buy me a Zarm, a burger Zarm (a toasted cheese sarmie encased in a burger roll … weird huh?), a double cappuccino and a Coke. If Inland don't win IPT the role is reversed and I have to buy the same for Tyson.
It's one bet I hope to lose, if only to tick off that one remaining item on the attacking defender/midfielder's bucket list. Yet "Ty", as his mates call him, may have been lost to hockey altogether had a couple of fortuitous things not happened.
An outstanding schoolboy sportsman from day one at first Laddsworth (until Grade 4) and then as a boarder at Merchiston Prep School – "I absolutely loved Merchiston" – Tyson turned his hand with great success at just about every ball sport you can imagine. Football, in particular. Already playing for the SA professional team Maritzburg United at age-group level, it appeared Tyson's sporting dreams were already mapped out.
But the U13 hockey IPT in Bloemfontein saw Tyson cross paths with Mike Bechet, the coaching legend whose records at Maritzburg College will be hard to beat. "Bech's" son James was in the Inland team at IPT and the watching "Mr Bech" – clearly noticing the makings of a special talent – steered the young Tyson towards Maritzburg College. Mr Bech has been credited by Tyson as having had the greatest influence on his career.
A boarder, the rangy Tyson soared at Maritzburg College and the boy who credits his mother, especially, and busy father as well as siblings, brother Mukelani and sister Nicole, for "all their support they've shown me throughout the years" was destined from that point on to follow a hockey path.
Tyson credits Mrs Liebenberg and Mr Swart – who is now a noted figure in SA Schools' hockey – for his introduction to hockey, initially at Merchiston, and by Grade 9 he was introduced into the Maritzburg College first hockey team, against fellow KZN school, Northwood of Durban. "It was nerve-wracking, a home match on Pape's Astro, four years after I had first held a hockey stick, playing with some of the best U18s in SA."
In characteristic fashion, Tyson never looked back and national accolades have followed every year, including the last two in the SA U18 team and a position in the SA team that shone at the Youth Olympic Games Hockey Sixes event in Nanjing, China last year.
Once might argue that after all that, in terms of hockey development anyway, Tyson might have been better served at university this year. Yet the fortuitous occurrence of SA IPT at AB Jackson Greenfields Turf just over the fence from Maritzburg College, saw Tyson and three team-mates from the stellar Maritzburg College first team class of 2015 that has blossomed under outstanding coach Devon van der Merwe, selected for KZN Inland U21.
SA U21 head coach for the 2016 Junior World Cup, University of Johannesburg head of hockey Garreth Ewing and the panel of selectors were suitably impressed to include Tyson in the SA U21 side for senior men's IPT, so it has all worked out quite nicely. Van der Merwe will certainly ensure Tyson is prepared as best as possible during his training sessions.
"That experience in China was unforgettable and I will never tire from doing my utmost to wear the green and gold of South Africa as often as possible during my career," says the Maritzburg College hockey talisman whose hero is Australian legend Mark Knowles, a legend he has already had contact with. "I have modelled my play on his, he sent me a message of support ahead of U21 IPT and that was a massive boost," says Tyson. "Mr van der Merwe has also played a big role this year and for that I am hugely grateful."
The Maritzburg College first team, at the time of writing, had played 17 matches in 2015 and won 15 with two matches drawn. At the time of writing there were six to go – versus Hilton College (away), Michaelhouse and Westville (both home) before the end of the second school term and then Affies (away) and Pretoria Boys' High plus Grey College (both home) in the third term to round off a remarkable first team season.
"We take it game by game, that's the only way, and treat each team with the utmost respect. Let's see what happens," says this mature young hockey brain, whose ability to read the game accurately, change the tempo, manage his troops and lead with distinction and a hugely competitive will, has already been widely noticed by the national hierarchy.
In 2016? Varsity options are currently being weighed up. But most importantly, Ty is seriously considering a career in teaching. "Ironically in a way, it was my drama teacher, Mr Barbour, whose ability to teach me drama was an inspiration, who prompted this idea."
SA boys badly need qualities that Tyson has learnt to appreciate, instilled in them. Let's hope it happens. Until then, onwards and upwards in hockey – and dreams of Hockey World Cups and the like are very much in the spotlight.