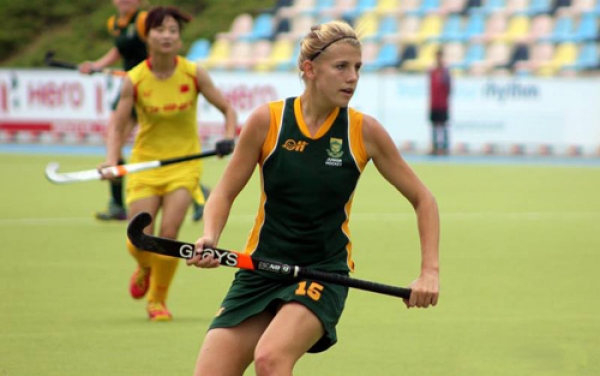 Tarryn Glasby, a Grade 12 student at El Shaddai Christian School in Durbanville, became the youngest person to be selected to represent South Africa in the U21 South African Hockey Squad, in the lead up to the Junior World Cup in India in 2013.
After the National Squad Training Camps and U21 Inter-Provincial Tournament (IPT) held in Pretoria, Tarryn was selected to the 23-player squad to represent SA in the qualifying matches for the Junior World Cup. She is one of five representing Western Province.
Tarryn responded to the news modestly, saying, "Hard work always pays off."
Tarryn's mesmerizing skill, executed with scorching pace and lethal finishing, made an impact in 2012 when she represented WP at the U21 IPT in Pretoria, netting ten goals for WP and resulting in Tarryn being named the Top Goal Scorer and also the Most Promising Player.
Tarryn is no stranger to playing in higher leagues, having played in hockey teams one or two age groups higher than her own since primary school. She has represented WP since 2007 and at the tender age of 14 made her WP Women's Grand Challenge début, turning out for the Durbanville Ladies' Hockey Team.
In 2010 Tarryn was selected for the SA U16 High Performance Squad. The following year she retained her SA U16 status with a clinical ten-goal spree as Vice-Captain of the Western Province team at the 2011 IPT. She rounded off this remarkable achievement with three awards: IPT Winner's Medal, Top Goal Scorer, and The Most Promising Striker. The inevitable call up to the 2012 National U21 Women's Hockey Squad Training Camps came shortly thereafter.
At the 2012 U/21 Women's IPT in Pretoria, Tarryn's mesmerizing skill, blistering pace and lethal finishing made an impact. A clinical ten goal spree resulted in her being named the tournament's Top Goal Scorer and Most Promising Player at the tender age of 17 years. This year's U/21 Women's IPT Gold Medal Final in Durban was another apt demonstration of her big match temperament. The WP defeated North West 2 – 0 with Tarryn scoring twice in twelve minutes.
The clearly overjoyed Glasbys, Michael and Tracey, headed off to Germany to support their daughter and Team SA. "We can't believe it's finally over…all the selection cuts, the extra hockey training , the many physically demanding and psychologically arduous SA training camps, the waiting and wondering…Tarryn is finally off to the Final!" said Tracey.
This young lady is sublimely gifted with an abundance of the qualities required of an international hockey striker: vision, fine-tuned athleticism, flair, silky hand skills, shooting skills from anywhere on the body, acceleration, pace, and clinical passing, all of which generally translate into goals scored and goal-assists.
Other sporting codes Tarryn has ventured into include indoor hockey, athletics, swimming, and tennis. She has won the Inter-Schools Victrix Ludorum Trophy for Athletics from 2008 until the present. Since 2011 she has dedicated her sporting efforts to field hockey with remarkable aplomb. Tarryn's various teachers and coaches alike enthuse about her exceptional maturity, ability to work under pressure and consistent diligence.
Despite a heavy sporting load Tarryn has tenaciously made time for an unflappable and pragmatic approach toward her studies. Academic excellence manifested with Tarryn gaining the Top Mark in South Africa for the Cambridge International Examinations IGCSE Physical Education Exam of 2012. She plans to study a B Comm Management Science Degree after school. She is also a member of the Leadership Team at her school. Tarryn, the youngest of four siblings, is a serene, quiet and modest soul who enjoys spending time with her family, friends and various team-mates.
Congratulations to Tarryn for being Awarded the Mr Price Sport Player of the Year Award! With Tarryn determined to continue her hockey career at the highest level South African woman's hockey is assured of yet another star of the future.
I