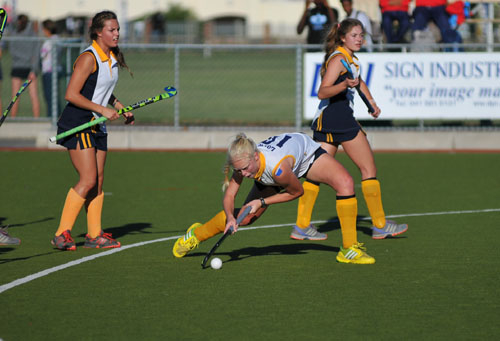 World record goalscorer Coetzee is an Oranje Meisieskool old girl while Paumen the penalty corner queen is the captain of World Cup and Olympic Games champions Holland, and Aymar is the multiple World Player of the Year winner widely regarded as the best women's player ever. So Oranje Meisieskool's hugely successful coach Morné Odendaal's praise of his 2014 captain Antonet Louw is praise indeed – and in Louw the Oranje Meisieskool appear to have unearthed another gem.
The farm girl is a special weapon in the Investec South African women's hockey team -they have been over the years and decades – and in Louw, who hails from Jagersfontein about 150km south of Bloemfontein they have the real deal, much in the mould of the attack-minded Nicolene Terblanche, the Investec South Africa women's hockey team dynamo who comes from Groblersdal, a farming community north of the Loskop Dam in Limpopo. No-nonsense farm girls are the go-to players when times are tough, who provide their teams with the all-important steely resolve and mental strength so vital to success.
Oranje Meisies landed top spot for the second successive year in the respected www.saschoolsports.co.za national rankings – the only ranking system in the country – so it's another feather in the cap of the Bloemfontein-based institution that has been educating our young girls to excel on the sports field and in the classroom since 1907.
Skipper Antonet Louw has been the school's flagship hockey performer this year, ending her high school career with what is likely to be an unsurpassable 300 first team goals in a record 194 matches for Oranje.|
It could not be ascertained whether this is a South African record but it also may well be a world record for a school first team player – boys and girls. What an amazing achievement by the out-and-out striker that is Antonet Louw.
Given her attributes as a player, it's not surprising that superstars Naomi van Ass (Holland), Paumen and Aymar are the players she admires the most, while those she loved watching at a young age were Free State's Hettie Oosthuizen and Jo-nelke Swanepoel.
The Oranje team's dominance is undisputed. The Oranje Meisies mantelpiece is heaving with the St Mary's Waverley Festival title, the All Girls' Festival, Bloemfontein League, Free State Cup and FNB Top 8 Tournament.
Eight- and nine-goal whitewashes were not uncommon on their road to victory this season – and leading from the front has been one Antonet Louw, the scorer of insanely brilliant goals.
Odendaal says Louw showed huge promise from a young age. "She played at U13 level from age 11 and her goalscoring set her apart from the moment she started playing hockey. Teams know that if Antonet gets the ball in the circle she will score.
"At a festival I heard a goalkeeper ask another keeper, 'Aren't you afraid she will hurt you?'. The reply? 'No, she will never hurt a keeper because she scores in the corners of the goalbox.' I first saw her play in Grade 9 in the Bloem League final. I think she scored two very good goals and had two assists. I knew then that this girl could go all the way if she receives the correct coaching."
Odendaal became Oranje's director of coaches when Louw was in Grade 10. "It has always been a pleasure to coach Antonet as a person and a player. She is definitely the best [penalty corner] drag-flicker at school level in SA and also one of the best at senior level.
"When I got to the high school I had already coached the U13A side for a year. I had a very good 13-year-old drag-flicker who was going to play first team the next year and I showed a couple of the older girls how to flick, Antonet being one of them. After a couple of sessions I told Antonet she was wasting her time. She told me, 'We will see' and started flicking 100 balls every day. The rest is history.
"Anything new she will go and practise it till she can't get it wrong. Her best attributes are her goalscoring, drag-flicking, aerial skills, decision-making and stepping up when the occasion demands it."
Louw, who says the biggest influences on her career have been coaches Odendaal, Ryno Rautenbach and Elsie Coetzer, has now made SA Schools' two years in a row and captained the Free State side that won the 2014 South Africa U18 IPT, scoring 16 goals in the process. She was also the top goalscorer at IPT in Grade 11, scoring 13 goals.
Apart from Louw, the other Oranje players in the victorious 2014 Free State team were goalkeeper Elzani van Aswegen, defenders Jana Greeff and Este van Schalkwyk, forward Mirie van Niekerk – and link Priscilla Esterhyuzen, who also made SA U18.
"Antonet can definitely play for the Investec South Africa women's hockey team and have a very successful international career," says Odendaal. "If she works hard and gets the correct coaching she can become one of the best players in the world.
Odendaal says a challenge for Louw in 2015 when she goes to senior hockey is that she will need to work on playing for in eight-minute spurts at 100% compared to school, where she played for 50 minutes at 75%.
"I was very happy for her when she scored her 300th first team goal in her last first team game. Antonet is a coach's dream. She's very humble and is always helping out youngsters. She has very good hockey knowledge and that helped me to challenge myself to always learn more, new things, so that I could challenge her."
And Louw has already caught the eye of the senior national coaches. She attended an Investec South Africa women's hockey team camp in December last year in Pretoria.
"I've met a lot of the senior players. We played mini-games with different scenarios, from defending to scoring," says Louw. She also learnt more about the key stages in matches, taking the attack to teams by playing wider and decisive decision-making on the turf.
A refreshing aspect about Louw in the ultra-competitive, super-ambitious world of top school sport is that she plays for the right reasons. "I only play hockey because I have a passion for it and because I fell in love with the game."
It hasn't all been plain sailing for Louw this year. The SA U18 side took on the near-impossible task of beating the touring Australia School Sport team in KZN directly after the strength-sapping SA U18 IPT had finished and were on the receiving end of a 3-0 series whitewash.
"It was a tough experience" says Louw, the Oranje primary school product. "We had only just finished IPT the week before and didn't rest at all. It was a test of character. We lost 3-0 and learnt that we can improve on our basic skills, while we also learnt to think about the game more."
Describing herself as a calm and collected person, Louw says she doesn't like pushing and bumping on the pitch. It's a refrain heard from most skilful players. "I rather play around defenders than try and go through them. Bad-tempered opponents don't get under my skin, I just play the game."
Odendaal says Louw made the Youth Olympic Games team but did not go with the side to Nanjing in China because of matric schoolwork, while Oranje were also hosting their first FNB Top 8 Tournament
As a leader and person the one thing Louw treasures most are relationships with people. Is that what made her Oranje team so successful? "We are a family and train and work extra hard so that we are equipped to enjoy the games. We practice at least six- to nine hours a week, only hockey on the field, and we play with passion and pride. The best piece of advice I have ever received is that you can't beat a person who never gives up."
But Louw is human after all and the training drills that can be a chore at times come along when she is doing weights and static training on the hockey field. They do yield fruit though.
"I think the proudest moments in my hockey career so far have been all the achievements in 2014 after a year of hard work. Also the fact that all the work over the years is now coming together, getting the rewards after sacrificing many things."
The tennis and athletics fan who loves white Milky bars with jelly tots will be studying for a BSc in Consumer Studies next year and at the moment enjoys unwinding at movie nights in the Oranje boarding hostel.
Louw's goal next year is to enjoy the absence of the 12-year routine that her current life-phase requires.
No doubt there will be plenty of fun, exciting moments on the Astro, too.