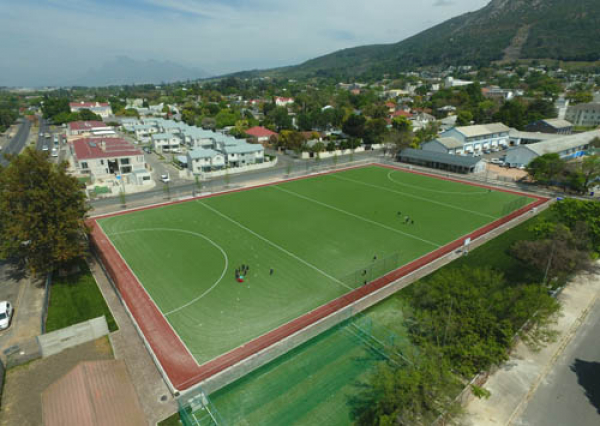 Coinciding with the 150th anniversary celebrations, Paarl Boys' High School in the Western Cape has installed an impressive Rhino-Turf hockey pitch by Turftech that will be used for both high-level hockey games as well as being used a playground surface for the younger boys.
Turftech, the leader in natural and synthetic turf technology, installed the Rhino-Turf sand-dressed hockey playing field as well as the Rhino-Turf VT32 multi-use turf around the playing field. Both turfs surfaces can be used as play areas during break times, after which the hockey turf will be used for the sporting codes like hockey.
The Turftech installation started in mid-August with completion at the end of September 2018. This particular Rhino-Turf hockey product is renowned for enhancing player performance across various sporting codes and for hockey in specific it has been certified to FIH National standards guaranteeing Strength in Performance!
"The reality is that, with increased water scarcity, schools are shifting to the installation of artificial surfaces to play a variety of sporting codes, rather than the traditional grass," explained Derek Swart, principal of Paarl Boys' High School.
Despite having only 892 pupils throughout the school, Paarl Boys' has been ranked as the top rugby school in the country for three years running. In addition to this, the school is able to put forward 13 hockey sides which compete against several of the bigger hockey schools in the area.
"Where, before, artificial turf was only used by the wealthier schools, it is now becoming a more feasible option for many schools to control maintenance costs, while also remaining competitive in the sporting arena," continued Swart. "As it stands, Paarl Boys' currently competes against a number of schools – all on artificial turf – so it was an easy decision to make. And, with the amount of hockey talent at the school, we owe it to our sportsmen to provide them with the best possible playing surface."
Swart said that the multi-functional aspect of Turftech's installation – allowing for play and sports – made it both a cost-effective option while also promoting the game of hockey among the primary school boys.
"We have received an overwhelmingly positive reaction to the installation from parents, pupils and staff, and – while we haven't yet had a chance to try out the turf competitively – we are certain the new artificial turf will improve overall sporting performance."
Phillip Prinsloo, Sales Manager at Turftech, said the highly competitive nature of school sports meant that the facilities had to match up to the players' performance: "The incredibly sophisticated Rhino–Turf is moving sports, and the way people use the facilities, onto the next level, allowing South African schools to compete against the best. Pupils are now able to practice for much longer hours and – for hockey specifically – there is more consistent ball roll and play, speeding up the game."
He explained that, in addition to the enhanced player performance and overall aesthetic of the product, Turftech's sports' facilities decreased the burden of cost and maintenance on the school: "Unlike with grass surfaces, there is no need for constant watering and upkeep. This means substantial water reduction, and no need for expensive maintenance equipment. Generally, the Turftech facilities will drastically increase property value while making the school more competitive."