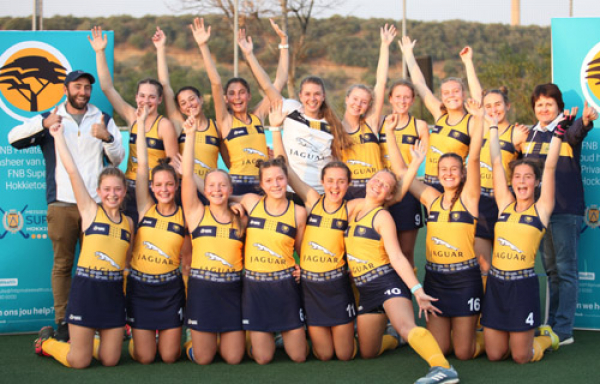 Oranje Meisies First Team added yet another trophy to the cabinet this year when they won its annual Super 12 Hockey Tournaement on Saturday (10/08/2019).
It was their fifth crown in the six years of the competition and arguably against the toughest opposition in the country. The Bloemfontein girls also won the trophy at the prestigious St. Mary's Tournament this year to underline their dominance in 2019.
In Saturday's final match Oranje faced a committed St Mary's Kloof team and managed to beat the Durbanites 4-2. With this victory, Oranje settled a score with with St Mary's Kloof who knocked them out in the semi-finals last year.
En route to the final, Oranje edged out Menlopark (2-1), Collegiate (2-0), Rhenish (4-0), St Mary's Waverley (2-0) and St Anne's (5-1).
The victory over Collegiate of Port Elizabeth was also sweet revenge for Oranje who had previously been beaten twice by Collegiate for their only defeats of 2019.
According to Coach Morné Odendaal that victory in their second match of the tournament was decisive as earlier in the morning, with the entire school supporting them, they were handed a 1-2 shock defeat by St Cyprian's.
"It was a difficult game in which we wasted many chances. We then chatted for an hour and had an intense conversation. Everyone had their say and we moved on.
"The next game against Collegiate would be critical, because of the two occasions we had played them this year we had lost", says Odendaal.
According to the coach, the players raised their heads and increased their confidence after the first goal against Collegiate was scored. "We couldn't score an early goal against them in our two previous defeats. So when the first one fell, you could see how the mood lifted. "
* Oranje's 15-year-old Ané Janse van Vuuren was named the second best player and Truné Prinsloo ended the tournament as the leading scorer. Prinsloo scored all four goals in the Oranje's victory over Rhenish.
* The Oranje's under-16A team was also crowned champions of Paarl Gymnasium's Top12 tournament this weekend. They were unbeaten in their seven games and beat St Mary's Waverley 1-0 in the final.