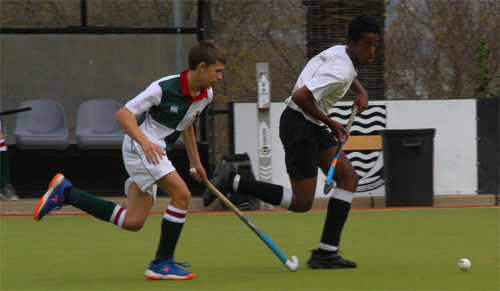 The Final Boys 1st Team Hockey Rankings for 2021, see's a close run race for the top position between Jeppe and Maritzburg College with Jeppe narrowly finishing at the helm.
It is a great sadness that Jeppe and College never had the opportunity to play against each other as this would have helped to settle matters but COVID-19 is to blame for that.
Let it be said that the quality of hockey, although hampered by the restrictions was still of a high standard and the likes of Rondebosch, SACS, Grey High, Pretoria Boys, Hilton and others could well have challenged for higher places had the season been able to run its full course.
Well done to the players and coaches who struggled against difficult obstacles to put together a semblance of a season and we look forward with keen anticipation to the 2022 season.
Please send through any of your team's outstanding results to [email protected]
BOY'S 1st HOCKEY RANKINGS 17/09/2021

Rank

TEAM

PLAYED

AVG  BONUS     PTS

1

JEPPE

10

4.10

2

MARITZBURG COLLEGE

9

4.00

3

RONDEBOSCH

5

3.96

4

HILTON COLLEGE

9

3.60

5

SACS

11

3.50

6

GREY COLLEGE

4

3.30

7

GREY HIGH SCHOOL

6

3.07

8

 PAUL ROOS GYM

9

2.92

9

PRETORIA BOYS HIGH

5

2.84

10

ST STITHIANS

2

2.80

11

HUDSON PARK

4

2.75

12

WESTVILLE BH

7

2.61

13

KEARSNEY COLLEGE

8

2.59

14

NORTHWOOD

8

2.54

15

CLIFTON

8

2.51

16

KES

6

2.27

17

WYNBERG BH

9

2.19

18

FAIRMONT

6

2.10

19

PEARSON

6

2.08

20

ST ANDREWS SCHOOL

3

2.07

21

SELBORNE COLLEGE

5

2.02

22

GARSFONTEIN

5

1.92

23

MENLOPARK

6

1.87

24

JIM FOUCHE

3

1.80

25

ST DAVIDS

4

1.78

26

WITTEBERG

4

1.65

27

PAREL VALLEI

3

1.60

28

MICHAELHOUSE

6

1.58

29

PAARL GIM

12

1.56

30

PIETERSBURG

5

1.54

31

CURRO DURBANVILLE

8

1.54

32

REDDAM UMHLANGA

3

1.52

33

GLENWOOD

11

1.52

34

AFFIES

6

1.47

35

QUEENS COLLEGE

4

1.28

36

ST ANDREWS COLLEGE

3

1.20

37

CRAWFORD LA LUCIA

3

1.20

38

CORNWALL HILL

2

1.10

39

ST ALBANS COLLEGE

3

1.10

40

EDGEMEAD

3

1.10

41

THOMAS MORE COLLEGE

3

1.03

42

POTCHGIM

5

1.02

43

PAARL BOYS HIGH

8

0.96

44

DHS

6

0.93

45

KINGSWOOD

2

0.90

46

STELLENBERG

3

0.90

47

WORCESTER GYM

8

0.88

48

BISHOPS

4

0.85

49

CURRO HILLCREST

5

0.84

50

LINDEN

5

0.84

51

ZWARTKOP

5

0.64

52

BRYANSTON

4

0.58

53

PARKTOWN

4

0.58

54

MILNERTON

3

0.57

55

ST CHARLES COLLEGE

9

0.48

56

NORTHCLIFF

4

0.33

57

MERRIFIELD

7

0.07

58

DALE COLLEGE

3

-0.07

59

HUGENOTE WELL

2

-0.10

60

ALEXANDER ROAD

2

-0.45

61

DF MALAN

3

-0.70