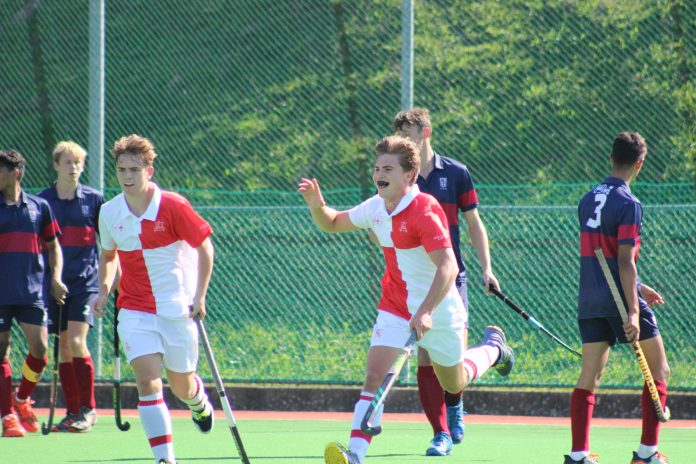 Jeppe were once again in a winning frame of mind this past week with a comprehensive 9-1 win over Affies which helps to entrench the Joburg team at the top of this week's Boy's 1st Team Hockey Rankings.
Pretoria Boys High who have been hit hard by the COVID-19 restrictions made up for lost time with a brace of victories including a tightly contested win over KES. PBHS now move into the top five zone thanks to Rondebosch holding SACS to a draw which sees them slip down the ladder.
Please send through your hockey results to [email protected] to ensure their inclusion.
BOY'S 1sts HOCKEY RANKINGS 25/08/2021

Rank

TEAM

PLAYED

AVG  BONUS     PTS

1

JEPPE

6

4.08

2

MARITZBURG COLLEGE

7

3.91

3

RONDEBOSCH

3

3.67

4

HILTON COLLEGE

9

3.60

5

PRETORIA BOYS HIGH

3

3.50

6

SACS

10

3.44

7

GREY COLLEGE

4

3.30

8

GREY HIGH SCHOOL

5

3.18

9

 PAUL ROOS GYM

9

2.92

10

ST STITHIANS

2

2.80

11

KES

4

2.75

12

HUDSON PARK

4

2.75

13

WESTVILLE BH

7

2.61

14

KEARSNEY COLLEGE

8

2.59

15

NORTHWOOD

8

2.54

16

CLIFTON

8

2.51

17

WYNBERG BH

8

2.36

18

ST ANDREWS SCHOOL

3

2.07

19

SELBORNE COLLEGE

5

2.02

20

MENLOPARK

6

1.87

21

GLENWOOD

9

1.81

22

JIM FOUCHE

3

1.80

23

ST DAVIDS

4

1.78

24

FAIRMONT

5

1.74

25

PAARL GIM

11

1.74

26

PEARSON

4

1.73

27

GARSFONTEIN

4

1.70

28

WITTEBERG

4

1.65

29

PAREL VALLEI

3

1.60

30

MICHAELHOUSE

6

1.58

31

PIETERSBURG

5

1.54

32

CURRO DURBANVILLE

8

1.54

33

REDDAM UMHLANGA

3

1.52

34

BRIDGEHOUSE

2

1.35

35

QUEENS COLLEGE

4

1.28

36

BRYANSTON

3

1.27

37

ST ANDREWS COLLEGE

3

1.20

38

CRAWFORD LA LUCIA

3

1.20

39

CORNWALL HILL

2

1.10

40

BISHOPS

2

1.10

41

ST ALBANS COLLEGE

3

1.10

42

EDGEMEAD

3

1.10

43

THOMAS MORE COLLEGE

3

1.03

44

POTCHGIM

5

1.02

45

PARKTOWN

3

1.00

46

PAARL BOYS HIGH

8

0.96

47

DHS

6

0.93

48

KINGSWOOD

2

0.90

49

STELLENBERG

3

0.90

50

WORCESTER GYM

8

0.88

51

CURRO HILLCREST

5

0.84

52

LINDEN

5

0.84

53

AFFIES

4

1.28

54

ZWARTKOP

5

0.64

55

MILNERTON

3

0.57

56

ST CHARLES COLLEGE

9

0.48

57

NORTHCLIFF

4

0.33

58

MERRIFIELD

7

0.07

59

DALE COLLEGE

3

-0.07

60

HUGENOTE WELL

2

-0.10

61

DF MALAN

3

-0.70