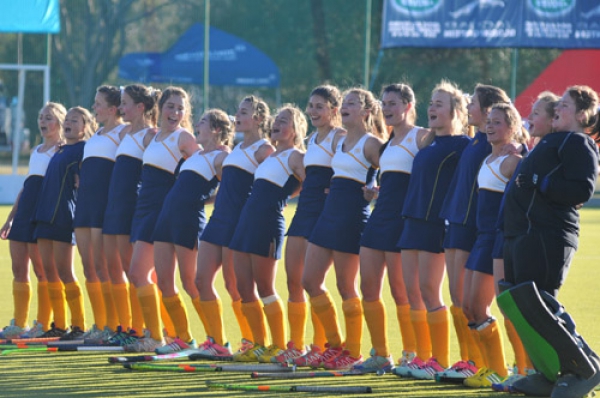 Star striker/goalkeeper/playmaker has an off-day, a controversial decision turns the match away from you, ill-discipline costs your favoured team against a lesser-rated side and you are the victims of an upset … and … and
Which makes the achievements of C&N Meisieskool Oranje first hockey team even more remarkable, scarcely believable, in fact.
Just look at these stats:
Tournaments and trophies won this year – St Mary's Waverley Festival (32 teams), All Girls Festival (20 teams), Oranje Top 8 Tournament (top 8-ranked teams in the country), Bloemfontein League, and Free State Cup.
In the last three years Oranje 1sts have played 121 games, won 117, drawn 3 and had just one loss, scoring 614 goals in the process with 35 conceded.
In 2015 Oranje have played 46 games, won 44, lost one and drawn one, scoring 248 goals with only 14 against.
And one, single, low point – and not just losing to St Stithians 1-0 at St Mary's festival, which was the first game Oranje had lost in an incredible 98 games, it was the fact that they under-performed. You see, despite what the evidence suggests, at Oranje it's not about winning or losing, but much more … It's about the team playing to their potential, whatever the result at the end.
Hence the 2015 highlight came later, in beating St Stithians 6-0 at the Oranje Top 8 Tournament. That was a case of playing to your potential – and the result duly followed.
The captain at the helm of the good ship Oranje is Morne Odendaal, a man always emphasising that it's about the individual performing according to potential – about the team gelling to optimal level.
"Hockey is not about winning, it's about having fun and being the best player you can be within a team environment. Get that right and the results will show."
Odendaal has been in the Oranje job for three years as ddirector of coaches and 1st team coach. His responsibilities include coaching the 1st team, helping all the A and B teams, and fine-tuning the structures that breed success.
So this year has been an unbelievably successful one. Last year was amazing too. Is this year's team better than last year?
"Yes, 2014 was an unbelievable year but I think 2015 has been even better. The balance was better and the team had a little more experience," says one of the most efficient, media-friendly coaches you are ever likely to meet.
How can the 2016 Oranje side even hope to live up to their predecessors? Odendaal has an assured answer.
"When I started at Oranje we had a 5-year plan, starting in 2013. We selected a mix of experience and youth so that we could still compete – and start building for the future. The plan paid off; we had an unbeaten season in 2013 with two matrics and three grade 11s. In 2014 we did the same – another unbeaten season with three matrics and three grade 11s.
"All the youngsters that played 1st team when they were in grades 8 and 9 in 2013 and 2014 are now very experienced going into 2016. I think 2016 and 2017 will be the best years yet for Oranje hockey – and it's because of the 2013 implementation of the 5-year plan."
Was this year's side your best ever? "I think this year's side was arguably the best girls 1st team ever. What inspires me to make a difference is simple. Every child just needs one adult that is not family to believe in them – and they can achieve anything."
Oranje have 80 pre-primary learners, 560 in primary school and 730 in high school, so there is lots of potential to work with, but it is not bigger or smaller numbers that make for success – it's about the successful implementation of a winning plan, and Odendaal has had a great hockey education.
He first picked up a hockey stick and ball at age two. Morne's mom, Elsie Coetzer, is also a renowned hockey coach.
"Mom coached the SA Schools girls' team for about 10 years, so the hockey bug bit me early. I went to Grey College where sport is a big passion, and played 1st team hockey for three years under [another legend] Des Donald, from whom where I learned a lot about hard work, passion and getting the basics right."
Morne made the SA U16 side – and the disappointments of the next two years probably, in part, made him the mentor he is today. "Not making the SA schools side in my grade 11 and matric years has helped me a lot with my coaching, learning from the mistakes I made as a player."
At varsity, Odendaal played for Kovsies, Free State U21 and the Free State men's team, where he was coached by another Bloemfontein hockey legend, Braam van Wyk.
"The biggest thing I learned from Braam is player management – and how to work with different types of players and personalities. Another learning opportunity came at a time when Free State varsity hosted a number of international series and training camps.
"Those who came to Bloemfontein included the national men's teams from Germany, Holland and South Africa, and the women's teams of Argentina and SA. I would go and sit alone the whole day at the Kovsies astro and just learn from the international coaches.
"Some of the coaches who have achieved much in the game that I got to see in action were Carlos Retegui, Markus Weise, Andrew Meredith, Giles Bonnet and Craig Fulton. I try and learn from as many top coaches as possible."
So following a coaching career full-time has been, and still is, a constant learning experience? "You learn every day because there are so many ups and downs," Morne says, with a wry smile.
"I think my best coaching skill is to assist, as best I know how, in making a good player into something more, by that I mean to reach as close to their potential as possible while under my care."
Odendaal says the key to success is having the rightstructures, a good foundation, in place, to ensure that a hockey school, Oranje in his case, continues to produce champion teams.
"We lay a good foundation by starting at our primary school. Elsie Coetzer takes charge of our grades 1 to 3. Our high school coaches also coach at the primary school and I coach the U13A team. This is where it starts."
Other ingredients in Odendaal's recipe for success? "Creating a competitive environment for all Oranje's hockey players, encouraging all to take part on a high-performance level, developing their potential to a point that has never been produced at any school."
Another plus factor in the Odendaal mix is feedback. "I really enjoy talking to coaches about the game, to take ideas on board and make them your own, according to your team or school's needs. It's never as simple as copy and paste. The players are the people who see you every day, so their feedback is very important too."
Getting the right talent mix of support staff is another big one. "We have a great coaching team at Oranje. Everyone is open to new ideas and input from the other coaches. Sandile Bosman is our specialist goalkeeper and striker coach; he also coaches our U16A team. I rate him very highly and he makes a constant effort to learn new things."
Morne Odendaal talks sense. It heads straight back to enjoyment of the practice of playing this wonderful sport called hockey.
"I appreciate the psychological side of sport and know that young hockey players don't like sitting in a classroom. I implement the psychology aspects in actual training sessions.
"Fitness, too, plays a massive role in the enjoyment you get out of the game. I think we are probably the fittest side in the country. Trainings with stick and ball in short, sharp sessions at a very high intensity, game-related speed."
Odendaal firmly believes in the well-rounded hockey player. Education and general life skills – this will surely define what type of player is better-equipped to produce for province and country at senior level.
"That might be the difference between Oranje and the rest. We play hockey the whole year, so I see the kids almost every day of the school year. For me, it's not only about the hockey player but also the person. I try and be a mentor for all the girls."
Another strength comes in striving to develop the Oranje coaches. Does Odendaal see it as a long-term investment? "That is the biggest investment you can make. I do as much as I can to learn from other coaches, so that I can share their knowledge with the Oranje coaches."
Oranje's coach believes in using different methods to unlock players' potential. Some might need a "big stick" approach while others you have to appeal to their intellect.
"Rather than imprinting a rigid style or putting them into a box, do as best you can, within the team requirements, to give players the freedom to express themselves. They are all unique and need different attention in different areas; they appreciate this."
So which of the school teams in SA does the Oranje coach most admire? "There are a lot of school teams that I respect but the one that stands out is St Mary's Waverley just for being consistent for a long time."
Is there an Oranje style – or brand of hockey? The coach's response is immediate: "Most definitely. It's fast paced, all-out attack, seeking every opportunity to score goals, it's very entertaining. A key to the quality of hockey we play comes back to one of the most important things for me, decision making. The girls must play what is in front of them, think on their feet, choosing the correct option in that particular moment.
"Some coaches over-train their players. We train three-to-four times a week for an hour – and that gives the girls the hunger to still want to train on their own. It's very important to train on your own or to have a one-on-one session with your coach."
Oranje have a winning recipe.
THE 2015 ORANJE FIRST TEAM SQUAD

Je Mone Kirsten (Southern Free State U18A, in grade 11)
Charlese Hugo (SFS U18A, grade 11)
Jana Greeff (SA U18B, grade 11)
Marli van Deventer (SA U16, grade 10)
Mia Barnard (SA U16, grade 10)
Simone Gouws (SA U16 Best Forward and SA U21 training camp, grade 10)
Minke van Heerden (SA U18B and SA U17 HP squad, grade 11)
Este van Schalkwyk (SA U18B and SA U18 HP squad, grade 12)
Frances Louw (SFS U16A, grade 10)
Carinke Jacobs (SFS U16A, grade 9)
Mirie van Niekerk (SFS U18A, grade 12)
Lizanne Jacobs (SA U16, grade 10)
Nicole Moss (SFS U18B, grade 11)
Danine Retief (SA U16, grade 10)
Jacolene McClaren (SFS U16A, grade 9)
Sare Laubster (SFS U16A, grade 9)
Sonika van Heerden (SA U16, grade 10)
Coaching staff
Morne Odendaal (head coach)
Sandile Bosman (goalkeeper and strikers)
Danelle Greef (conditioning)
Gys van Schalkwyk (speed and agility)
Lucia Theron (team manager)