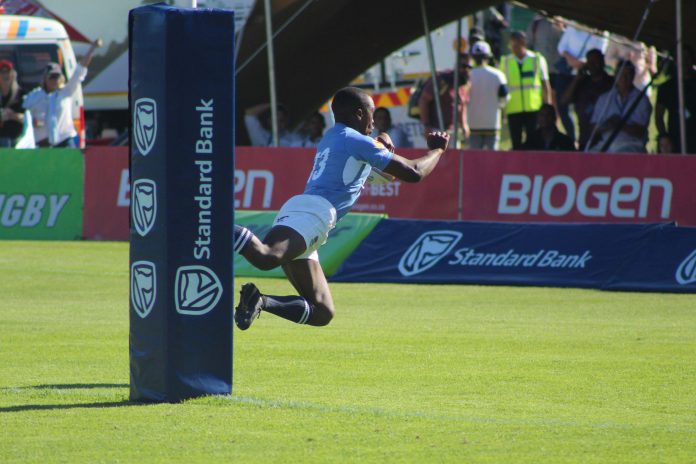 Exciting array of schools talent lined up for Grey Rugby Festival.
By attracting a total of 13 schools from outside the Eastern Province region, the Standard Bank Grey High Rugby Festival will have a smorgasbord of electrifying matches on its programme when the action kicks off on March 31.
This annual schools rugby extravaganza, supported by Powerade and AlgoaFM, will be played over two days, finishing on April 2, and there will be plenty to look forward to in the fixtures scheduled for the Philip Field and the Pollock Oval.
Three of those teams – Selborne, Queen's and Hudson Park – come from Border, sides who always provide highly entertaining rugby, while 10 other schools from around the country will add an exciting dimension to the festival.
Gauteng will be represented by KES, Jeppe and Parktown, while Westville, Northwood and Michaelhouse will display KwaZulu-Natal's particular brand of running rugby.
Western Cape schools have always been an integral part of the Grey Festival and Bishops, SACS and Rondebosch form a potent trio, all capable of extending their opponents.
This year they will be joined by Southern Cape powerhouse Outeniqua, from George, who have produced a string of high-quality players over many years.
They will be an extremely exciting addition to the occasion and will be keen to make their mark when they take on Selborne in the first encounter, followed by Bishops on the Saturday.
Bishops, themselves, will have much to prove during the festival because their opening game is against Makhanda outfit St Andrew's, a rivalry that stretches back to 1896.
They were due to meet in the 2020 festival but the Covid-19 lockdown put paid to that. The teams did play in 2021 when Bishops won 38-13, so there will be everything to play for in Gqeberha.
Grey High have set themselves up against tough opponents from Cape Town (SACS) and Johannesburg (KES).
They were due to play SACS two years ago, so this will be a chance for both teams to show their credentials, while the second match will be a repeat of the festival finale in 2018 when Grey defeated KES 33-17.
The Johannesburg side, though, have a strong rugby history and they will be fired up to end this year's festival in the best way possible.
The provisional fixtures are:
March 31, Philip Field
9.10: Westville v Queen's; 10.20: Nico Malan v KES; 11.40: Framesby v Jeppe; 12.50: Outeniqua v Selborne; 2pm: St Andrew's v Bishops; 3.20: Grey High v SACS
Pollock Oval
9.10: Parktown v Northwood; 10.20: Kingswood v Michaelhouse; 11.40: Woodridge v Andrew Rabie; 12.50: Hudson Park v Despatch; 2pm: Graeme v Rondebosch; 3.20: Muir v Ithembelihle
April 2, Philip Field
9.10: Muir v Parktown; 10.20: Jeppe v Rondebosch; 11.40: Brandwag v Hudson Park; 12.50: Selborne v Framesby; 2pm: Outeniqua v Bishops; 3.20: Grey High v KES
Pollock Oval
9.10: Graeme v Despatch; 10.20: Queen's v SACS; 11.40: Grey Unicorns v Outeniqua 2nd; 12.50: Nico Malan v Northwood; 2pm: Westville v Kingswood; 3.20: St Andrew's v Michaelhouse
Photo: Grey centre Liyema Matyolweni crosses for a try during the Standard Bank Grey High Rugby Festival in 2019. The annual event is back on track this year after not being held for two years due to Covid-19. Picture: Grey High School
Report compiled by:Neale Emslie
Cell: 071 850 0865
Email: [email protected]
On behalf of: Grey High School