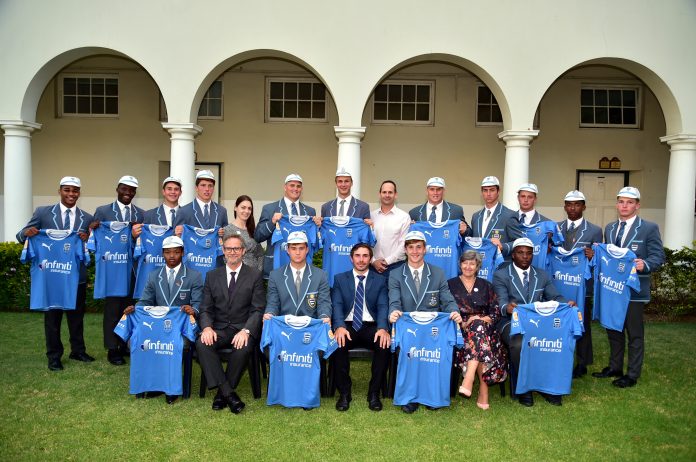 Grey squad ready to soak up the festival atmosphere
Grey High team leaders Ivan Ingram and Jake Barnard are itching to experience the atmosphere of the Standard Bank Grey High Rugby Festival when this year's tournament takes place at the end of this month.
A total of 16 schools from around the country will be sending teams to the festival, supported by Powerade and AlgoaFM, with matches in Gqeberha on March 31 and April 2.
Ingram, who will captain the team from hooker, and his deputy, No 8 Barnard, are among those boys whose sporting careers have been rudely disrupted by the coronavirus pandemic over the last two years.
Now they are ready to put that behind them as they anticipate playing their part in the festival and, hopefully, a full season of schoolboy rugby.
Ingram was revealed as the first team captain at last week's capping ceremony and said he was ready to take on the challenge.
"It's not something that I was expecting, but I am happy to step up to do the job," he said. "It's a real honour for me and I will be focused on leading the side to the best of my ability."
His leadership credentials received an early test when Grey faced Brandwag in the Graeme College Rugby Day in Makhanda on Saturday, but he came through a tough encounter as the team rallied for a 31-27 win.
He says they are now beginning to get excited about their own festival.
"The guys are getting very pumped for it all," Ingram said. "We had an early practice game against Kingswood and we see the festival as a perfect opportunity to showcase our talents."
He added that it was important for the school to be able to host a tournament of this nature.
"It's really good for the boys and the school to have this opportunity to get the gees going again and to possibly have some supporters behind us for our games."
Barnard said he was thrilled to be back playing after the Covid-19 disruption.
"Obviously rugby is a big part of our lives and to have that taken away for the last two years was hard," he said.
"It's been a massive challenge for everyone and just to be back on the field is awesome."
He added that they realised that a big test lay ahead in terms of staying in shape.
"It's going to be hard to get back to the physicality and we have been struggling with injuries, so you can see the guys have not been used to the contact side of the sport.
"But we are working hard to stay physically fit and to be able to get through the season."
Grey open their festival programme with a clash against SACS and close off the proceedings on the Saturday against Johannesburg team KES.
Photo: The Grey High rugby team at the capping ceremony last week was, from left, back, Daylon Myners, Siviwe Bwowe, Mark Brombacher, Tobias Nota, Debbie Jordaan (Southsure Brokers), Damian Baker, Daniel du Toit, Nick Bands (Southsure Brokers), Jared Baker, Kenneth Garrod, Tristan van Aardt, Uvile Vinjwa, Caleb Kotze; front, Nande Ndudula, Chris Erasmus (Grey rector), Ivan Ingram (captain), Bean van Eeden (head coach), Jake Barnard, Sharon Paterson (Infiniti Insurance), Liyabona Matabielie. Photo: Eugene Coetze
Report compiled By:Neale Emslie
Cell: 071 850 0865
Email: [email protected]
On behalf of Grey High School