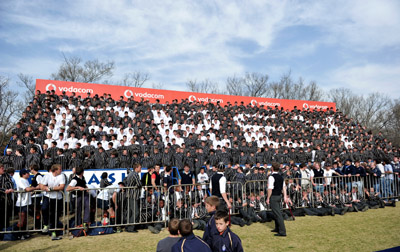 In other parts of the world, it is simply an enquiry of what area you grew up in and a search for the possibility of a mutual friend or two. In South Africa, we so often deduce the character of a stranger by their reply. In testosterone-filled surroundings, a 'good school' has little to do with its matric pass rate and everything to do with the strength of its first rugby team. For thousands of old boys the country over, the mention of their school days are met with a single emotive response: awe. These are the old boys of Grey College.
Grey College Secondary School was formed in 1855 by soldier, explorer, writer and politician, Sir George Grey. Loved by Brit, Boer and tribesmen alike, the popular governor of the Cape saw the value of education and paid for the establishment of Grey College in Bloemfontein and the Grey Institute in Port Elizabeth (now known as Grey High School). Interestingly enough, the school excelled at soccer in the early years; but as the popularity of rugby spread through South Africa in the 1900s, the round ball took a back seat and a rugby powerhouse was born.
Every school has a founder's story and all have some sense of history, but the old boys of Grey have taken this to another level. Rather than simply sharing their sense of pride for all who care to listen, Grey past pupils formed a structured association known as Reunie. Comprising a National Reunie Committee with branches throughout South Africa (and overseas), they ensure that the traditions and ethos that shaped the school in 1855 still ring true today.
The sporting reputation of a school is so often dependant on the number of first-class representatives they have on their books. It seems that every rugby school worth its weight has had a decent Currie Cup player or two. Some even manage the odd Springbok every few decades. Grey tends to produce a future Bok every season. Picking a standout talent would be like searching for a Bulls flyhalf without a strong boot; nigh impossible. Coach Ingo Machts has seen his fair share of wunderkinds during his tenure in Bloemfontein. With his involvement at the school spanning thirty years (five of which have been with the first team), he has seen more Green and Gold than the Free State Rugby Union itself. He too is reluctant to pick out a few gems from a diamond mine. "To pick out one player would be very difficult. Over the last few years a couple of names come to mind. Frans Steyn, the Du Plessis brothers, the Ebersohn brothers and Joe Pietersen all made big impacts at Grey. Then there's Heinrich Brussow, it's very difficult to say".
When a school has the ability to lose only one game out of 110 (between 1999 and 2003), there is the added difficulty in pinpointing a few select fixtures. "Three matches stand out for me in recent years. Our game at Maritzburg College in 2007, last year against Glenwood and also against Outeniqua in Windhoek last year". Interestingly enough, when asked who he felt was the best schoolboy he had ever coached against, his reply is as surprising as it is emphatic. "Darryl Cullinan was possibly the best schoolboy rugby player I have ever seen. He was the flyhalf at Queens College for a while and just controlled the whole game. I have never seen anybody to compare to his class."
Once seen as an Afrikaans institution, Grey College is now a fully-fledged parallel medium school with an estimated thirty percent of the school being English mother-tongue speakers. Each grade will usually have six classes of which two cater for those more comfortable with English instruction. This has meant that the possibility of being part of this illustrious dynasty is available to more hopefuls than ever before; only serving to enhance the legend that is Grey College.
Whilst most schools are limited to the talent it's provided with (from its various feeder primary schools), Grey counters this variable on two fronts. One the one hand, its feeder system is largely taken care of by the primary school section of the College. Whilst Coach Machts explains that the primary and high schools' are largely independent of each other (sharing only a name and grounds), the continuity resulting from a large percentage of boys playing beside each other for up to twelve years goes a long way to ensure instinctual combinations. In practicality, a fresh centre pairing can often take a few matches to gel. A pair that has played next to one another for the better part of a decade will likely know what the other is going to do before he even does it.
Supplementing this advantage is the presence of the boarding establishments that attract some of the best talent from around the country. "There's approximately 1200 boys at Grey College; 350 being boarders" explains Machts. "Most of our first team squad are boarders as they are from around the country; from small towns within the Free State to as far as the Eastern Cape". When Grey College show an interest in a player (from whatever corner of the country), the question is not 'if' they will pack their bags for Bloemfontein, but rather 'when'. Such is the weight that the name 'Grey College' holds over the rugby fraternity.
As if the squad wasn't well-travelled enough, the utter dominance of Grey Bloem has meant they have to scour all corners of the country to find a competitive set of fixtures. Travelling by bus or train would affect the performance of any sporting team; Grey chooses to take it in their stride. "The travel does affect the side, but we are getting more used to it now. This year we have five home games and thirteen on the road, but the boys are managing". What makes Grey's success rate even more impressive is the class of opponent they face on a weekly basis. From Hoerskool Monument to Affies, Paul Roos and Glenwood; there is simply no let up in intensity.
Such mental strength is only matched by the professional manner in which they build up to a game. Mondays are spent on fitness and gym sessions, with the exciting addition of Dr. Sheryl Calder's Eye Map (that ensures the boys never play with 'tunnel vision', but are aware of all peripheral movement on the field). Tuesdays to Thursdays are spent on the training paddock with the odd gym visit thrown in the mix. Their management team consists of a coach, assistant, manager (who is also the Director of Rugby), a defence & fitness coach, as well as a conditioning & strength coach. If that doesn't ensure a player performs at optimum levels, the knowledge that a willing and able replacement is just around the corner means that 'slacking' is never an option. The high school comprises of twenty-six rugby teams and it is often said that realistic competition for first XV places stretches down to the fourth team.
Whilst so many schools have taken the concept of semi-professional student athlete to uncomfortably drastic means, Grey College has inevitably found the perfect balance. The spirit of the school is reflected in the way they play the game. It is not uncommon for Grey to concede points early in a match. The difference is that they seem unflustered; simply soaking up the pressure of opposition attacking surges in the first half and unleashing in the second. There are no wild celebrations after scoring a remarkable try, no gloating and no off the ball incidents. Grey boys express their individuality on the field, but are humbled with the knowledge that they are a part of something greater. They have become accustomed to success, yet are so unassumingly businesslike in their approach; an enviable balance. Quite simply, Grey College is the model rugby production factory. Others have tried to emulate their feats, but unavoidably end up watching in admiration.