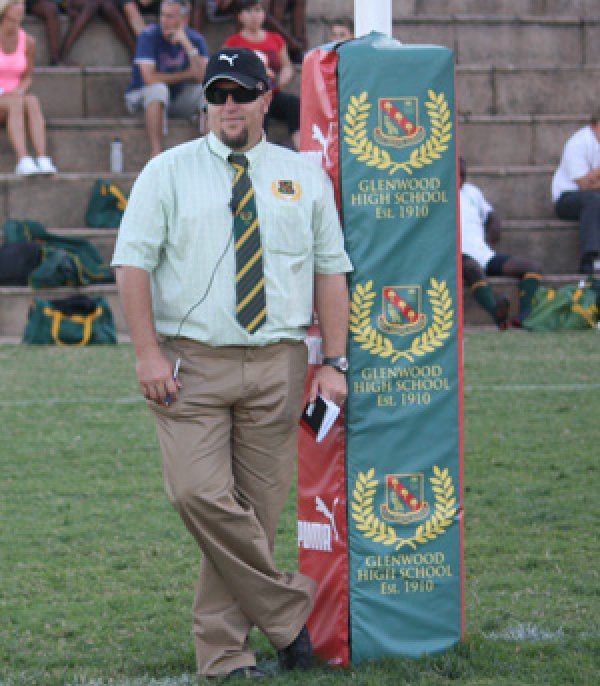 "They have the most aggressive recruiting policy in KZN," one Durban school coach mentioned to SA SchoolSports, adding that "they stole a march on us a few years back when they took on a far more professional approach to their rugby. Now we are all just playing catch up."
Whatever the core reason is for Glenwood High School's phenomenal success in recent years , one common denominator is that for the past four years they have had one of the most driven rugby coaches leading the First XV, and although it is the players that make it happen on the field there can be no doubting the massive contribution Head Coach Sean Erasmus has played in getting Glenwood to be recognised as one of the Top Ten rugby schools in South Africa.
It just takes a few minutes with Coach Erasmus to realise that Glenwood could well have a future 'Jake White' in their midst, a coach who is as passionate about his school as he is about his career of one day coaching at the very highest level.
Not only is Sean Erasmus the Director of Rugby at Glenwood High but he will also be the Assistant KZN Craven Week Coach this year, as well as The Sharks U19 forwards coach in 2009 and 2010 to cap it off he coaches at The Sharks academy as well. A busy schedule but one that Sean will have no other way.
Involvement with The Sharks:
The benefits to the Glenwood First Team are obvious if your coach is permanently involved with a professional team like The Sharks but as a coach determined to learn as much as he can his involvement with The Sharks is priceless.
"Coaching at the Sharks Academy means I am learning every single day. It is amazing what you learn when are in the company of some really good coaches that have coached at the top level such as Swys De Bruyn, Ettiene Fynn,Deon Kayser. Being involved with The Sharks U19 and the Academy puts me in a position to rub shoulders with guys that are legends in coaching," says Coach Erasmus.
Being able to tap into some of the most intelligent minds in rugby almost at will has given Sean Erasmus not only invaluable experience but the players under his charge at Glenwood have access to some of the most cutting edge rugby coaching that can be found anywhere on the planet. If you manage to be good enough to play for Glenwood's First XV you are guaranteed to be coached by one of the best in business.
"I am really appreciative of the help and support I have got from The Sharks coaches, Plumtree, Sean Everitt, Rudolf Straueli and others have been very supportive and willing to help me develop as a coach. What an honour it is for me to be involved with a guy like Rudolph Straueli for example who I admired when I was a schoolboy, he really is a wonderful person who has made a massive contribution to The Sharks," says Erasmus.
"When I got involved I thought it was going to be intimidating to walk into a room with Plumtree, Straueli and other Sharks Coaches but I have never ever felt like that and they have never been short of giving me advice," he adds.
Having coached more players to the KZN Craven side in the past 4 years than any other school, Erasmus' involvement with the Academy is a win-win situation for The Sharks as well. The continuity that he can provide to players as he coaches them in the Sharks U19 set up is immense and it still allows the players to relate to a coach who has already taught them a lot in their school days.
"It is great to go there and see boys that I worked with at Glenwood and Durban Collegains Rugby Club  like Francois Kleinhans, Fred Zeilinga, Marcel Coetzee and others and still be involved in their careers. But you know if you look at the rugby honors board at Glenwood you will find 10 names there of players who made the KZN Craven Week side in 2010 and all those boys are playing either at provincial level or in the Varsity Cup and some like Klienhans and John Roy Jenkinson are in the SA U20 side and that is very encouraging to see."
"Of course at the Academy you also coach boys from other schools and it is a relief that I don't have to worry about playing against them on the Saturday but can enjoy seeing their talent grow," Erasmus added.
Assistant KZN Craven Week Coach:
Coaching one of the powerhouses in KZN rugby means that the goal of the season for Glenwood and Sean Erasmus is to win every match they play. However this season he has the task of looking at the opposition in a slightly different light especially in view of the fact that he will be involved in coaching some of them in Craven Week.
Although Barend Steyn from Kearsney College is the head coach of the Craven Week side and has the final say on selection, Erasmus' keen eye to spot talent will certainly see him studying the opposition players very closely.
"I think that is part of the professional challenge you face as a coach and it is something that I have been given a lot of advice on from people at the Sharks administration on how to deal with it. Sometimes I have to take my Glenwood cap off and put my Natal Schools Cap on and look at the bigger picture because obviously when you play against other schools and you do the analysis afterwards you look with a different view at their players, they catch your eye as someone to look out for in the trials," Erasmus says in summing up his dual role he will play this season.
With the professional era and many players already contracted before Craven Week begins there is some school of thought that would suggest that the most prestigious School Rugby event has lost some of its aura especially when you consider that some players who don't get to Craven Week still manage to forge a career for themselves in the sport whilst a few who make SA School's fall by the way side.  However Sean Erasmus still sees Craven Week as the pinnacle of a school boy's rugby career although he agrees there is still good opportunity for players to make a name for themselves if they don't get selected.
"I don't think it is going to make or end your career," surmises the coach. "Take for example Henry Honiball from Estcourt he never played Craven Week but he ended up being one of the best flyhalfs the Springboks have ever had.  It is nice to have it because it does expose you to that higher level but there are cases of a lot of boys who have made Academy A or B sides  and have gone on to be better players than guys in the Craven Week side."
"I would say the U16 Grant Khomo week is the important one where the guys start to make a name for themselves and where unions are looking to contracts players for the future. By the time they make Craven Week they could already be contracted," adds Erasmus.
With school rugby becoming more professional it comes as no surprise that when you attend Craven Week the venue is awash with rugby scouts not only from South Africa but from all over the world looking to contract potential match winners. It is common knowledge that South Africa has an extremely good school rugby system and the plethora of talent on display will draw scouts even from rugby league.
The temptation is great for any player who possibly gets overlooked or doesn't get a look in to take an offer to play outside the country but  for many Craven Week will still be the holy grail of schoolboy rugby and a once in a lifetime opportunity to get selected for the national schools side.
"It is going to be my first experience to go to Craven Week but from what you hear from others is that the marketing is pretty aggressive where you have universities,  unions and different rugby bodies from all over the world looking at the players. It is always sad when top players leave the country but it is always going to be tempting for some," explains Sean Erasmus.
The Green Machine:
With close on 20 matches lined up for the season against some of the most respected teams in the country once again Glenwood have another huge season ahead of them where at least in KZN they will be on many teams wish list as the team to beat.
Captained by is loose head prop Neil Oelofse and assisted by  Vice Captain Simphiwe "Jeffery" Shezi the Green Machine are going to be fielding a very young side with only seven players from last year in the squad which means that a lot of U16's are getting their first opportunity to play in the First XV. Quietly confident of a successful season, the players and coach have had to work very hard in a short period of time to get match fit for their first match in early April.
"With these fixtures coming into the first term you only have two weeks after cricket ends to prepare for big festival match and we are a team that traditionally starts slowly and then pick it up as the season progresses. Hopefully we can get going early this year," mentioned Coach Erasmus as he looks ahead to the start of the season.
2010 was an up and down season for Glenwood who recorded some memorable wins but also fell short on occasion in some very close matches. It was also the first time in 4 years that Sean Erasmus and Glenwood had lost to KZN opposition when they went down in the big Pietermaritzburg showdown against Maritzburg College.
"The injuries were felt in that match, our captain went off, we were tired and College were extremely good on the day. No excuses we were beaten. It was a hostile environment when you go to any school on their Reunion Day so we always knew we were in for it and it is an area that we have to improve on," says Erasmus on reflection.
Recognised as a Top Ten rugby school Coach Erasmus is determined to keep Glenwood at the upper echelons for as long as possible but fully realises that with success comes the added pressure of maintaining a competitive edge over the opposition.
"Locally College and Westville are the big matches but you don't really want to single out any team. Because every other school are a challenge to us and they all are tough matches," explains the coach.
"The boys have told me that when they put on a Green jersey of Glenwood they feel like they are putting 100 years of tradition over their heads that's how they feel about a game. So whatever team they are playing, it doesn't matter to them."
"Admittedly we as a team need to work on the big match temperament, we are in the top league now you can say and that is why I have great respect for a team like Grey College have been at the top for decades and have huge matches week in and week out. To be like them we must learn how to deal with the pressure of the big matches," says the coach.
Sean Erasmus is quick to point out though that the school rugby success is not all down to his ability as a coach but points to the school's excellent recruitment, marketing and coaching staff which enables them to attract good players to Glenwood. "Rudi Dames is a promising coach that also coaches at KZN Schools Academy Level. He and I work well together and I value his opinion. Rudi puts a lot of hard work into the backs and their individual skills. We always make sure the team comes first", says Erasmus. "Credit must also be given to all the coaches that contribute to these boys abilities, by the time they reach us they have gone through several capable hands at Glenwood"
In the last four years the success of their recruitment is seen in the fact that the First XV has nearly been unchanged from the U14 A side which serves to underline how seriously they take nurturing the talent that arrives at the school.
"This is my tenth year at Glenwood," reflects Sean Erasmus, "and you tend to have a very special relationship with the players because you see them coming here in Grade 8 and leaving in Grade 12 and he is a totally different player and it is rewarding to know that you had a part in his development."
"That is what I love about my coaching here at Glenwood, they have been very supportive of me in my other coaching pursuits but I am passionate about the Green Machine, my first responsibility is to Glenwood and to keep them on top."
Coach of the most successful team in KZN schools, The Sharks U19 forwards coach as well as coaching regularly at The Sharks Academy, Sean Erasmus has been instrumental in shaping the careers for many players that will soon become household names.  In 14 years he has gradually climbed the ladder in coaching circles and it is not difficult to believe that the Glenwood Director of Rugby could realistically be coaching at the very highest level in the sport in the not too distant future.
What has he still got left to accomplish with Glenwood High School?
For me personally and I want  to keep the win ratio up, but my vision has become wider these days and what I really want to accomplish while I am at Glenwood is that I want to see Springboks coming out of this school.  From last year's First Team there are three Glenwood boys playing SA U20, some are playing Vodacom Cup rugby, others are playing Varsity Cup rugby, there must be about ten of them that are playing on the circuit.
That is what I want to accomplish at Glenwood High School, to produce not one or two but lots of Springboks. With the consistent support of the school, the boys , the staff and my very supportive and understanding young family , I know we can do it. We continue to be Blessed each year by God with success and strength and I look forward to that being the same this year again!"