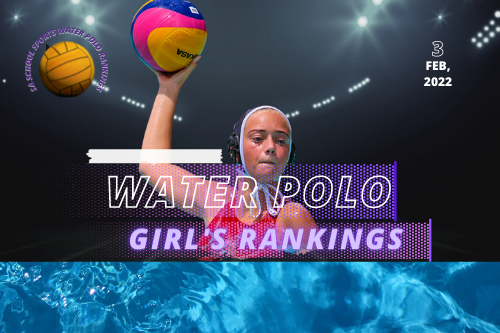 Crawford Lonehill are out of the blocks early in this year's Water polo season and lead the pack on the first Girl's Water Polo Rankings for 2022.
Crawford has always threatened to be one of the powerhouses in girl's water polo and with their recent showing at the Brian Baker tournament showed that 2022 might well be the year they take their place amongst the big names.
After a long absence due to COVID restrictions, water polo has taken its place as one of the most popular school summer sports.
With many key results still outstanding please ensure your Girl's Water Polo results are sent to
GIRLS WATER POLO RANKINGS, 3 FEBRUARY, 2022

RANK

TEAM

PLAYED

AVG BONUS PTS

1

CRAWFORD LONEHILL

6

5.48

2

REDDAM CON

6

4.71

3

ST STITHIANS

7

3.98

4

HERSCHEL

6

3.80

5

CLARENDON

8

3.51

6

ST DOMINICS

6

3.36

7

DSG

8

3.29

8

KINGSWOOD

9

3.27

9

COLLEGIATE

9

3.22

10

DURBAN GC

9

2.92

11

PEARSON

7

2.88

12

GLENWOOD HOUSE

8

2.04

13

STIRLING

7

1.76

14

HUDSON PARK

6

1.19

15

ALEXANDER ROAD

6

1.00