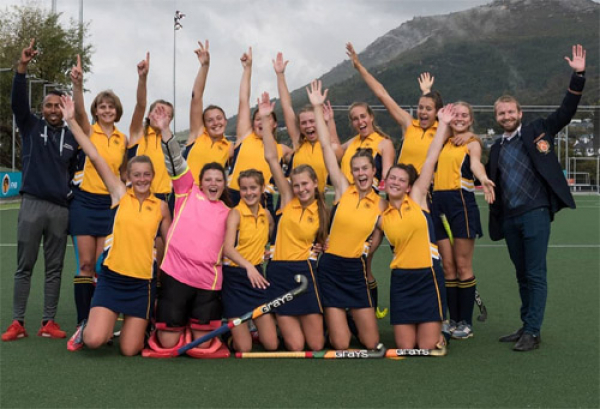 Oranje Meisies put on a master class at this year's U16 Top Schools Tournament hosted by Paarl Gim and have clinched the top spot on the SA School Sports Girl's U16 Rankings as well.
Going unbeaten in 20 matches is no easy feat but the leading U16 team in the country brushed aside all that stood before this season to finish the year as the top team. Taking the crown at this year's Top School Tournament was the cherry on the top for the Oranje U16 team and with their first team also finishing No.1, this U16 team will surely be hoping to continue the dominance of school hockey on into 2020.
DSG and Menlopark make up the top three with Paarl Gim and St Mary's Waverley completing the top five zone.
We look forward to more excitement amongst the U16 teams next year and thank all the coaches and especially the players for an excellent season.
GIRL'S U16 HOCKEY RANKINGS 15 August, 2019

RANK

TEAM

PLAYED

AVG BONUS PTS

1

ORANJE MEISIES

20

4.02

2

DSG

32

3.90

3

MENLOPARK

28

3.75

4

PAARL GIM

30

3.71

5

ST MARYS WAVERLEY

21

3.60

6

DURBAN GC

19

3.40

7

ST JOHNS DSG

27

3.38

8

HERSCHEL

27

3.26

9

HUDSON PARK

16

3.14

10

BLOEMHOF

33

3.10

11

GARSFONTEIN

35

3.05

12

WOODRIDGE

30

3.01

13

FAIRMONT

18

2.94

14

ST CYPRIANS

23

2.90

15

ST ANNES

29

2.87

16

EUNICE

19

2.87

17

COLLEGIATE

34

2.85

18

CLARENDON

17

2.83

19

ST MARYS KLOOF

20

2.62

20

MARAGON RUIMSIG

26

2.55

21

SPRINGFIELD

16

2.53

22

LADY FATIMA

12

2.53

23

SOMERSET

20

2.53

24

VOORTREKKER BETH

9

2.46

25

PEARSON

22

2.46

26

HELPMEKAAR

28

2.34

27

PIETERSBURG

35

2.25

28

TRANSVALIA

18

2.13

29

PAREL VALLEI

12

2.06

30

LICHTENBURG

22

2.04

31

CRAWFORD LA LUCIA

11

2.04

32

NELSPRUIT

13

2.02

33

WESTERFORD

9

1.99

34

STELLENBERG

12

1.93

35

STIRLING

16

1.91

36

ST STITHIANS

11

1.86

37

EG JANSEN

10

1.84

38

HERMANUS

9

1.82

39

WYNBERG GH

12

1.72

40

HUGENOTE SPRINGS

16

1.71

41

WITTEBERG

15

1.71

42

WATERKLOOF

19

1.70

43

CORNWALL HILL

14

1.68

44

MONUMENT

17

1.48

45

CAMBRIDGE

19

1.47

46

ALEXANDER ROAD

12

1.44

47

REDDAM CONSTAN

10

1.37

48

NOORDHEUWEL

24

1.35

49

RHENISH

13

1.35

50

RUSTENBURG WC

12

1.28

51

DF MALAN

11

1.16

52

FRAMESBY

13

1.12

53

PAARL GIRLS HIGH

7

1.07

54

ST ANDREWS GIRLS

7

1.01

55

KINGSWOOD

14

0.96

56

DR MALAN

7

0.94

57

PENRYN

9

0.90

58

AFFIES

12

0.75

59

CURRO DURBANVILLE

14

0.61

60

SENTRAAL

7

0.60

61

THOMAS MORE

7

0.53

62

ROEDEAN

11

0.09

63

EPWORTH

6

0.05