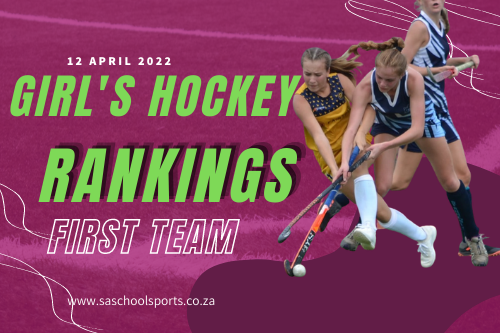 For the sixth time on 7 attempts Oranje Meisies held off some of the finest teams in the country to win the coveted St. Mary's Waverley Tournament this past week.
Enjoying an unbeaten run all the way to the finals, OMS were too good on the day for fellow finalists Waterkloof, winning the main event 3-0 to capture another title.
Oranje Meisies remain unbeaten this season and hold onto the Top spot on this Week's Girl's First Team Hockey Rankings.
Please send through your results to [email protected]
GIRL'S 1st HOCKEY RANKINGS 12 APRIL, 2022

RANK

TEAM

PLAYED

AVG  BONUS PTS

1

ORANJE MEISIES

23

3.94

2

EUNICE

24

3.60

3

PAARL GIM

15

3.04

4

VOORTREKKER BETH

12

3.00

5

BEAULIEU COLLEGE

9

2.97

6

ST MARYS WAVERLEY

20

2.94

7

COLLEGIATE

21

2.87

8

HERSCHEL

15

2.79

9

PEARSON

28

2.76

10

FAIRMONT

16

2.72

11

RHENISH

8

2.71

12

DURBAN GC

14

2.67

13

AFFIES

11

2.65

14

WATERKLOOF

18

2.63

15

ST STITHIANS

12

2.56

16

ST CYPRIANS

24

2.50

17

KINGSWOOD

5

2.46

18

GARSFONTEIN

15

2.42

19

ST MARYS KLOOF

15

2.41

20

MENLOPARK

22

2.40

21

NOORDHEUWEL

14

2.36

22

PIETERSBURG

8

2.36

23

SOMERSET

20

2.35

24

NELSPRUIT

7

2.33

25

WOODRIDGE

4

2.33

26

BLOEMHOF

14

2.31

27

CLARENDON

16

2.28

28

ORANJE 2NDS

9

2.22

29

GRAAF-REINET VOLK

6

2.15

30

UNION HIGH

10

2.15

31

PAARL GIRLS HIGH

15

2.15

32

HUDSON PARK

14

1.99

33

SASOLBURG

13

1.95

34

WORCESTER GYM

16

1.94

35

REDHILL

8

1.93

36

RUSTENBURG

16

1.89

37

THOMAS MORE

5

1.86

38

CURRO DURBANVILLE

9

1.86

39

ST JOHNS DSG

17

1.84

40

TRINITYHOUSE

3

1.83

41

ROEDEAN

11

1.79

42

MIDSTREAM

4

1.78

43

STELLENBERG

10

1.77

44

SPRINGFIELD

8

1.74

45

PMB GIRLS

21

1.73

46

CORNWALL HILL

14

1.69

47

MIDDELBURG HS

5

1.68

48

PRETORIA GH

14

1.68

49

YORK HIGH

12

1.68

50

WITTEBERG

15

1.67

51

EPWORTH

3

1.67

52

OUR LADY FATIMA

12

1.67

53

LANGENHOVEN GIM

6

1.65

54

ELDORAIGNE

5

1.60

55

DR MALAN

3

1.53

56

BRIDGEHOUSE

8

1.49

57

DF MALAN

22

1.47

58

BELLVILLE

9

1.46

59

DSG

6

1.43

60

OUTENIQUA

5

1.42

61

ASHTON

11

1.35

62

SETTLERS

4

1.33

63

HTS DROSTDY

5

1.30

64

PAREL VALLEI

9

1.30

65

STIRLING

4

1.28

66

CAMBRIDGE

14

1.27

67

ST ANDREWS GIRLS

10

1.23

68

MONUMENT

17

1.23

69

PAUL ERASMUS

5

1.20

70

TRANSVALIA

13

1.18

71

DANVILLE

4

1.18

72

QUEENSTOWN GHS

4

1.15

73

POTCH VOLKSKOOL

4

1.13

74

DURBANVILLE

7

1.09

75

ST ANNES

17

1.06

76

MILNERTON

11

1.00

77

ST MARYS PRET

8

1.00

78

FRAMESBY

12

0.96

79

HELPMEKAAR

8

0.93

80

HUGENOTE SPRINGS

11

0.91

81

PINELANDS

11

0.86

82

BRESCIA

13

0.75

83

WYKEHAM COLLEGIATE

8

0.68

84

EL SHADDAI

6

0.62

85

KINGSMEAD

12

0.60

86

HERMANUS

8

0.53

87

ST DOMINICS

9

0.18

88

DIE BRANDWAG

3

0.17

89

OUDSTHOORN

7

-0.07

90

STRAND

8

-0.26