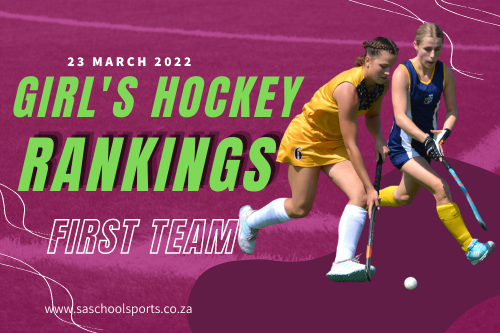 The 2022 Hockey Season is back to its exciting best with several tournaments having already been played and tons of festivals still to come.
Oranje Meisies takes the early lead on this week's Girls School Hockey Rankings for First Teams, and it is hard to argue with their unbeaten track record thus far.
However, several other teams have started well and seem up for the challenge with Voortrekker Bethlehem and Beaulieu College well placed in the top 10.
There are still many results that have not been submitted so please send through your team's results to [email protected] to ensure their inclusion.
GIRL'S 1st HOCKEY RANKINGS 23 MARCH, 2022

RANK

TEAM

PLAYED

AVG  BONUS PTS

1

ORANJE MEISIES

11

4.16

2

EUNICE

10

3.72

3

PEARSON

8

3.05

4

COLLEGIATE

3

3.00

5

VOORTREKKER BETH

12

3.00

6

ST CYPRIANS

4

2.93

7

BEAULIEU COLLEGE

7

2.74

8

PAARL GIM

3

2.73

9

RHENISH

8

2.69

10

PAARL GIRLS HIGH

5

2.60

11

FAIRMONT

4

2.40

12

SASOLBURG

11

2.28

13

UNION HIGH

4

2.25

14

PIETERSBURG

5

2.22

15

CLARENDON

5

2.16

16

WATERKLOOF

3

2.10

17

ELDORAIGNE

3

2.07

18

RUSTENBURG

5

1.98

19

FRAMESBY

4

1.98

20

HUDSON PARK

5

1.88

21

SPRINGFIELD

8

1.73

22

ASHTON

4

1.73

23

CORNWALL HILL

8

1.63

24

DR MALAN

3

1.53

25

DF MALAN

5

1.42

26

CAMBRIDGE

9

1.41

27

CURRO DURBANVILLE

4

1.33

28

QUEENSTOWN GHS

3

1.27

29

DSG

5

1.22

30

MENLOPARK

6

1.15

31

HELPMEKAAR

7

1.14

32

NOORDHEUWEL

3

1.13

33

PAREL VALLEI

8

1.08

34

STIRLING

3

1.03

35

MONUMENT

5

1.00

36

MILNERTON

4

0.88

37

HUGENOTE SPRINGS

4

0.70

38

WITTEBERG

4

0.55

39

ST JOHNS DSG

4

0.18

40

ST ANNES

6

0.07

41

TRANSVALIA

6

-0.02

42

WYKEHAM COLLEGIATE

3

-0.40