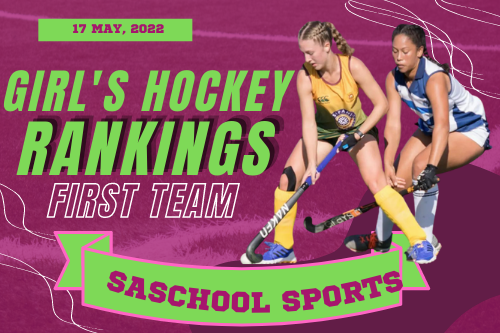 In the tight race to the top of the table of the Girls' First Team Hockey Rankings, several teams are still in with a chance of qualifying for the Oranje Meisies Super 12 Tournament.
The big news from last week was Eunice's 2-0 win over Oranje which will mean the Super 12 will be wide open this year and highly competitive.
However, Oranje still cling on to the No.1 spot with Eunice ever closer and the strong likelihood that the two powerhouses will meet again for another showdown.
For more details on the Super 12 Tournament check here.
Please send your results to [email protected]
GIRL'S 1st HOCKEY RANKINGS 17 MAY, 2022

RANK

TEAM

PLAYED

AVG  BONUS PTS

1

ORANJE MEISIES

26

3.79

2

EUNICE

29

3.66

3

PAARL GIM

19

3.12

4

VOORTREKKER BETH

19

3.10

5

ST MARYS WAVERLEY

22

3.04

6

HERSCHEL

18

2.91

7

COLLEGIATE

25

2.90

8

BEAULIEU COLLEGE

15

2.89

9

PEARSON

32

2.80

10

MENLOPARK

31

2.74

11

RHENISH

18

2.72

12

DURBAN GC

18

2.70

13

ST STITHIANS

18

2.61

14

WATERKLOOF

26

2.55

15

BLOEMHOF

25

2.53

16

ST MARYS KLOOF

20

2.48

17

AFFIES

17

2.47

18

ST CYPRIANS

27

2.46

19

SOMERSET COLLEGE

34

2.43

20

NOORDHEUWEL

16

2.40

21

CLARENDON

22

2.34

22

NELSPRUIT

12

2.33

23

FAIRMONT

20

2.33

24

GARSFONTEIN

21

2.30

25

ST JOHNS DSG

27

2.20

26

PIETERSBURG

22

2.18

27

ORANJE 2NDS

12

2.16

28

DSG

23

2.15

29

SASOLBURG

17

2.13

30

OUTENIQUA

21

2.12

31

UPLANDS

5

2.00

32

PAARL GIRLS HIGH

20

1.99

33

WOODRIDGE

8

1.98

34

GRAAF-REINET VOLK

7

1.96

35

UNION HIGH

12

1.94

36

REDHILL

8

1.93

37

KINGSWOOD

13

1.90

38

MIDDELBURG HS

10

1.90

39

RUSTENBURG

17

1.89

40

MERENKSY

14

1.87

41

WORCESTER GYM

19

1.86

42

HUDSON PARK

16

1.85

43

LANGENHOVEN GIM

8

1.83

44

ROEDEAN

11

1.79

45

PAREL VALLEI

17

1.77

46

ZWARTKOP

20

1.76

47

STIRLING

22

1.74

48

ST ANNES

28

1.68

49

STELLENBERG

15

1.67

50

OUR LADY FATIMA

12

1.67

51

WYKEHAM COLLEGIATE

24

1.67

52

CURRO HILLCREST

9

1.64

53

PMB GIRLS

25

1.62

54

PRETORIA GH

16

1.58

55

THOMAS MORE

7

1.57

56

CURRO DURBANVILLE

13

1.57

57

HTS DROSTDY

23

1.54

58

YORK HIGH

17

1.53

59

CRADOCK

18

1.48

60

WITTEBERG

17

1.48

61

CAMBRIDGE

17

1.47

62

ASHTON

20

1.46

63

CORNWALL HILL

17

1.44

64

LINDEN

13

1.42

65

DR MALAN

9

1.41

66

BRIDGEHOUSE

12

1.40

67

HUGENOTE SPRINGS

19

1.35

68

DANVILLE

8

1.35

69

DF MALAN

25

1.35

70

BELLVILLE

11

1.33

71

DURBANVILLE

8

1.26

72

PAUL ERASMUS

8

1.25

73

ST ANDREWS GIRLS

10

1.23

74

MONUMENT

21

1.19

75

TRANSVALIA

16

1.19

76

ELDORAIGNE

7

1.17

77

SPRINGFIELD

18

1.13

78

BERGSIG

8

1.13

79

WATERSTONE

7

1.10

80

POTCH VOLKSKOOL

16

1.08

81

FRAMESBY

15

1.07

82

HELPMEKAAR

11

1.04

83

MIDSTREAM

7

1.01

84

ST MARYS PRET

8

1.00

85

PINELANDS

11

0.86

86

EPWORTH

13

0.83

87

MILNERTON

14

0.76

88

EL SHADDAI

6

0.62

89

KINGSMEAD

12

0.60

90

BRYANSTON

7

0.60

91

QUEENSTOWN GHS

8

0.53

92

HERMANUS

8

0.53

93

BRESCIA

18

0.47

94

ST DOMINICS

16

0.15

95

OUDSTHOORN

8

0.14

96

STRAND

11

-0.10