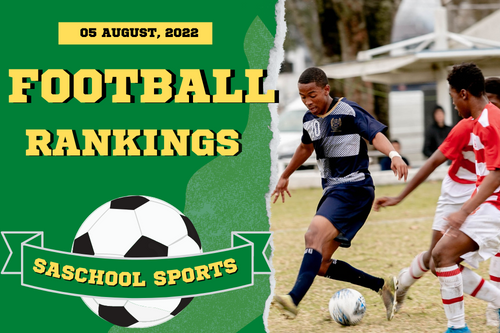 After being flooded with requests for Football to have their own Rankings here is this week's School Football Rankings for first teams.
Please bear in mind that the results we have on hand could well be incomplete which will have a bearing on the standing for the various teams. Schools are not as regular with submitting their football results in general so any apparent anomalies should be ironed out with a more complete set of results. So please ensure your results are with us by sending them to [email protected]
The formula for the Football rankings takes into consideration the following factors: Strength of Opposition, Margin of Victory, Margin of Defeat, Actual Goals Scored and result (W/L/D). Each of these factors garners a team a prescribed amount of bonus points which are tallied and divided by matches played to render an "Average Bonus Points" which is ultimately ranking the team.
We look forward to making the Football ranking a regular feature so please send through the results and we will include them.
FIRST TEAM FOOTBALL RANKINGS 05 AUGUST, 2022

RANK

TEAM

PLAYED

AVG  BONUS PTS

1

HTS LOUIS BOTHA

12

12.258

2

PAUL ROOS GYM

14

11.329

3

ST CHARLES COLLEGE

4

11.275

4

HILTON COLLEGE

9

10.867

5

EMPANGENI

4

10.600

6

ST DAVIDS

5

10.580

7

WESTVILLE

7

10.300

8

DURBAN HS

4

10.250

9

MICHAELHOUSE

6

10.167

10

RONDEBOSCH

8

10.138

11

WYNBERG

10

10.130

12

GLENWOOD

5

9.880

13

ESHOWE

4

9.500

14

ROSINA SEDIBANE

4

9.325

15

PORT SHEPSTONE

5

9.280

16

ZWAANSWYK

3

9.133

17

ST BENEDICTS

3

9.100

18

ST STITHIANS

3

9.067

19

CARTER

5

8.940

20

CLAPHAM

6

8.483

21

REDDAM CONSTANTIA

3

8.267

22

NORTHWOOD

18

8.144

23

BECHET

5

7.940

24

JEPPE

4

7.750

25

PINETOWN

4

7.750

26

MARITZBURG COLLEGE

9

7.744

27

KEARSNEY COLLEGE

8

7.588

28

BISHOPS

10

7.580

29

KLOOF HS

4

7.275

30

UNITAS

4

7.275

31

WESTERFORD

4

6.825

32

ALEXANDER HS

3

6.767

33

ST JOHNS COLLEGE

3

6.767

34

GREY COLLEGE

3

6.693

35

CLIFTON

5

6.680

36

QUEENSBURGH

3

6.633

37

REDDAM UMHLANGA

4

6.525

38

KIMBERLEY BH

3

6.433

39

HILLCREST HS

3

6.133

40

FERRUM

3

6.100