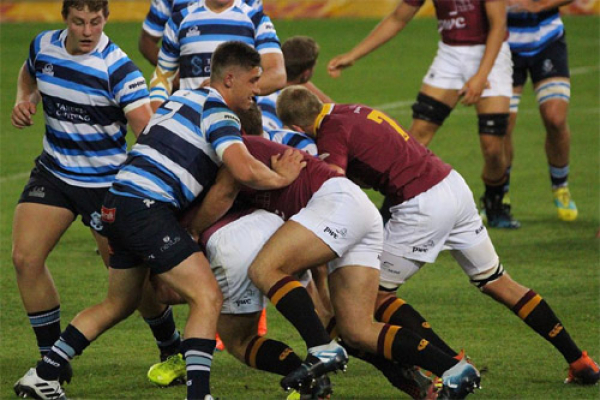 There has already been several high profile festivals to kick start the 2019 school rugby season with the promise of more to come in the approaching weeks. With the majority of the leading teams in the country full engaged in the season we are looking at familiar faces at the top of this week's SA School Sports First XV Top 100 Rankings.
Grey College, Framesby and Paarl Gim make up the top three with an unbeaten Boishaai and Grey High School making up the top five.
Let it be stressed that there are still many teams that will be added to the rankings once they have submitted or played the minimum amount of matches which has been set at 3 from this week. Naturally we can expect some changes to the table as some of the bigger names are entered.
Bear in mind that the rankings formula makes use of several factors such as strength of opposition, margin of victory, margin of defeat, result (W/L/D), home and away status, actual points scored on the field and others in determining the rankings.
Please send through your team's results to [email protected]
FIRST XV RANKINGS 2 APRIL, 2019

RANK

TEAM

PLAYED

AVG BONUS POINTS

1

GREY COLLEGE

6

7.133

2

PAARL GIM

5

6.640

3

FRAMESBY

4

6.575

4

GREY HIGH SCHOOL

3

6.500

5

PAARL BOYS HIGH

3

6.431

6

HELPMEKAAR

4

5.600

7

GLENWOOD

6

5.483

8

ST ANDREWS COLLEGE

4

5.350

9

AFFIES

6

5.117

10

BISHOPS

4

4.733

11

MICHAELHOUSE

3

4.600

12

BOLAND LANDBOU

5

4.540

13

MONUMENT

6

4.483

14

SELBORNE COLLEGE

4

4.450

15

STELLENBERG

5

4.380

16

HILTON COLLEGE

6

4.350

17

DALE COLLEGE

4

4.300

18

EG JANSEN

4

3.950

19

ST STITHIANS

3

3.900

20

OUTENIQUA

3

3.700

21

WATERKLOOF

5

3.620

22

GARSFONTEIN

3

3.533

23

HEIDELBERG VOLKIES

3

3.450

24

WESTVILLE

5

3.220

25

MENLOPARK

4

3.218

26

QUEENS COLLEGE

4

3.075

27

JEPPE

3

3.033

28

HTS DROSTDY

5

2.960

29

MIDDELBURG HS

4

2.925

30

KINGSWOOD COLLEGE

3

2.867

31

UNION HS

5

2.840

32

DIE BRANDWAG

7

2.829

33

PAREL VALLEI

4

2.800

34

SACS

4

2.675

35

NORTHCLIFF

4

2.621

36

LIGBRON

6

2.610

37

JEUGLAND

7

2.514

38

ALBERTON HS

4

2.475

39

FICHARDTPARK

3

2.300

40

OOS MOOT

4

2.275

41

DESPATCH

7

2.229

42

WELKOM GYM

5

2.200

43

BEN VORSTER

5

2.112

44

SECUNDA

3

2.011

45

ST ALBANS COLLEGE

7

1.957

46

MARITZBURG COLLEGE

3

1.933

47

NORTHWOOD

3

1.910

48

DUINEVELD

5

1.900

49

JIM FOUCHE

4

1.800

50

ST DAVIDS

4

1.775

51

ST JOHNS COLLEGE

4

1.630

52

OAKDALE

3

1.621

53

HTS MIDDELBURG

4

1.575

54

MARLOW

4

1.500

55

LICHTENBURG

3

1.467

56

PIONIER

4

1.400

57

LOUIS BOTHA

3

1.167

58

HUGENOTE WELL

4

1.167

59

POTCH GIM

6

1.167

60

DIAMANTVELD

6

1.133

61

WITTEBERG

3

1.012

62

WORCESTER GYM

3

0.900

63

OTTO DU PLESSIS

5

0.840

64

CENTURION

4

0.725

65

MONTANA PTA

5

0.660

66

ERMELO

4

0.550

67

ST BENEDICTS

4

0.550

68

WESVALIA

3

0.533

69

LANGENHOVEN HS

3

0.533

70

MARAIS VILJOEN

4

0.525

71

BEN VILJOEN

5

0.400

72

OVERKRUIN

2

0.350

73

SENTRAAL

2

0.300

74

GOUDVELD

4

0.275

75

GRENS

3

0.267

76

NICO MALAN

5

0.180

77

KRUGERSDORP

3

0.167

78

ST CHARLES COLLEGE

3

-0.091

79

RANDPARK

3

-0.233

80

VOORTREKKER BETH

3

-0.267

81

PEARSON

5

-0.400

82

POTCH VOLKIES

5

-0.460

83

HERMANUS

3

-0.567

84

PIET POTGIETER

3

-0.633

85

GRAEME COLLEGE

4

-0.700

86

DURBANVILLE

3

-0.733

87

BEKKER

3

-0.767

88

WOODRIDGE COLLEGE

3

-0.933

89

STRAND

5

-0.980

90

CHARLIE HOFMEYR

3

-1.233

91

DHS

3

-1.367

92

ST ANDREWS SCHOOL

3

-1.400

93

PARKTOWN

4

-1.450

94

HUDSON PARK

5

-1.520

95

BRACKENFELL

4

-1.575

96

TRANSVALIA

4

-1.625

97

MUIR

3

-1.800

98

TYGERBERG

3

-1.900

99

ZWARTKOP

3

-3.100

100

STIRLING

3

-3.300