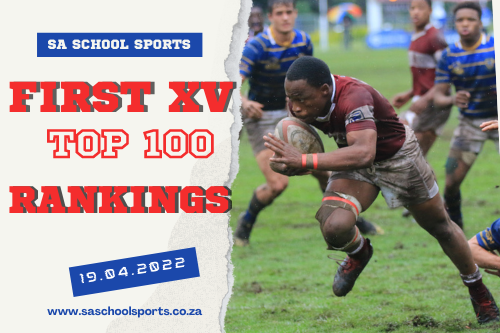 After a rainy and muddy Easter weekend this is how the week's First XV School Rugby Ranking are looking.
Boishaai leap into the top 3 zone after a highly successful weekend winning all three of their matches including a titanic arm-wrestle with Hilton College who came close to handing the boys from Paarl their first defeat, but not close enough.
Michaelhouse also are amongst those who have moved upward following their win over local rivals Maritzburg College as well as St.Stithians and fell agonisingly short of make it three from three when the narrowly went down to St Andrews College 17-15.
Monument hold their ground in the top 10 zone after being pushed to the limit in all three of their encounters at the Kearsney College Festival, narrowly beating DHS and Marlow. The muddy conditions not proving too conducive to the Monnas running style.
The minimum matches played for this week has been set at 4 matches which may account for some teams not appearing on this week's First XV School Rugby Rankings.
Several factors are used in the formula to work out the rankings including: Strength of Opposition, Home/Away status, Margin of Victory, Margin of Defeat. Defeat by less than 10 points, Actual Result (W/L/D) and actual points scored.
Please send through your First XV results to [email protected]
FIRST XV RANKINGS 19 APRIL, 2022

RANK

TEAM

PLAYED

AVG BONUS POINTS

1

GREY COLLEGE

5

9.740

2

PAARL GIM

4

9.075

3

PAARL BOYS HIGH

6

8.233

4

BISHOPS

7

8.200

5

 GARSFONTEIN

5

8.120

6

AFFIES

6

7.550

7

HILTON COLLEGE

4

7.100

8

 PAUL ROOS GYM

5

6.780

9

RONDEBOSCH

5

6.720

10

MONUMENT

7

6.243

11

BOLAND LANDBOU

6

6.067

12

KES

6

6.050

13

MARITZBURG COLLEGE

8

5.788

14

STELLENBERG

5

5.720

15

WYNBERG BH

6

5.400

16

SELBORNE COLLEGE

9

5.400

17

MICHAELHOUSE

7

5.300

18

NORTHCLIFF

5

5.280

19

ST ANDREWS COLLEGE

8

5.225

20

FRAMESBY

6

5.183

21

 HELPMEKAAR

7

4.957

22

SACS

5

4.840

23

 NOORDHEUWEL

8

4.813

24

QUEENS COLLEGE

6

4.717

25

MERENSKY

6

4.667

26

GLENWOOD

7

4.571

27

OUTENIQUA

4

4.550

29

HUDSON PARK

8

4.488

30

HTS DROSTDY

10

4.450

31

 ELDORAIGNE

9

4.400

32

MUIR

4

4.400

33

DHS

6

4.367

34

DF MALAN

4

4.350

35

WESTVILLE

8

4.325

36

KINGSWOOD COLLEGE

6

4.217

37

WORCESTER GYM

6

4.200

38

OAKDALE

3

4.200

39

DIE ANKER

7

4.143

40

JEPPE

7

4.100

41

 NELSPRUIT

7

4.086

42

DIE BRANDWAG

9

4.022

43

MIDDELBURG HS

8

4.000

44

PEARSON

7

3.914

45

GRAEME COLLEGE

7

3.871

46

DIAMANTVELD

6

3.733

47

WITTEBERG

5

3.720

48

CHARLIE HOFMEYR

9

3.711

49

UNION HS

6

3.700

50

GREY HIGH SCHOOL

7

3.700

51

WATERKLOOF

7

3.643

52

SECUNDA

7

3.629

53

ERMELO

6

3.550

54

EG JANSEN

7

3.529

55

 MARLOW

7

3.271

56

VOORTREKKER BETH

8

3.213

57

 RUSTENBURG

7

3.200

58

PRETORIA BOYS HIGH

6

3.167

59

HTS MIDDELBURG

7

3.143

60

ST JOHNS COLLEGE

8

3.113

61

KEARSNEY COLLEGE

9

3.111

62

SWARTLAND

5

3.100

63

ST ANDREWS SCHOOL

6

3.067

64

DINAMIKA

4

3.050

65

FLORIDA

4

3.025

66

MONTANA PTA

7

3.000

67

DURBANVILLE

9

2.989

68

HUGENOTE WELL

4

2.950

69

OOS MOOT

6

2.950

70

FRIKKIE MEYER

6

2.917

71

HTS WITBANK

4

2.825

72

STRAND

8

2.788

73

WESVALIA

6

2.650

74

LEEUWENHOF

7

2.643

75

TRANSVALIA

5

2.640

76

PENRYN COLLEGE

5

2.580

77

HANS STRIJDOM

4

2.550

78

NORTHWOOD

8

2.513

79

LANDBOUDAL

7

2.429

80

HEIDELBERG VOLKIES

6

2.383

81

CURRO NELSPRUIT

5

2.380

82

ROBERTSON

6

2.317

83

ST ALBANS COLLEGE

5

2.200

84

BEN VORSTER

5

2.160

85

OTTO DU PLESSIS

7

2.057

86

KLERKSDORP

4

2.000

87

 NICO MALAN

8

1.988

88

GOUDVELD

4

1.975

89

HS ALBERTON

4

1.975

90

LANGENHOVEN GIM

6

1.850

91

PORTERVILLE

7

1.843

92

BRACKENFELL

6

1.783

93

DUINEVELD

4

1.725

94

ZWARTKOP

7

1.700

95

CURRO HILLCREST

6

1.670

96

CENTURION

7

1.614

97

HOPEFIELD

6

1.600

98

HTS LOUIS BOTHA

4

1.575

99

GELOFTE

4

1.560

100

HERMANUS

5

1.560

101

Graaf Reinet Volk

4

1.550

102

BRITS

5

1.540

103

SENTRAAL

5

1.440

104

DALE COLLEGE

4

1.420

105

CLIFTON

5

1.380

106

HANS MOORE

7

1.314

107

MIDSTREAM

4

1.275

108

WELKOM GYM

7

1.257

109

PARKTOWN

7

1.243

110

JIM FOUCHE

5

1.180

111

BREDASDORP

4

1.075

112

ELLISRAS

4

0.975

113

ST STITHIANS

8

0.910

114

BERGSIG

5

0.900

115

ROB FERREIRA

5

0.900

116

ST DAVIDS

6

0.880

117

ST CHARLES COLLEGE

4

0.830

118

POTCH GIM

6

0.800

119

 MARAIS VILJOEN 

4

0.725

120

TRIO

5

0.680
Check Out Last Week's First XV Rankings
Photo: TRACEY VAN DEN AARDWEG