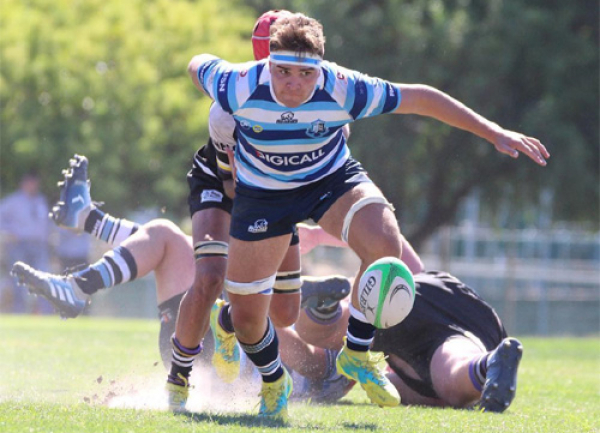 Paul Roos Gym make their appearance on this week's SA School Sports First XV Top 100 Rankings and they manage to snatch the No.1 spot after completing a troika of victories.
Yet there is little to separate the leading teams and still plenty of opportunity for teams to move upwards if the results go their way.
Grey High School and St Andrews College slugged it out for a bruising 17-17 draw over the weekend to underline how close the top teams are. Boishaai held out for a bruising win over Outeniqua who refused to lay down and Boland Landbou outplayed Wynberg in a 93 point spectacle.
Westville who seemed to promise so much at the start of the season were brought back to earth with a thump as DHS turned back the clock to win by a whisker and Dale College grimly held on for victory against Marlow.
However we are bracing ourselves for the rugby feast that is soon to arrive courtesy to the Easter Rugby festivals that will erupt around the country. With many cross-provincial results taking place at these festivals there is sure to be some hard fought for victories and some honourable defeats.
Please send through your results to [email protected]
FIRST XV RANKINGS 9 APRIL, 2019

RANK

TEAM

PLAYED

AVG BONUS POINTS

1

PAUL ROOS GYM

3

7.533

2

GREY COLLEGE

7

7.257

3

PAARL GIM

6

6.483

4

PAARL BOYS HIGH

4

6.483

5

FRAMESBY

5

6.480

6

GREY HIGH SCHOOL

4

5.575

7

GLENWOOD

7

5.514

8

AFFIES

7

5.386

9

ST ANDREWS COLLEGE

5

4.920

10

MONUMENT

7

4.700

11

EG JANSEN

5

4.500

12

SELBORNE COLLEGE

5

4.440

13

STELLENBERG

5

4.420

14

HILTON COLLEGE

6

4.350

15

BOLAND LANDBOU

6

4.333

16

DALE COLLEGE

5

4.320

17

MICHAELHOUSE

3

4.267

18

ST STITHIANS

5

4.260

19

PIETERSBURG

5

4.214

20

HELPMEKAAR

5

3.980

21

KES

3

3.833

22

HTS DROSTDY

7

3.686

23

WATERKLOOF

6

3.567

24

KEARSNEY COLLEGE

4

3.525

25

QUEENS COLLEGE

5

3.500

26

MIDDELBURG HS

6

3.350

27

JEPPE

4

3.350

28

BISHOPS

5

3.300

29

OUTENIQUA

4

3.275

30

GARSFONTEIN

4

3.250

31

KINGSWOOD COLLEGE

4

3.225

32

DIE BRANDWAG

7

2.829

33

HOPEFIELD

4

2.800

34

WELKOM GIM

6

2.783

35

HEIDELBERG VOLKIES

4

2.725

36

ST ALBANS COLLEGE

7

2.614

37

PAREL VALLEI

5

2.560

38

LIGBRON

7

2.543

39

OAKDALE

4

2.500

40

WESTVILLE

6

2.483

41

FRIKKIE MEYER

3

2.433

42

UNION HS

5

2.340

43

FICHARDTPARK

3

2.300

44

LYDENBURG

3

2.210

45

DESPATCH

8

2.188

46

MENLOPARK

5

2.140

47

BEN VORSTER

5

2.040

48

RONDEBOSCH

3

2.033

49

PRETORIA BOYS HIGH

3

2.000

50

CLIFTON

3

1.967

51

WYNBERG BH

3

1.933

52

JEUGLAND

8

1.925

53

NORTHWOOD

3

1.900

54

DUINEVELD

5

1.900

55

MARITZBURG COLLEGE

4

1.890

56

FLORIDA

3

1.833

57

ST JOHNS COLLEGE

5

1.780

58

LOUIS BOTHA

4

1.775

59

JIM FOUCHE

5

1.760

60

ST DAVIDS

5

1.760

61

ALBERTON HS

5

1.740

62

LEEUWENHOF

3

1.733

63

NORTHCLIFF

6

1.733

64

MARLOW

5

1.700

65

SECUNDA

4

1.650

66

LICHTENBURG

4

1.575

67

SACS

5

1.460

68

OOS MOOT

5

1.420

69

PIONIER

4

1.400

70

MONTANA PTA

6

1.233

71

KLERKSDORP

3

1.167

72

HUGENOTE WELL

4

1.167

73

OTTO DU PLESSIS

6

1.150

74

DIAMANTVELD

7

0.943

75

Graaf Reinet Volk

3

0.900

76

WORCESTER GYM

3

0.900

77

AHS KROONSTAD

3

0.867

78

NICO MALAN

6

0.783

79

DHS

4

0.780

80

OOSTERLIG

3

0.767

81

DANIEL PIENAAR

3

0.733

82

CENTURION

4

0.725

83

CURRO DURBANVILLE

4

0.700

84

POTCH GIM

7

0.614

85

BEN VILJOEN

6

0.612

86

ERMELO

5

0.600

87

WESVALIA

3

0.533

88

LANGENHOVEN HS

3

0.533

89

DURBANVILLE

4

0.475

90

LABORI

5

0.467

91

HANS MOORE

3

0.467

92

ST BENEDICTS

4

0.450

93

GOUDVELD

5

0.400

94

KRUGERSDORP

6

0.250

95

BASTION

3

0.233

96

MARAIS VILJOEN

6

0.217

97

HTS MIDDELBURG

5

0.200

98

DIE ANKER

3

0.200

99

VOORTREKKER BETH

4

0.175

100

GRAEME COLLEGE

5

0.120

101

POTCH VOLKIES

6

0.050