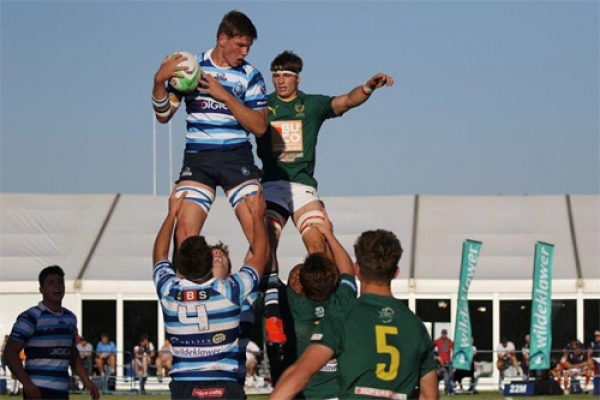 Grey College put on a display of clinical class at the Wildeklawer Tournament brushing aside the challenges of Outeniqua and Paarl Gim and in so doing rise to take the No.1 spot on this week's SA School Sports First XV Top 100 Rankings.
Grey College many would argue are deserving of the leading position, unbeaten so far in 2019 and able to rack up huge scores against the best in the country clearly underline how talented this side is.
However Paul Roos Gym supporters will be pointing to the stunning performance of their team at the SANIX World Youth Tournament which saw PRG cruise to the final and beat the New Zealand school St. Peter's College 52-5 and argue that the Stellenbosch team is the best in SA. Fortunately that question could be answered in mid-August when the two teams meet.
Let's not forget Boishaai who outgunned both Glenwood and Affies to keep their unbeaten status intact and Framesby who continue to impress following their brace of wins during the past week.
There were several very hard fought for wins over the weekend as most teams gear up for the halfway mark of the 2019 season.
Please send through your team's results to [email protected]
FIRST XV RANKINGS 7 MAY, 2019

RANK

TEAM

PLAYED

AVG BONUS POINTS

1

GREY COLLEGE

10

7.350

2

PAUL ROOS GYM

8

7.338

3

PAARL BOYS HIGH

9

7.267

4

PAARL GIM

10

6.640

5

FRAMESBY

12

5.575

6

MONUMENT

10

5.230

7

ST ANDREWS COLLEGE

9

4.800

8

GARSFONTEIN

7

4.743

9

GREY HIGH SCHOOL

9

4.678

10

SELBORNE COLLEGE

9

4.567

11

KES

6

4.567

12

HILTON COLLEGE

9

4.500

13

RONDEBOSCH

9

4.456

14

ST STITHIANS

7

4.214

15

BOLAND LANDBOU

10

4.190

16

STELLENBERG

11

4.036

17

BISHOPS

7

4.014

18

HELPMEKAAR

9

3.989

19

PIETERSBURG

6

3.967

20

AFFIES

11

3.945

21

DALE COLLEGE

10

3.930

22

EG JANSEN

9

3.922

23

GLENWOOD

12

3.858

24

MARITZBURG COLLEGE

9

3.833

25

WATERKLOOF

10

3.630

26

DIE BRANDWAG

10

3.530

27

NORTHWOOD

8

3.488

28

MICHAELHOUSE

8

3.425

29

OUTENIQUA

7

3.214

30

WESTVILLE

11

3.191

31

WELKOM GYM

12

3.117

32

LIGBRON

10

3.040

33

HTS DROSTDY

12

2.983

34

JEPPE

8

2.975

35

FRIKKIE MEYER

6

2.917

36

KINGSWOOD COLLEGE

10

2.880

37

MIDDELBURG HS

9

2.844

38

WYNBERG BH

8

2.838

39

MENLOPARK

8

2.813

40

PIONIER

12

2.800

41

DESPATCH

11

2.664

42

PRETORIA BOYS HIGH

9

2.656

43

KEARSNEY COLLEGE

9

2.567

44

SACS

9

2.489

45

NOORD KAAP

8

2.463

46

HEIDELBERG VOLKIES

6

2.433

47

CHARLIE HOFMEYR

7

2.361

48

HTS MIDDELBURG

11

2.345

49

HOPEFIELD

6

2.300

50

ST JOHNS COLLEGE

6

2.283

51

PAREL VALLEI

10

2.260

52

SECUNDA

7

2.143

53

DURBANVILLE

7

2.114

54

BEN VORSTER

9

2.100

55

VEREENIGING GIM

8

2.075

56

LICHTENBURG

6

2.033

57

DINAMIKA

7

2.029

58

ST ALBANS COLLEGE

9

1.933

59

ELDORAIGNE

5

1.920

60

JIM FOUCHE

6

1.917

61

ALBERTON HS

7

1.914

62

OAKDALE

8

1.913

63

DUINEVELD

5

1.900

64

NOORDHEUWEL

9

1.844

65

ROBERTSON

8

1.800

66

QUEENS COLLEGE

10

1.790

67

MARAIS VILJOEN

12

1.775

68

OVERKRUIN

5

1.760

69

NORTHCLIFF

11

1.755

70

OOS MOOT

8

1.738

71

SENTRAAL

8

1.700

72

ST DAVIDS

8

1.663

73

MONTANA PTA

9

1.644

74

JEUGLAND

11

1.582

75

UNION HS

8

1.563

76

MELKBOSSTRAND

11

1.555

77

BRYANSTON

11

1.500

78

DIAMANTVELD

10

1.470

79

CLIFTON

7

1.457

80

ERMELO

8

1.363

81

KLERKSDORP

6

1.350

82

LYDENBURG

10

1.340

83

HUDSON PARK

11

1.273

84

WESVALIA

5

1.240

85

BELLVILLE

6

1.217

86

FOURWAYS

8

1.213

87

CENTURION

7

1.171

88

MARLOW

9

1.133

89

WORCESTER GYM

5

1.100

90

LOUIS BOTHA

5

1.100

91

CURRO DURBANVILLE

6

1.083

92

SUTHERLAND

9

1.056

93

CAMPS BAY

7

1.043

94

GRAEME COLLEGE

9

1.033

95

GOUDVELD

6

1.017

96

PENRYN COLLEGE

5

0.980

97

PIET POTGIETER

6

0.967

98

JACOBSDAL

7

0.957

99

ST CHARLES COLLEGE

6

0.883

100

FICHARDTPARK

6

0.833

101

FLORIDA

6

0.817

102

DHS

10

0.800