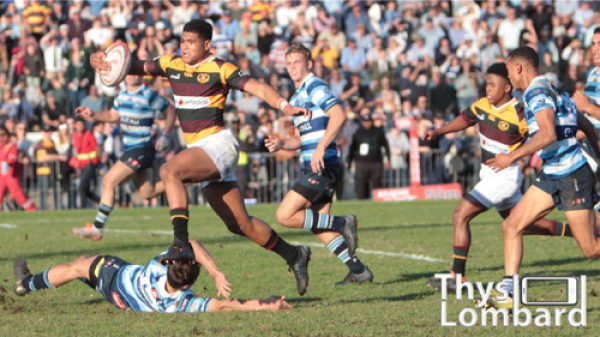 It was an ancient story, from olden times, the story of David versus Goliath. The Story of the mighty giant against the puny underdog. The Story of the overwhelming favourite against the long shot, with absolutely no chance.
But this week's story was different. There was no David. There was no underdog. We didn't have one Goliath plundering the treasures of the small. This time there were two Goliaths. Gimmies! Boishaai!
Relentlessly these two great teams stomped on, showing no charity nor requesting any as they wrestled for every inch of turf to put on a spectacle that could truly fit the word 'epic'.
But the point is…What did this and any school rugby match teach us?
That anything in the world can happen on that field. Anything. You always have a chance. We absolutely know it in our bones.
It's that simple.
It's true that there is always going to be a winner and a loser, but this time it was only on paper. With only a single point separating these two great teams on the day (Paarl Gim 18-17 Paarl Boys High), few would disagree that school rugby was the real winner and that these two great juggernauts played their part in proving this.
On any give Saturday you are going to win or you're going to lose. The point is, can you win or lose like a man? For all the players of both teams we can say a definite "YES!"
With regard to the First XV Top 100 Rankings for this Week we are still looking at Grey College way out in front as they look poised to end the season as the undisputed No.1 team in the country.
A gallant effort by Glenwood to move into the top 10 saw the Durban team outplay Maritzburg College and Grey High School cling on to a top 10 slot after their win over the strong Selborne College side.
Please send through your First XV Results to [email protected]
FIRST XV RANKINGS 6 AUGUST, 2019

RANK

TEAM

PLAYED

AVG BONUS POINTS

1

GREY COLLEGE

16

7.569

2

PAARL GIM

16

6.800

3

PAARL BOYS HIGH

16

6.694

4

PAUL ROOS GYM

13

5.723

5

FRAMESBY

19

5.495

6

GARSFONTEIN

14

5.493

7

SELBORNE COLLEGE

17

5.118

8

ST ANDREWS COLLEGE

17

5.059

9

MONUMENT

18

5.044

10

GREY HIGH SCHOOL

16

5.006

11

HILTON COLLEGE

13

4.785

12

GLENWOOD

19

4.716

13

KES

12

4.550

14

STELLENBERG

17

4.335

15

NORTHWOOD

13

4.185

16

BISHOPS

15

4.147

17

AFFIES

17

4.094

18

HELPMEKAAR

17

4.029

19

LEEUWENHOF

11

3.945

20

OUTENIQUA

13

3.877

21

PIETERSBURG

8

3.813

22

DIE BRANDWAG

16

3.669

23

WESTVILLE

15

3.640

24

JEPPE

13

3.592

25

DESPATCH

17

3.576

26

ST JOHNS COLLEGE

12

3.533

27

MENLOPARK

16

3.488

28

DURBANVILLE

13

3.469

29

RONDEBOSCH

17

3.424

30

WELKOM GYM

13

3.262

31

EG JANSEN

16

3.188

32

ST STITHIANS

13

3.154

33

LIGBRON

19

3.037

34

PRETORIA BOYS HIGH

17

3.035

35

DALE COLLEGE

15

3.007

36

MARITZBURG COLLEGE

17

2.924

37

HTS DROSTDY

16

2.888

38

PIONIER

12

2.800

39

BOLAND LANDBOU

14

2.764

40

WATERKLOOF

19

2.516

41

MIDDELBURG HS

16

2.481

42

DUINEVELD

8

2.400

43

LICHTENBURG

10

2.380

44

BEN VORSTER

14

2.336

45

WYNBERG BH

12

2.275

46

KINGSWOOD COLLEGE

17

2.259

47

NORTHCLIFF

15

2.180

48

MICHAELHOUSE

13

2.092

49

SACS

17

2.088

50

SECUNDA

10

2.060

51

CHARLIE HOFMEYR

13

2.054

52

MELKBOSSTRAND

15

2.040

53

ROBERTSON

14

2.029

54

VEREENIGING GIM

12

2.008

55

ST CHARLES COLLEGE

11

1.964

56

ELDORAIGNE

9

1.956

57

HEIDELBERG VOLKIES

12

1.858

58

SENTRAAL

12

1.850

59

ALBERTON HS

12

1.842

60

LYDENBURG

13

1.815

61

HOPEFIELD

11

1.764

62

MONTANA PTA

13

1.754

63

OAKDALE

14

1.736

64

OOS MOOT

14

1.736

65

ST BENEDICTS

11

1.691

66

NOORD KAAP

12

1.675

67

MIDSTREAM

15

1.660

68

MARAIS VILJOEN

19

1.653

69

DIAMANTVELD

14

1.621

70

QUEENS COLLEGE

18

1.617

71

JIM FOUCHE

8

1.613

72

HTS MIDDELBURG

21

1.581

73

BURGERDORP

10

1.450

74

KLERKSDORP

12

1.450

75

JEUGLAND

17

1.435

76

DINAMIKA

10

1.420

77

BRYANSTON

14

1.407

78

RANDBURG

11

1.400

79

ERMELO

11

1.364

80

FAIRMONT

10

1.360

81

KEARSNEY COLLEGE

14

1.307

82

NOORDHEUWEL

14

1.293

83

HUDSON PARK

18

1.261

84

OVERKRUIN

10

1.260

85

GRAEME COLLEGE

15

1.253

86

FOURWAYS

10

1.210

87

ST ALBANS COLLEGE

15

1.173

88

WESVALIA

9

1.122

89

HERMANUS

12

1.075

90

CENTURION

11

1.036

91

MARLOW

15

1.027

92

HUGENOTE SPRINGS

9

0.978

93

STRAND

13

0.908

94

ST DAVIDS

13

0.885

95

KRUGERSDORP

10

0.880

96

DHS

15

0.860

97

CLIFTON

10

0.850

98

ANDREW RABIE

10

0.780

99

VOORTREKKER BETH

14

0.664

100

NELSPRUIT

11

0.645

101

OTTO DU PLESSIS

16

0.619