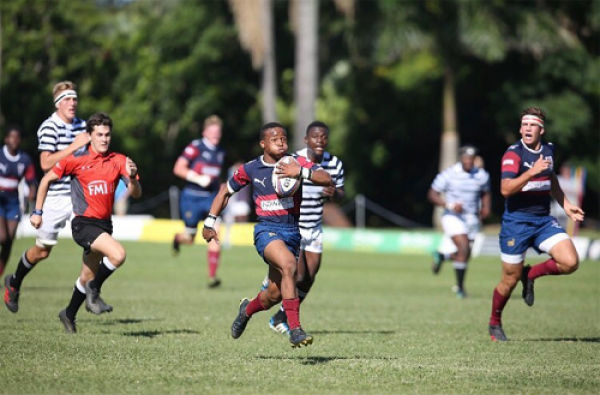 It was a massive effort from Monnas who travelled down to Durban and inflicted a heavy defeat on the Glenwood Green Machine in their own backyard. It was a victory that has helped them to threshold of the top 5 zone on this week's First XV School Rankings.
Monument turned the tables on last year's result against Glenwood to dish out a 48-11 drubbing against a strong team who had yet to taste defeat in 2019. With renewed confidence we can expect Monnas to prove a challenging team for the remaining of the season.
Paul Roos Gym remains perched on top of the Top 100 Rankings for this week after completing a tough assignment against Grey HS who pushed PRG to the brink but just fell short.
However it is looking very cramped on the table amongst the leading five teams with Grey College, Paarl Gim and Framesby all winning although Selborne College came very close in taking a rare Grey scalp in their 8-17 defeat.
With the Easter Tournaments and Festivals poised and ready to bring us a plethora of cross-provincial matches we are entering a very exciting stage in the school rugby calendar which will undoubtedly have a bearing on the rankings.
Bear in mind that the rankings formula makes use of several factors such as strength of opposition, margin of victory, margin of defeat, result (W/L/D), home and away status, actual points scored on the field and others in determining the rankings.
Please send through your team's results to [email protected] .
The minimum amount of matches before a team can appear on this week's rankings has been set to four matches.
FIRST XV RANKINGS 16 APRIL, 2019

RANK

TEAM

PLAYED

AVG BONUS POINTS

1

PAUL ROOS GYM

4

7.375

2

GREY COLLEGE

8

7.075

3

PAARL GIM

7

6.643

4

FRAMESBY

5

6.485

5

PAARL BOYS HIGH

4

6.483

6

MONUMENT

8

5.188

7

ST ANDREWS COLLEGE

7

5.186

8

GREY HIGH SCHOOL

5

4.940

9

AFFIES

8

4.625

10

EG JANSEN

5

4.500

11

GLENWOOD

8

4.488

12

KINGSWOOD COLLEGE

6

4.400

13

STELLENBERG

6

4.400

14

HILTON COLLEGE

8

4.380

15

ST STITHIANS

5

4.260

16

PIETERSBURG

5

4.160

17

DALE COLLEGE

7

4.157

18

SELBORNE COLLEGE

6

4.083

19

KES

4

4.025

20

GARSFONTEIN

5

4.020

21

HELPMEKAAR

5

3.980

22

BOLAND LANDBOU

7

3.814

23

HTS DROSTDY

7

3.686

24

BISHOPS

6

3.683

25

KEARSNEY COLLEGE

4

3.525

26

OUTENIQUA

4

3.250

27

MIDDELBURG HS

7

3.157

28

WELKOM GYM

7

3.057

29

OAKDALE

5

2.980

30

DIE BRANDWAG

8

2.925

31

JEPPE

5

2.880

32

WESTVILLE

7

2.871

33

RONDEBOSCH

4

2.800

34

WATERKLOOF

7

2.686

35

NORTHWOOD

4

2.675

36

QUEENS COLLEGE

6

2.650

37

ST ALBANS COLLEGE

7

2.614

38

PAREL VALLEI

8

2.550

39

LIGBRON

7

2.543

40

PIONIER

11

2.536

41

FRIKKIE MEYER

4

2.475

42

LYDENBURG

4

2.375

43

MENLOPARK

6

2.367

44

HOPEFIELD

5

2.360

45

DESPATCH

9

2.311

46

HEIDELBERG VOLKIES

5

2.300

47

MARITZBURG COLLEGE

5

2.300

48

WYNBERG BH

4

2.175

49

CLIFTON

5

2.120

50

UNION HS

6

2.061

51

NORTHCLIFF

8

2.038

52

JEUGLAND

9

2.000

53

ST DAVIDS

6

1.967

54

DUINEVELD

5

1.900

55

PRETORIA BOYS HIGH

4

1.875

56

ST JOHNS COLLEGE

5

1.780

57

LOUIS BOTHA

4

1.775

58

JIM FOUCHE

5

1.760

59

ALBERTON HS

5

1.740

60

MARLOW

6

1.733

61

OOS MOOT

6

1.733

62

BEN VORSTER

6

1.633

63

FLORIDA

4

1.500

64

FICHARDTPARK

4

1.500

65

SECUNDA

5

1.480

66

SACS

5

1.460

67

LICHTENBURG

5

1.340

68

RIEBEECKRAND

4

1.275

69

WORCESTER GYM

4

1.250

70

MONTANA PTA

6

1.233

71

HTS MIDDELBURG

6

1.183

72

JACOBSDAL

5

1.180

73

SENTRAAL

6

1.050

74

HUGENOTE WELL

4

1.050

75

KLERKSDORP

4

1.000

76

NICO MALAN

7

0.971

77

PIET POTGIETER

4

0.950

78

DIAMANTVELD

7

0.943

79

DHS

5

0.900

80

WESVALIA

4

0.850

81

HANS MOORE

4

0.825

82

MELKBOSSTRAND

7

0.786

83

BEN VILJOEN

7

0.757

84

OVERVAAL

3

0.733

85

GRAEME COLLEGE

6

0.717

86

OTTO DU PLESSIS

7

0.714

87

WITTEBERG

5

0.640

88

POTCH GIM

7

0.614

89

ERMELO

5

0.600

90

CURRO DURBANVILLE

5

0.580

91

LEEUWENHOF

4

0.575

92

MARAIS VILJOEN

7

0.529

93

SUTHERLAND

6

0.517

94

VRYBURG

4

0.500

95

DURBANVILLE

5

0.500

96

HUDSON PARK

7

0.457

97

ST BENEDICTS

4

0.450

98

GOUDVELD

5

0.400

99

CENTURION

5

0.340

100

CAMPS BAY

5

0.300

101

KRUGERSDORP

6

0.250

102

PEARSON

7

0.057