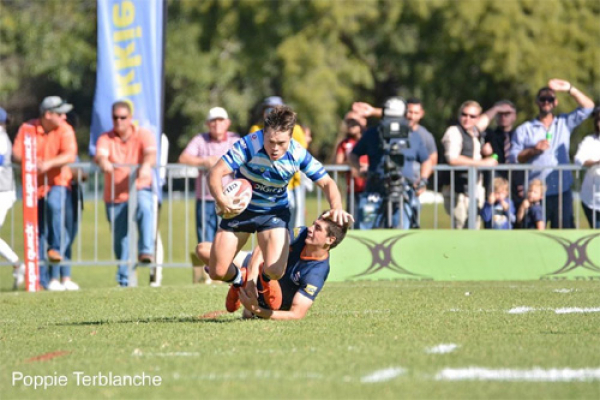 A crushing performance by Grey College over Boishaai allows the Bloemfontein outfit to take up occupancy of the penthouse on this week's SA School Sports First XV Top 100 Rankings for another week.
Grey put on a master class that was worthy of being ranked as some of the best rugby seen at any level last week when they comfortably put to bed the threat from one of the strongest teams in the country. Boishaai on the day tried gamely to put up some resistance but at the end Grey stamped their name on the result.
Framesby is still churning out the wins week after week and this time it was HTS Drostdy who came close but just couldn't get over the line. Framesby with 11 victories to their name this season must be close to finishing as one of their best teams for many years.
Grey High School and KES have moved up the table briskly and are both knocking loudly on the door to the top 5 zone. Grey HS cantered passed Queens College and KES outplayed a gallant St.Stithians side last week and will be hoping to continue their strong challenge for a higher placing.
Rondebosch are well placed for a challenge on a top 10 finish are get nudged up another place after a strong showing last week.
Perhaps one of the biggest results came from Westville, who earlier this season were beaten by the struggling DHS side, but this time turned in their performance of the season to beat a strong Affies side. To prove that on the day anything can happen.
Please send through your First XV results to [email protected]
FIRST XV RANKINGS 14 MAY, 2019

RANK

TEAM

PLAYED

AVG BONUS POINTS

1

GREY COLLEGE

11

7.364

2

PAUL ROOS GYM

8

7.338

3

PAARL GIM

10

6.640

4

PAARL BOYS HIGH

10

6.550

5

FRAMESBY

13

5.646

6

GREY HIGH SCHOOL

10

5.150

7

KES

7

4.943

8

MONUMENT

11

4.873

9

ST ANDREWS COLLEGE

10

4.834

10

GARSFONTEIN

8

4.800

11

RONDEBOSCH

10

4.770

12

SELBORNE COLLEGE

10

4.550

13

HILTON COLLEGE

10

4.550

14

BISHOPS

8

4.463

15

HELPMEKAAR

10

4.230

16

BOLAND LANDBOU

10

4.190

17

STELLENBERG

11

4.036

18

GLENWOOD

13

4.031

19

NORTHWOOD

9

4.011

20

EG JANSEN

9

3.922

21

MARITZBURG COLLEGE

10

3.900

22

AFFIES

12

3.833

23

WATERKLOOF

11

3.809

24

OUTENIQUA

8

3.788

25

JEPPE

9

3.633

26

DIE BRANDWAG

11

3.545

27

PIETERSBURG

7

3.529

28

ST STITHIANS

8

3.525

29

DALE COLLEGE

11

3.518

30

WESTVILLE

12

3.367

31

WELKOM GYM

13

3.262

32

MICHAELHOUSE

9

3.233

33

LIGBRON

11

3.191

34

DESPATCH

12

3.058

35

MENLOPARK

9

3.000

36

HTS DROSTDY

13

2.938

37

FRIKKIE MEYER

6

2.917

38

KINGSWOOD COLLEGE

10

2.880

39

WYNBERG BH

8

2.838

40

PIONIER

12

2.800

41

SACS

10

2.770

42

KEARSNEY COLLEGE

10

2.760

43

MIDDELBURG HS

10

2.740

44

CHARLIE HOFMEYR

7

2.629

45

DURBANVILLE

8

2.625

46

HEIDELBERG VOLKIES

7

2.486

47

PRETORIA BOYS HIGH

10

2.440

48

SECUNDA

8

2.363

49

ST JOHNS COLLEGE

6

2.283

50

ST ALBANS COLLEGE

10

2.180

51

ALBERTON HS

8

2.100

52

BEN VORSTER

9

2.100

53

HTS MIDDELBURG

12

2.092

54

HOPEFIELD

7

2.043

55

NOORD KAAP

9

1.989

56

ROBERTSON

9

1.989

57

NORTHCLIFF

12

1.983

58

VEREENIGING GIM

11

1.945

59

ELDORAIGNE

5

1.920

60

OAKDALE

8

1.913

61

DUINEVELD

5

1.900

62

MELKBOSSTRAND

12

1.892

63

MARAIS VILJOEN

13

1.854

64

LICHTENBURG

7

1.829

65

MONTANA PTA

10

1.810

66

DIAMANTVELD

11

1.691

67

DINAMIKA

8

1.638

68

SENTRAAL

10

1.630

69

NOORDHEUWEL

10

1.590

70

PAREL VALLEI

11

1.582

71

MARLOW

10

1.560

72

OOS MOOT

9

1.456

73

LEEUWENHOF

5

1.380

74

CENTURION

8

1.375

75

JEUGLAND

12

1.333

76

ERMELO

9

1.278

77

JIM FOUCHE

7

1.257

78

LYDENBURG

11

1.255

79

BRYANSTON

13

1.246

80

ST BENEDICTS

6

1.233

81

BELLVILLE

6

1.217

82

CURRO DURBANVILLE

7

1.171

83

KLERKSDORP

8

1.163

84

UNION HS

9

1.133

85

PENRYN COLLEGE

6

1.133

86

QUEENS COLLEGE

11

1.118

87

WORCESTER GYM

5

1.100

88

HANS MOORE

6

1.100

89

HUGENOTE SPRINGS

6

1.100

90

NICO MALAN

12

1.083

91

CLIFTON

8

1.075

92

CAMPS BAY

7

1.043

93

GRAEME COLLEGE

10

1.033

94

GOUDVELD

6

1.017

95

ST DAVIDS

9

0.989

96

HUDSON PARK

12

0.975

97

PIET POTGIETER

6

0.967

98

JACOBSDAL

7

0.957

99

VOORTREKKER BETH

8

0.938

100

FOURWAYS

9

0.922

101

LOUIS BOTHA

6

0.917

102

DHS

11

0.917