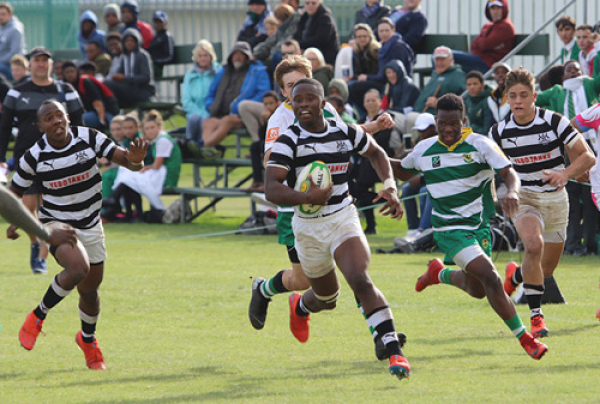 There was very little movement on this week's First XV SA School Sports Rugby Top 100 Rugby Rankings with many teams winding down their season for a well deserved break.
However there were a couple of interesting clashes that were of interest which did have some positive results for several teams. Maritzburg College overcame the challenge from Michaelhouse fairly comfortably to help them move back in amongst the leading twenty teams and a good win by Northwood over Kearsney College helped the Knights finish their season strongly with six consecutive wins.
Bishops faced a determined Rondebosch team and pulled off a memorable win to move up the table and Framesby continue to churn out the wins after a long season with a win over Kingswood.
With many teams about to embark on a rest before their season resumes please send through your results to [email protected]
FIRST XV RANKINGS 11 JUNE, 2019

RANK

TEAM

PLAYED

AVG BONUS POINTS

1

GREY COLLEGE

12

7.342

2

PAARL GIM

13

6.992

3

PAARL BOYS HIGH

12

6.617

4

FRAMESBY

16

5.844

5

GREY HIGH SCHOOL

12

5.742

6

PAUL ROOS GYM

10

5.670

7

SELBORNE COLLEGE

13

5.100

8

MONUMENT

14

4.986

9

ST ANDREWS COLLEGE

13

4.900

10

KES

9

4.767

11

GARSFONTEIN

10

4.710

12

HILTON COLLEGE

12

4.667

13

HELPMEKAAR

14

4.636

14

GLENWOOD

15

4.567

15

BISHOPS

11

4.336

16

RONDEBOSCH

13

4.323

17

NORTHWOOD

13

4.185

18

EG JANSEN

12

4.133

19

MARITZBURG COLLEGE

13

3.985

20

OUTENIQUA

9

3.978

21

AFFIES

14

3.900

22

STELLENBERG

13

3.823

23

PIETERSBURG

8

3.813

24

WESTVILLE

15

3.640

25

BOLAND LANDBOU

12

3.592

26

DALE COLLEGE

12

3.508

27

DURBANVILLE

10

3.440

28

DIE BRANDWAG

13

3.438

29

DESPATCH

14

3.357

30

JEPPE

11

3.318

31

WELKOM GYM

13

3.262

32

ST JOHNS COLLEGE

10

3.190

33

PRETORIA BOYS HIGH

14

3.129

34

WATERKLOOF

14

3.029

35

LIGBRON

15

2.993

36

ST STITHIANS

11

2.982

37

MENLOPARK

12

2.975

38

HTS DROSTDY

13

2.938

39

PIONIER

12

2.800

40

MIDDELBURG HS

14

2.764

41

SACS

13

2.600

42

CHARLIE HOFMEYR

9

2.456

43

KINGSWOOD COLLEGE

14

2.450

44

MICHAELHOUSE

12

2.350

45

LICHTENBURG

9

2.344

46

ALBERTON HS

11

2.336

47

OAKDALE

10

2.320

48

ELDORAIGNE

7

2.271

49

WYNBERG BH

10

2.230

50

SECUNDA

9

2.200

51

NORTHCLIFF

15

2.180

52

MELKBOSSTRAND

13

2.092

53

MIDSTREAM

12

2.058

54

ROBERTSON

10

2.050

55

HOPEFIELD

7

2.043

56

VEREENIGING GIM

12

2.008

57

HTS MIDDELBURG

17

1.976

58

SENTRAAL

11

1.964

59

DIAMANTVELD

12

1.950

60

BEN VORSTER

12

1.942

61

MONTANA PTA

12

1.858

62

LEEUWENHOF

7

1.857

63

OVERKRUIN

8

1.850

64

KEARSNEY COLLEGE

13

1.838

65

NOORD KAAP

10

1.820

66

LYDENBURG

13

1.815

67

HEIDELBERG VOLKIES

10

1.760

68

ST CHARLES COLLEGE

10

1.730

69

MARAIS VILJOEN

16

1.725

70

WESVALIA

8

1.675

71

NOORDHEUWEL

13

1.654

72

HUDSON PARK

14

1.650

73

ST ALBANS COLLEGE

13

1.592

74

DINAMIKA

10

1.420

75

NICO MALAN

13

1.415

76

ST BENEDICTS

9

1.411

77

BRYANSTON

14

1.407

78

RANDBURG

11

1.400

79

OOS MOOT

12

1.400

80

BURGERDORP

9

1.378

81

ERMELO

11

1.364

82

QUEENS COLLEGE

15

1.360

83

KLERKSDORP

9

1.300

84

CENTURION

10

1.290

85

JIM FOUCHE

7

1.257

86

BELLVILLE

8

1.250

87

JEUGLAND

15

1.227

88

FOURWAYS

10

1.210

89

HERMANUS

8

1.200

90

CURRO DURBANVILLE

7

1.171

91

DHS

13

1.077

92

CAMPS BAY

7

1.043

93

MARLOW

12

1.017

94

HUGENOTE SPRINGS

9

0.978

95

LOUIS BOTHA

6

0.917

96

UNION HS

13

0.900

97

ST DAVIDS

13

0.885

98

CLIFTON

10

0.850

99

FICHARDTPARK

7

0.800

100

GRAEME COLLEGE

13

0.715

101

NELSPRUIT

10

0.630

102

HANS MOORE

8

0.600

104

FLORIDA

11

0.591