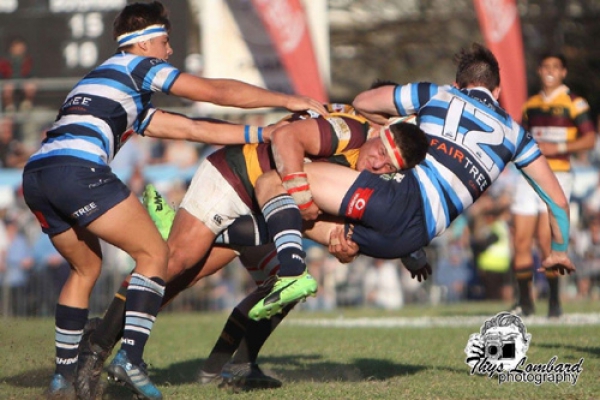 It simply doesn't get bigger in the world of school rugby than the annual derby between Paarl Boys High and Paarl Gim.
As expected Paarl Gim were going to throw everything into this match against a team than nobody has been able to beat in 2017. Perhaps it was apt that the match would go down to the wire with Gimmies getting bitterly close to handing their neighbours their first defeat of the season. However at the end, when the dust had settled it was Boishaai who took the victory 18-13, remain unbeaten in 2017 and deservedly rest at the top of the First XV Belgotex Sports Top 100 Rankings where they have been for almost the entire season.
There was another notable win when Grey College handed Grey High School their biggest defeat between the two Greys, 73-10 ,in a huge display of attacking rugby by the Bloemfontein team who finish the year strongly in second place.
If you have any outstanding results please send them to [email protected]
FIRST XV RANKINGS 7 August 2017

RANK

TEAM

PLAYED

AVG PTS

1

PAARL BOYS HIGH

17

7.365

2

GREY COLLEGE

11

6.855

3

KES

15

6.267

4

MONUMENT

18

6.150

5

HELPMEKAAR

13

5.877

6

ST ANDREWS COLLEGE

16

5.581

7

PAARL GIM

15

5.267

8

SACS

17

5.165

9

GLENWOOD

12

5.000

10

AFFIES

13

4.962

11

HILTON COLLEGE

12

4.733

12

PAUL ROOS GYM

16

4.713

13

STELLENBERG

16

4.556

14

BOLAND LANDBOU

18

4.439

15

CENTURION

9

4.356

16

HTS DROSTDY

16

4.288

17

WATERKLOOF

18

4.172

18

GREY HIGH SCHOOL

17

4.141

19

SELBORNE COLLEGE

17

4.141

20

DALE COLLEGE

16

3.913

21

OOS MOOT

15

3.873

22

BRACKENFELL

15

3.867

23

DHS

15

3.800

24

TRANSVALIA

11

3.755

25

NOORD KAAP

11

3.736

26

KEARSNEY COLLEGE

17

3.682

27

FRIKKIE MEYER

10

3.650

28

HS ALBERTON

11

3.618

29

ST ALBANS COLLEGE

13

3.523

30

ELDORAIGNE

14

3.521

31

ST JOHNS COLLEGE

12

3.450

32

WELKOM GYM

16

3.438

33

OUTENIQUA

12

3.383

34

MARITZBURG COLLEGE

17

3.329

35

FAIRMONT

10

3.260

36

PORTERVILLE

7

3.186

37

NELSPRUIT

11

3.182

38

BEKKER

16

3.175

39

GRAEME COLLEGE

15

3.167

40

HERMANUS

15

3.160

41

HUDSON PARK

18

3.127

42

LIGBRON

13

3.123

43

OAKDALE

13

3.069

44

EG JANSEN

17

3.035

45

DF MALAN

17

3.029

46

MARAIS VILJOEN

15

2.973

47

SECUNDA

9

2.956

48

GARSFONTEIN

13

2.892

49

MARLOW

14

2.879

50

FRAMESBY

11

2.873

51

WESTVILLE

13

2.869

52

AHS KROONSTAD

11

2.845

53

WITTEBERG

12

2.833

54

QUEENS COLLEGE

16

2.775

55

WOODRIDGE COLLEGE

9

2.761

56

RONDEBOSCH

15

2.720

57

PRETORIA BOYS HIGH

16

2.713

58

HUGENOTE SPRINGS

15

2.660

59

DRIEHOEK

12

2.625

60

MICHAELHOUSE

11

2.482

61

DIE BRANDWAG

12

2.458

62

HOPEFIELD

8

2.450

63

BISHOPS

13

2.415

64

HUGENOTE WELL

31

2.400

65

HANS STRIJDOM

9

2.389

66

CHARLIE HOFMEYR

11

2.373

67

TYGERBERG

11

2.327

68

VOORTREKKER BETH

13

2.308

69

POTCH GIM

10

2.270

70

VEREENIGING GIM

9

2.267

71

LINDEN

8

2.225

72

ST CHARLES COLLEGE

12

2.217

73

ST STITHIANS

11

2.191

74

VRYBURG

9

2.167

75

ST DAVIDS

14

2.143

76

DIAMANTVELD

12

2.142

77

FICHARDTPARK

11

2.109

78

HTS MIDDELBURG

13

2.100

79

HANS MOORE

12

2.058

80

MERENSKY

11

2.027

81

BEN VORSTER

16

1.963

82

NOORDHEUWEL

15

1.947

83

LICHTENBURG

13

1.946

84

STIRLING

13

1.915

85

CLIFTON

13

1.915

86

MENLOPARK

16

1.913

87

BASTION

10

1.890

88

TRINITYHOUSE

8

1.850

89

HOOGENHOUT

7

1.843

90

NICO MALAN

16

1.775

91

BRANDWAG

10

1.760

92

PEARSON

9

1.744

93

NORTHCLIFF

12

1.700

94

AUGSBURG

11

1.455

95

HANGKLIP

14

1.443

96

BELLVILLE

15

1.407

97

JIM FOUCHE

8

1.388

98

ROB FERREIRA

11

1.336

99

PARKTOWN

12

1.225

100

KEMPTON PARK

21

1.138