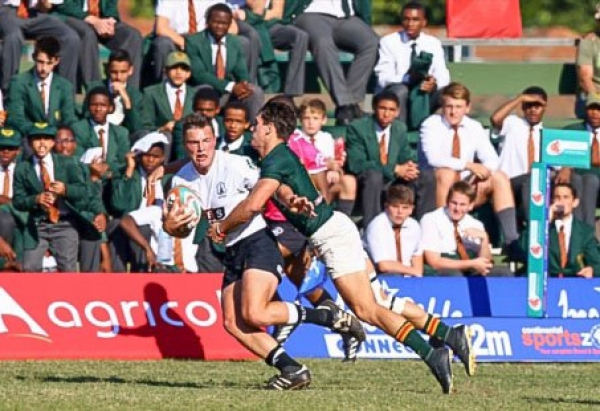 Oakdale turned in their performance of the season when they took on the leading team in South Africa, Paarl Boys High, and came within a whisker of recording the biggest upset of 2017. However Boishaai clung on to a 36-31 victory to keep their unbeaten status intact and lead this week's Belgotex Sports First XV Top 100 Rankings.
Glenwood slide down the table after their second defeat in a row and are going to have to turn things around sharply if they are hoping for a top 10 finish. Monnas put in a strong performance against Glenwood who were looking to dust off their defeat to DHS on their last outing but despite a tenacious effort they could not quite put together the moves to outplay Monument.
SACS however have climbed briskly into the top 10 and are rewarded for a strong few weeks which of course include their memorable Grey College victory.
Although KES had to fight hard to stay unbeaten when they faced off against a committed St.Benedicts team, the big casualty of the weekend was undoubtedly Grey High School who had successfully edged their way into the top five after an unbeaten run of 10 matches. Yet it was St. Andrews College who would spoil the dream season with a great win over the Port Elizabeth team who lose some traction on the rankings table.
Please send your results to [email protected]
FIRST XV RANKINGS 5 JUNE 2017

RANK

TEAM

PLAYED

AVG PTS

1

PAARL BOYS HIGH

13

7,700

2

GREY COLLEGE

10

6,490

3

KES

12

6,083

4

HELPMEKAAR

11

5,682

MONUMENT

15

5,682

6

SACS

12

5,467

7

PAARL GIM

12

5,283

8

ST ANDREWS COLLEGE

12

5,250

9

GREY HIGH SCHOOL

11

5,182

10

GLENWOOD

11

4,855

11

AFFIES

12

4,842

12

SELBORNE COLLEGE

14

4,529

13

HTS DROSTDY

14

4,500

14

PAUL ROOS GYM

13

4,446

15

CENTURION

8

4,338

16

STELLENBERG

13

4,323

17

BOLAND LANDBOU

13

4,277

18

ST JOHNS COLLEGE

11

4,045

19

ST ALBANS COLLEGE

12

4,025

20

HILTON COLLEGE

10

4,010

21

DALE COLLEGE

13

4,008

22

HS ALBERTON

9

3,967

23

MARITZBURG COLLEGE

12

3,958

24

DHS

15

3,800

25

NOORD KAAP

11

3,736

26

OOS MOOT

13

3,615

27

BISHOPS

9

3,544

28

FRAMESBY

9

3,522

29

WATERKLOOF

15

3,520

30

WELKOM GYM

14

3,464

31

BRACKENFELL

12

3,442

32

ELDORAIGNE

12

3,442

33

KEARSNEY COLLEGE

14

3,414

34

MARLOW

12

3,408

35

EG JANSEN

16

3,394

36

OUTENIQUA

11

3,182

37

NELSPRUIT

11

3,182

38

HERMANUS

13

3,169

39

TRANSVALIA

9

3,156

40

WESTVILLE

11

3,109

41

LIGBRON

10

3,030

42

DRIEHOEK

9

3,011

43

BEKKER

14

2,979

44

TYGERBERG

9

2,967

45

HUGENOTE SPRINGS

13

2,938

46

GRAEME COLLEGE

11

2,936

47

MARAIS VILJOEN

11

2,927

48

GARSFONTEIN

13

2,892

49

OAKDALE

10

2,790

50

MICHAELHOUSE

9

2,700

51

DF MALAN

14

2,700

52

BEN VORSTER

13

2,677

53

QUEENS COLLEGE

13

2,631

54

STIRLING

10

2,620

55

HUDSON PARK

13

2,577

56

CHARLIE HOFMEYR

8

2,525

57

VEREENIGING GIM

8

2,500

58

HUGENOTE WELL

22

2,478

59

PRETORIA BOYS HIGH

13

2,469

60

SECUNDA

7

2,457

61

WITTEBERG

11

2,427

62

AHS KROONSTAD

10

2,420

63

MENLOPARK

14

2,379

64

RONDEBOSCH

12

2,375

65

LINDEN

7

2,329

66

NOORDHEUWEL

12

2,325

67

CLIFTON

11

2,218

68

DIE BRANDWAG

11

2,173

69

VRYBURG

9

2,167

70

DIAMANTVELD

12

2,142

71

FICHARDTPARK

11

2,109

72

HTS MIDDELBURG

13

2,100

73

POTCH GIM

8

2,088

74

PEARSON

8

2,075

75

HOPEFIELD

7

2,057

76

VOORTREKKER BETH

12

2,042

77

MERENSKY

11

2,027

78

ST CHARLES COLLEGE

10

2,000

79

PARKTOWN

10

1,950

80

BASTION

10

1,890

81

LICHTENBURG

9

1,867

82

HANS MOORE

9

1,867

83

OVERVAAL

5

1,800

84

NICO MALAN

15

1,767

85

BRANDWAG

10

1,760

86

NORTHCLIFF

12

1,700

87

ROB FERREIRA

10

1,690

88

TUINE

11

1,609

89

ST STITHIANS

9

1,544

90

WYNBERG

12

1,525

91

JEPPE

16

1,469

92

ST DAVIDS

12

1,425

93

STRAND

10

1,390

94

JIM FOUCHE

8

1,388

95

FAIRMONT

3

1,300

96

RIEBEECKRAND

7

1,271

97

FLORIDA

10

1,230

98

BELLVILLE

12

1,208

99

HANGKLIP

12

1,183

100

AUGSBURG

10

1,180