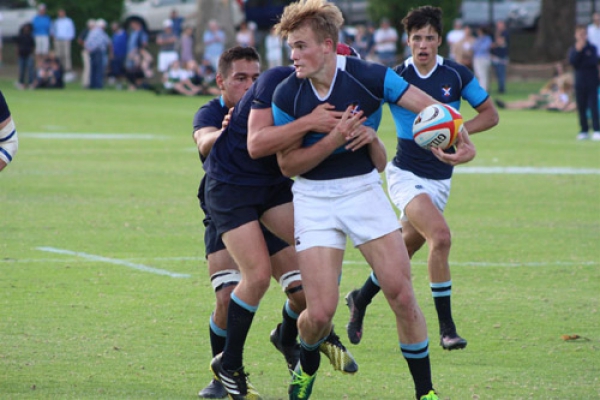 The 2017 Rugby Season is in full swing and most of the leading teams in South Africa have played enough matches to grace this week's Belgotex Sport s Top 100 Rankings.
There are still however, several teams that are yet to play the minimum of three matches before they appear on the rankings and amongst that group is last year's champion side Boishaai who are busy dismantling their New Zealand opposition on tour.
However as to be expected the cream as risen to the top so early into the season and we are looking at the usual suspects occupying the top positions this week. Grey College are steam rolling ahead of the Easter Weekend feast of rugby and we also have a powerful Paarl Gim side in hot pursuit.
The Easter festival throughout the country will no doubt have a significant bearing on the rankings next week and we can expect some movement in both directions on the table.
If you team is not appearing yet please ensure all your outstanding results have be submitted to [email protected] to guarantee their inclusion.
FIRST XV RANKINGS 5 APRIL 2017

RANK

TEAM

PLAYED

AVG PTS

1

GREY COLLEGE

4

8,775

2

PAARL GIM

5

5,880

3

HELPMEKAAR

4

5,750

4

PAUL ROOS GYM

3

5,733

5

ST JOHNS COLLEGE

3

5,033

6

MONUMENT

4

4,925

7

KEARSNEY COLLEGE

5

4,860

8

AFFIES

3

4,633

9

NOORD KAAP

3

4,500

10

BOLAND LANDBOU

6

4,483

11

OAKDALE

4

4,475

12

WATERKLOOF

5

4,260

13

ST ANDREWS COLLEGE

3

3,800

14

BEN VORSTER

4

3,725

15

HS ALBERTON

5

3,680

16

BISHOPS

3

3,567

17

NELSPRUIT

4

3,550

18

STELLENBERG

5

3,400

19

GARSFONTEIN

6

3,383

20

DHS

4

3,300

21

KINGSWOOD COLLEGE

3

3,300

22

MENLOPARK

7

3,286

23

ST ALBANS COLLEGE

4

3,275

24

SECUNDA

3

3,267

25

HTS MIDDELBURG

4

3,200

26

LYDENBURG

3

3,133

27

WESTVILLE

3

3,033

28

NICO MALAN

5

3,000

29

NORTHCLIFF

3

2,867

30

EG JANSEN

6

2,833

31

QUEENS COLLEGE

3

2,800

32

PEARSON

3

2,800

33

AHS KROONSTAD

4

2,750

34

DURBANVILLE

4

2,700

35

FICHARDTPARK

3

2,667

36

MARAIS VILJOEN

5

2,540

37

LIGBRON

3

2,467

38

MARITZBURG COLLEGE

3

2,467

39

RIEBEECKRAND

4

2,250

40

GILL COLLEGE

3

2,233

41

DIAMANTVELD

6

2,200

42

BRACKENFELL

5

2,200

43

JEPPE

6

2,150

44

TRANSVALIA

5

2,140

45

MARLOW

3

2,100

46

DRIEHOEK

4

2,100

47

WITTEBERG

4

2,075

48

BEKKER

4

2,075

49

HTS DROSTDY

4

2,000

50

BASTION

4

1,975

51

CENTURION

3

1,933

52

ELDORAIGNE

3

1,933

53

OUTENIQUA

4

1,925

54

HUGENOTE WELL

6

1,867

55

STRAND

5

1,860

56

PW BOTHA

3

1,833

57

POTCH GIM

6

1,700

58

POTCH BH

3

1,633

59

VOORTREKKER BETH

4

1,625

60

GENERAAL HERTZOG

3

1,567

61

NOORDHEUWEL

3

1,533

62

HERMANUS

6

1,533

63

OVERVAAL

4

1,525

64

OOS MOOT

5

1,500

65

WORCESTER GYM

5

1,400

66

PIONIER

9

1,333

67

LICHTENBURG

4

1,275

68

FLORIDA

3

1,167

69

VRYBURG

4

1,150

70

STIRLING

4

1,125

71

BENONI

4

1,075

72

AUGSBURG

4

1,050

73

NEW ORLEANS

3

1,033

74

GRENS

3

1,000

75

ST BENEDICTS

4

1,000

76

LINDEN

3

1,000

77

DIE BRANDWAG

4

0,975

78

HANGKLIP

6

0,883

79

MIDDELBURG HS

5

0,880

80

LEEUWENHOF

4

0,850

81

FRIKKIE MEYER

3

0,833

82

OTTO DU PLESSIS

4

0,825

83

PRETORIA BOYS HIGH

3

0,800

84

HUGENOTE SPRINGS

3

0,367

85

PINETOWN

3

0,200

86

BELLVILLE

4

0,150

87

HTS WITBANK

3

0,100

88

TREVERTON

3

0,100

89

KEMPTON PARK

6

0,050

90

JACOBSDAL

3

0,033

91

CAMBRIDGE

5

-0,060

92

BELLVILLE SOUTH

4

-0,075

93

HANS MOORE

4

-0,075

94

DR MALAN

3

-0,100

95

OUDTSHOORN

5

-0,120

96

WELKOM GYM

4

-0,150

97

LABORI

4

-0,275

98

RUSTENBURG

5

-0,360

99

UPINGTON

4

-0,425

100

UNION HS

5

-0,600