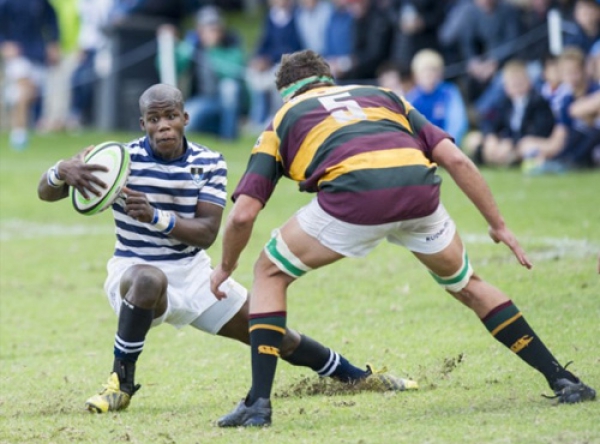 There were a few memorable victories during the past week in what is fast becoming one of the tightest seasons amongst the leading teams on the Belgotex Sports First XV Top 100 Rankings.
Boishaai, as has become the norm, extended their marathon unbeaten streak when they took on a committed Paul Roos Gym team who have had a season of near misses and could easily be higher up the table but for the bounce of the ball. Still it was another win for Paarl Boys High who are entrenched at the top of the table.
However it was KES who would have felt the pain of defeat the most this week, when they were finally conquered this season by Monnas in a match that went down to the wire. KES don't slide too far down the rankings thanks to DHS who produced their finest result of 2017 when they beat Glenwood in an epic dual between the two Durban neighbours. The defeat of the Green Machine causes them to slide out of the top five, making way for a victorious Helpmekaar. The unbeaten Grey High School along with Monument are locked at position five.
Back to DHS, the once sporting powerhouse, have put together a great First XV this year which has added some much needed lustre to this great school's sports image which has struggled to sparkle in the past decade. Now with 7 straight wins to their name they enter into the top 20 their highest position for many years.
Perhaps an even bigger victory was the one by SACS who took on Paarl Gim and although the score was close many believe that if SACS had been able to finish several moves they could have won by plenty on the day. Arguably SACS are a tad undervalued in position 11 at the moment but another victory could well see them entering high in the top 10.
Please send through your results to [email protected]
FIRST XV RANKINGS 29 May 2017

RANK

TEAM

PLAYED

AVG PTS

1

PAARL BOYS HIGH

12

7,892

2

GREY COLLEGE

10

6,490

3

KES

11

6,182

4

HELPMEKAAR

10

5,750

5

MONUMENT

14

5,650

GREY HIGH SCHOOL

9

5,650

7

GLENWOOD

10

5,280

8

ST ANDREWS COLLEGE

11

5,236

9

AFFIES

11

5,209

10

PAARL GIM

11

5,136

11

SACS

11

4,936

12

ST ALBANS COLLEGE

11

4,464

13

HTS DROSTDY

13

4,400

14

STELLENBERG

12

4,383

15

ST JOHNS COLLEGE

10

4,210

16

PAUL ROOS GYM

12

4,158

17

SELBORNE COLLEGE

13

4,154

18

BISHOPS

8

4,150

19

BOLAND LANDBOU

12

4,108

20

DHS

14

3,959

21

MARITZBURG COLLEGE

12

3,958

22

CENTURION

7

3,871

23

HILTON COLLEGE

9

3,811

24

DALE COLLEGE

12

3,775

25

HS ALBERTON

8

3,700

26

NOORD KAAP

11

3,600

27

OOS MOOT

12

3,567

28

FRAMESBY

8

3,475

29

MARLOW

12

3,408

30

KEARSNEY COLLEGE

12

3,400

31

WATERKLOOF

14

3,357

32

LIGBRON

9

3,333

33

BRACKENFELL

11

3,273

34

HERMANUS

13

3,169

35

TRANSVALIA

9

3,156

36

ELDORAIGNE

11

3,145

37

DF MALAN

13

3,100

38

DF MALAN

13

3,100

39

WELKOM GYM

13

3,092

40

CHARLIE HOFMEYR

7

3,014

41

DRIEHOEK

9

3,011

42

GARSFONTEIN

12

3,000

43

EG JANSEN

15

2,980

44

HUGENOTE WELL

24

2,963

45

WESTVILLE

10

2,920

46

HUDSON PARK

12

2,908

47

RONDEBOSCH

11

2,864

48

OAKDALE

9

2,856

49

NELSPRUIT

11

2,818

50

HUGENOTE SPRINGS

11

2,791

51

MARAIS VILJOEN

10

2,760

52

MICHAELHOUSE

9

2,700

53

OUTENIQUA

10

2,680

54

TYGERBERG

8

2,638

55

BEKKER

13

2,623

56

BEN VORSTER

12

2,508

57

SECUNDA

7

2,457

58

GRAEME COLLEGE

10

2,450

59

ST CHARLES COLLEGE

9

2,433

60

AHS KROONSTAD

10

2,420

61

VEREENIGING GIM

7

2,414

62

QUEENS COLLEGE

12

2,383

63

MENLOPARK

14

2,379

64

LINDEN

7

2,329

65

VRYBURG

7

2,271

66

DIE BRANDWAG

10

2,260

67

PRETORIA BOYS HIGH

12

2,242

68

WITTEBERG

10

2,220

69

LICHTENBURG

8

2,213

70

STIRLING

9

2,178

71

NICO MALAN

14

2,150

72

DIAMANTVELD

12

2,142

73

FICHARDTPARK

11

2,109

74

CLIFTON

10

2,080

75

PEARSON

8

2,075

76

FLORIDA

9

2,044

77

MERENSKY

10

1,960

78

NOORDHEUWEL

11

1,955

79

ST STITHIANS

8

1,938

80

HTS MIDDELBURG

13

1,908

81

BASTION

10

1,890

82

HANS MOORE

9

1,867

83

ROB FERREIRA

9

1,811

84

BRANDWAG

10

1,760

85

VOORTREKKER BETH

11

1,755

86

PARKTOWN

9

1,611

87

TUINE

11

1,609

88

JEPPE

16

1,469

89

WYNBERG

11

1,455

90

JIM FOUCHE

8

1,388

91

NORTHCLIFF

11

1,282

92

RIEBEECKRAND

7

1,271

93

KINGSWOOD COLLEGE

11

1,245

94

HANGKLIP

11

1,145

95

STRAND

9

1,144

96

ST DAVIDS

11

1,064

97

DANIEL PIENAAR

9

1,011

98

PIONIER

12

0,967

99

AUGSBURG

9

0,967

100

BELLVILLE

11

0,909