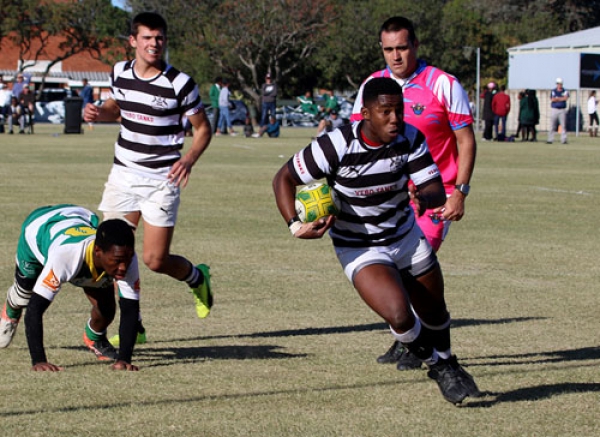 It was a massive effort by Boland Landbou as they locked horns with the indomitable Paarl Boys High to try and do what no other team has done yet in 2017- Beat Boishaai!
Right to the bitter end, of what must go down as one of the most competitive matches of the season, Boland matched Boishaai tackle for tackle but at the end fell agonising short of what would have been the most memorable of victories.
However has been the case throughout the season Paarl Boys High held it together to record their 15ths straight win of the year and rest at the top of this week's Belgotex Sports First XV Top 100 Rankings.
St Andrews College, who have played terrific rugby this year, have edged up towards touching distance of a top 5 finish and Grey High School got back to winning ways with a resounding win over Daniel Pienaar after suffering two narrow defeats on their previous outings.
As we near the end of the season please send through your team's results to [email protected]
FIRST XV RANKINGS 26 JUNE 2017

RANK

TEAM

PLAYED

AVG PTS

1

PAARL BOYS HIGH

15

7.527

2

GREY COLLEGE

10

6.490

3

KES

13

6.285

4

MONUMENT

18

6.150

5

HELPMEKAAR

11

5.682

6

ST ANDREWS COLLEGE

14

5.514

7

SACS

14

5.393

8

GLENWOOD

12

5.000

9

GREY HIGH SCHOOL

13

4.992

10

PAARL GIM

13

4.938

11

AFFIES

12

4.842

12

HILTON COLLEGE

12

4.733

13

STELLENBERG

14

4.614

14

PAUL ROOS GYM

14

4.600

15

SELBORNE COLLEGE

15

4.513

16

HTS DROSTDY

14

4.500

17

CENTURION

8

4.338

18

DALE COLLEGE

15

4.280

19

BOLAND LANDBOU

15

4.273

20

WATERKLOOF

17

3.971

21

BRACKENFELL

13

3.962

22

OOS MOOT

14

3.879

23

DHS

15

3.800

24

NOORD KAAP

11

3.736

25

MARITZBURG COLLEGE

15

3.693

26

KEARSNEY COLLEGE

17

3.682

27

ELDORAIGNE

13

3.669

28

HS ALBERTON

11

3.618

29

ST ALBANS COLLEGE

13

3.523

30

FRAMESBY

9

3.522

31

WELKOM GYM

14

3.464

32

ST JOHNS COLLEGE

12

3.450

33

MARLOW

12

3.408

34

HERMANUS

14

3.364

35

GRAEME COLLEGE

13

3.315

36

OUTENIQUA

11

3.182

37

NELSPRUIT

11

3.182

38

FAIRMONT

9

3.178

39

TRANSVALIA

9

3.156

40

BEKKER

15

3.133

41

FRIKKIE MEYER

8

3.100

42

EG JANSEN

17

3.035

43

MARAIS VILJOEN

13

2.985

44

TYGERBERG

9

2.967

45

HUDSON PARK

16

2.906

46

GARSFONTEIN

13

2.892

47

WESTVILLE

13

2.869

48

DF MALAN

15

2.847

49

LIGBRON

12

2.817

50

DRIEHOEK

11

2.809

51

BISHOPS

11

2.773

52

PRETORIA BOYS HIGH

14

2.750

53

RONDEBOSCH

13

2.669

54

HUGENOTE SPRINGS

15

2.660

55

LICHTENBURG

11

2.573

56

SECUNDA

8

2.538

57

CHARLIE HOFMEYR

8

2.525

58

MICHAELHOUSE

11

2.482

59

QUEENS COLLEGE

14

2.464

60

OAKDALE

11

2.445

61

WITTEBERG

11

2.427

62

AHS KROONSTAD

10

2.420

63

BEN VORSTER

14

2.314

64

VEREENIGING GIM

9

2.267

65

NOORDHEUWEL

14

2.264

66

TRINITYHOUSE

7

2.257

67

ST CHARLES COLLEGE

12

2.217

68

ST STITHIANS

11

2.191

69

DIE BRANDWAG

11

2.173

70

VRYBURG

9

2.167

71

ST DAVIDS

14

2.143

72

DIAMANTVELD

12

2.142

73

MENLOPARK

15

2.113

74

FICHARDTPARK

11

2.109

75

HTS MIDDELBURG

13

2.100

76

POTCH GIM

8

2.088

77

PEARSON

8

2.075

78

HANS MOORE

12

2.058

79

VOORTREKKER BETH

12

2.042

80

MERENSKY

11

2.027

81

HUGENOTE WELL

20

2.020

82

STIRLING

12

1.967

83

CLIFTON

13

1.915

84

BASTION

10

1.890

85

NICO MALAN

15

1.767

86

BRANDWAG

10

1.760

87

NORTHCLIFF

12

1.700

88

TUINE

11

1.609

89

PARKTOWN

11

1.536

90

JEPPE

16

1.469

91

STRAND

10

1.390

92

JIM FOUCHE

8

1.388

93

BELLVILLE

13

1.377

94

ROB FERREIRA

11

1.336

95

HANGKLIP

12

1.183

96

AUGSBURG

10

1.180

97

SCHOONSPRUIT

8

1.075

98

PAREL VALLEI

9

1.044

99

WYNBERG

14

0.986

100

PIONIER

12

0.967