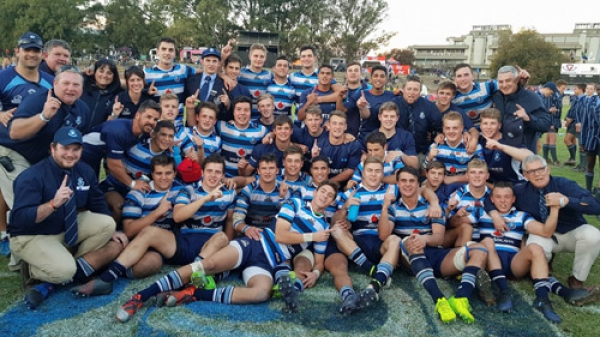 As the dust settles on the 2017 season we take a moment to reflect on some of the mighty performances that took place this year and salute the boys and coaches who delivered a smorgasbord of high class rugby during the year.
Any team that can claim a win over Grey College will without much doubt view that result as the highlight of their school career. Two teams were able to claim victory over Grey in what turned out to be epic matches. Boishaai were perhaps the most convincing with a 46-31 victory, but perhaps one of the upsets of the season must go to Selborne College who played out of their skins to hold onto a memorable 20-19 win over Grey College.
Boishaai as to be expected featured in many of the best matches of the year as they peeled off win after win in their unbeaten season. Oakdale put up a huge challenge to Paarl Boys High but failed at the end to convert their chances as did Boland Landbou who came within a handful of points of exacting a win. However arguably it was their final match of the season against rivals Paarl Gim that kept the faithful on the edge of their seats the most as Gimmies fell just short of handing Boishaai their first defeat of the year.
In the end though the season will be remembered for a dominant display by Boishaai that few have ever witnessed and therefore they deservedly finish the 2017 season as the No.1 Ranked team on the Belgotex First XV Top 100 Rankings.
Well done to all the teams, players and coaches and thank you for regularly submitting the results. Until the new season begins in 2018!
FIRST XV RANKINGS 29 August 2017

RANK

TEAM

PLAYED

AVG PTS

1

PAARL BOYS HIGH

17

7.365

2

GREY COLLEGE

13

7.023

3

KES

15

6.267

4

MONUMENT

20

6.020

5

HELPMEKAAR

16

5.938

6

ST ANDREWS COLLEGE

16

5.581

7

PAARL GIM

16

5.088

8

AFFIES

14

5.071

9

STELLENBERG

19

4.947

10

SACS

20

4.785

11

HILTON COLLEGE

12

4.733

12

PAUL ROOS GYM

18

4.611

13

CENTURION

10

4.480

14

GREY HIGH SCHOOL

18

4.378

15

HTS DROSTDY

18

4.278

16

OUTENIQUA

15

4.240

17

WATERKLOOF

18

4.172

18

BOLAND LANDBOU

20

4.110

19

GLENWOOD

13

4.108

20

BRACKENFELL

18

3.983

21

TRANSVALIA

14

3.886

22

SELBORNE COLLEGE

19

3.858

23

NOORD KAAP

13

3.846

24

DHS

15

3.800

25

DALE COLLEGE

19

3.737

26

FRAMESBY

14

3.693

27

KEARSNEY COLLEGE

17

3.682

28

MARLOW

17

3.641

29

HS ALBERTON

11

3.618

30

ST ALBANS COLLEGE

13

3.523

31

ELDORAIGNE

14

3.521

32

RONDEBOSCH

18

3.478

33

ST JOHNS COLLEGE

12

3.450

34

OOS MOOT

17

3.418

35

OAKDALE

15

3.373

36

FRIKKIE MEYER

11

3.373

37

GRAEME COLLEGE

16

3.350

38

MARITZBURG COLLEGE

17

3.329

39

HUDSON PARK

20

3.315

40

HERMANUS

17

3.235

41

FAIRMONT

14

3.156

42

WELKOM GYM

17

3.129

43

LIGBRON

13

3.123

44

GARSFONTEIN

14

3.057

45

BEKKER

17

3.006

46

DF MALAN

19

2.979

47

MARAIS VILJOEN

15

2.973

48

NELSPRUIT

14

2.957

49

SECUNDA

9

2.956

50

QUEENS COLLEGE

18

2.939

51

EG JANSEN

18

2.883

52

WESTVILLE

13

2.869

53

AHS KROONSTAD

14

2.821

54

WITTEBERG

14

2.821

55

WOODRIDGE COLLEGE

9

2.767

56

DIE BRANDWAG

13

2.715

57

HUGENOTE SPRINGS

15

2.660

58

HUGENOTE WELL

40

2.640

59

DRIEHOEK

12

2.625

60

PRETORIA BOYS HIGH

17

2.500

61

MICHAELHOUSE

11

2.482

62

CHARLIE HOFMEYR

11

2.373

63

BISHOPS

16

2.356

64

HOPEFIELD

10

2.300

65

VEREENIGING GIM

9

2.267

66

HANS STRIJDOM

10

2.230

67

LINDEN

8

2.225

68

ST CHARLES COLLEGE

12

2.217

69

ST STITHIANS

11

2.191

70

VRYBURG

9

2.167

71

VOORTREKKER BETH

14

2.164

72

ST DAVIDS

14

2.143

73

STIRLING

14

2.129

74

FICHARDTPARK

11

2.109

75

HTS MIDDELBURG

14

2.100

76

HOOGENHOUT

10

2.100

77

DIAMANTVELD

15

2.073

78

HANS MOORE

12

2.058

79

MERENSKY

11

2.027

80

BEN VORSTER

16

1.963

81

NOORDHEUWEL

15

1.947

82

LICHTENBURG

13

1.946

83

CLIFTON

13

1.915

84

BASTION

10

1.890

85

JIM FOUCHE

9

1.844

86

POTCH GIM

11

1.836

87

TRINITYHOUSE

9

1.711

88

TYGERBERG

15

1.707

89

NORTHCLIFF

12

1.700

90

PEARSON

10

1.640

91

MENLOPARK

17

1.629

92

NICO MALAN

20

1.615

93

BRANDWAG

12

1.608

94

AUGSBURG

12

1.525

95

LOUIS BOTHA

8

1.475

96

HANGKLIP

14

1.443

97

DESPATCH

8

1.363

98

ROB FERREIRA

11

1.336

99

SWARTLAND

16

1.269

100

PARKTOWN

13

1.246