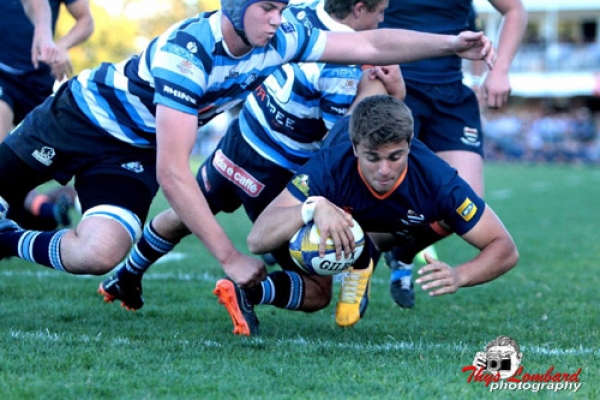 Yet another devastatingly clinical performance by Paul Roos Gym this time over a powerful Paarl Gym side has served to cement PRG firmly in the No. 1 spot on this week's SA School Sports First XV Top 100 Rankings.
PRG have now held the number one spot since the first publishing of the rankings this season and deservedly are now viewed as the most dominant school rugby team in South Africa in 2018. Of course the season is by no means over and they still have to scrum down with Grey College and others before the curtains are drawn on the season but everything indicates that this is a very special team which will prove difficult to beat.
Glenwood also remained unbeaten after their clash with a rejuvenated Affies team who threw everything they had at the Green Machine only to fall just short of the win. Glenwood slot into the third position behind Grey College who handed Boishaai their first defeat to local opposition for three seasons and likewise enjoy an unblemished sheet of wins.
Please send through all your team's results to @[email protected]
FIRST XV RANKINGS 7 MAY, 2018

RANK

TEAM

PLAYED

AVG PTS

1

PAUL ROOS GYM

9

7.867

2

GREY COLLEGE

8

7.050

3

GLENWOOD

11

6.800

4

PAARL GIM

10

6.250

5

TRANSVALIA

10

6.030

6

BISHOPS

6

5.633

7

SELBORNE COLLEGE

10

5.450

8

HILTON COLLEGE

8

5.363

9

WYNBERG

8

5.288

10

PAARL BOYS HIGH

8

5.238

11

BOLAND LANDBOU

10

5.070

12

OAKDALE

8

5.000

13

JEPPE

10

4.900

14

GREY HIGH SCHOOL

9

4.756

15

FRAMESBY

10

4.750

16

ST ANDREWS COLLEGE

6

4.567

17

HELPMEKAAR

7

4.500

18

MONUMENT

12

4.475

19

AFFIES

9

4.222

20

BEN VORSTER

9

4.078

21

HTS DROSTDY

12

3.783

22

DHS

9

3.667

23

MENLOPARK

9

3.478

24

KINGSWOOD COLLEGE

8

3.450

25

GARSFONTEIN

12

3.450

26

PRETORIA BOYS HIGH

9

3.322

27

ST ALBANS COLLEGE

11

3.100

28

ST STITHIANS

8

3.100

29

MARLOW

10

3.070

30

WOODRIDGE COLLEGE

6

3.050

31

NICO MALAN

11

2.936

32

RONDEBOSCH

7

2.900

33

OUTENIQUA

7

2.814

34

KES

8

2.775

35

BELLVILLE

5

2.740

36

STELLENBERG

8

2.663

37

KEARSNEY COLLEGE

12

2.650

38

FRIKKIE MEYER

6

2.633

39

HS ALBERTON

8

2.625

40

OOS MOOT

11

2.618

41

DIE BRANDWAG

11

2.591

42

BARBERTON

8

2.463

43

RUSTENBURG

7

2.386

44

DIAMANTVELD

10

2.370

45

CLIFTON

7

2.300

46

DESPATCH

8

2.250

47

LIGBRON

7

2.243

48

POTCH VOLKIES

9

2.222

49

PEARSON

7

2.200

50

SECUNDA

6

2.150

51

MONTANA PTA

10

2.130

52

LYDENBURG

9

2.100

53

ST JOHNS COLLEGE

8

2.075

54

SACS

7

2.057

55

PIONIER

8

1.938

56

WELKOM GYM

10

1.870

57

HUDSON PARK

11

1.855

58

GOUDVELD

9

1.833

59

FLORIDA

7

1.771

60

DURBANVILLE

9

1.733

61

LICHTENBURG

7

1.686

62

SCHOONSPRUIT

5

1.640

63

HANS MOORE

8

1.600

64

UPINGTON

7

1.571

65

WITTEBERG

10

1.530

66

BRANDWAG

6

1.500

67

DIE ANKER

7

1.471

68

UNION HS

8

1.400

69

NORTHCLIFF

10

1.390

70

WESTERING

7

1.386

71

EG JANSEN

9

1.333

72

WESTVILLE

8

1.313

73

NORTHWOOD

9

1.311

74

MARITZBURG COLLEGE

9

1.200

75

NOORDHEUWEL

10

1.170

76

HUGENOTE WELL

6

1.140

77

PARKTOWN

10

1.140

78

ST CHARLES COLLEGE

6

1.117

79

ZWARTKOP

11

1.073

80

DF MALAN

7

1.071

81

LEEUWENHOF

6

1.050

82

NELSPRUIT

8

1.050

83

MIDDELBURG HS

7

1.000

84

HTS MIDDELBURG

11

0.991

85

DALE COLLEGE

10

0.870

86

RANDPARK

8

0.863

87

ST BENEDICTS

8

0.813

88

LILYFONTEIN

5

0.800

89

GRAEME COLLEGE

9

0.778

90

DUINEVELD

5

0.700

91

MICHAELHOUSE

7

0.629

92

VOORTREKKER BETH

7

0.614

93

ST DAVIDS

7

0.529

94

JIM FOUCHE

6

0.467

95

HUGENOTE SPRINGS

7

0.386

96

WATERKLOOF

8

0.350

97

ELDORAIGNE

10

0.340

98

QUEENS COLLEGE

8

0.225

99

POTCH GIM

7

0.086

100

NOORD KAAP

6

0.067

101

MARAIS VILJOEN

9

0.067

102

BRACKENFELL

9

0.067