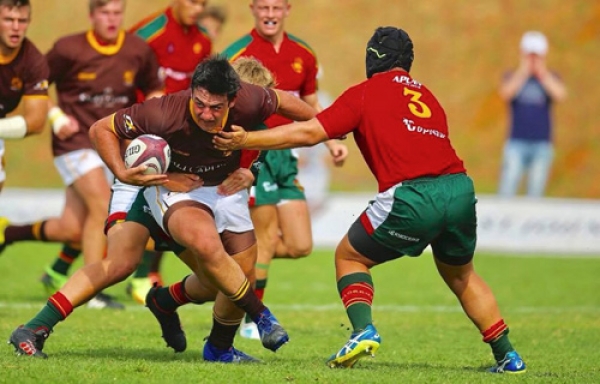 Helpmekaar put together a master class of a performance against an outgunned and outplayed HTS Middelburg to record a big win last week. This win helps Helpmekaar to clamber into the top ten on this week's First XV School Rugby Top 100 Rankings.
Helpies have been on a good run of late with three wins on the trot and throughout the season have played some good rugby and perhaps can count themselves unfortunate to have been on the wrong end of some close matches.
Transvalia, who have had one of their finest seasons to date, finally were exposed by an on form EG Jansen side and that contributes to Transvalia slipping out of the leading five teams this week.
One of the big showdowns from last week was surely the Oakdale vs Paul Roos Gym match and although the men from Riverdale didn't take no for an answer from the leading team in the country, they finally had to settle for a hard fought loss but with their pride still intact.
PRG stretch their unbeaten run to 12 matches this season and look set to finish at the top if the results still keep going their way. Paarl Boys High were give a scare of note by Bishops who pushed Gimmies all the way and at the end got strangled out of the win by a single point. Paul Roos Gym, Glenwood, Grey College and Hilton College are the four remaining teams that are unbeaten so far in 2018.
As the season slows down for some teams, please keep sending in your team's results to [email protected]
FIRST XV RANKINGS 4 JUNE, 2018

RANK

TEAM

PLAYED

AVG BONUS POINTS

1

PAUL ROOS GYM

12

7.792

2

GREY COLLEGE

10

7.060

3

GLENWOOD

13

6.938

4

PAARL GIM

14

6.207

5

HILTON COLLEGE

12

5.475

6

TRANSVALIA

14

5.414

7

SELBORNE COLLEGE

13

5.169

8

FRAMESBY

13

4.908

9

JEPPE

13

4.792

10

HELPMEKAAR

11

4.455

11

PAARL BOYS HIGH

10

4.370

12

WYNBERG BH

11

4.345

13

BOLAND LANDBOU

12

4.325

14

GREY HIGH SCHOOL

12

4.317

15

BEN VORSTER

13

4.277

16

ST ANDREWS COLLEGE

10

4.110

17

OAKDALE

11

4.064

18

GARSFONTEIN

15

4.027

19

AFFIES

11

4.018

20

BISHOPS

10

3.990

21

HTS DROSTDY

15

3.933

22

DHS

13

3.723

23

MONUMENT

16

3.694

24

NELSPRUIT

12

3.683

25

FRIKKIE MEYER

9

3.622

26

KINGSWOOD COLLEGE

11

3.591

27

LIGBRON

10

3.480

28

ST ALBANS COLLEGE

15

3.440

29

MENLOPARK

12

3.375

30

KES

12

3.275

31

RONDEBOSCH

11

3.073

32

OOS MOOT

14

3.064

33

MARLOW

13

3.015

34

OUTENIQUA

11

2.955

35

SECUNDA

8

2.925

36

PRETORIA BOYS HIGH

13

2.854

37

STELLENBERG

12

2.792

38

WOODRIDGE COLLEGE

9

2.733

39

KEARSNEY COLLEGE

14

2.664

40

RUSTENBURG

10

2.660

41

DIE BRANDWAG

13

2.631

42

ST STITHIANS

11

2.582

43

HEIDELBERG VOLKIES

14

2.543

44

LYDENBURG

13

2.500

45

GOUDVELD

12

2.467

46

DIAMANTVELD

13

2.454

47

BARBERTON

10

2.420

48

NICO MALAN

15

2.407

49

LEEUWENHOF

10

2.400

50

POTCH VOLKIES

12

2.383

51

HS ALBERTON

10

2.380

52

WELKOM GYM

12

2.342

53

DESPATCH

12

2.308

54

CLIFTON

11

2.273

55

DF MALAN

11

2.118

56

HUDSON PARK

14

2.086

57

ST JOHNS COLLEGE

12

2.075

58

PIONIER

11

2.009

59

EG JANSEN

13

2.008

60

ST CHARLES COLLEGE

8

2.000

61

LICHTENBURG

11

1.973

62

SACS

11

1.964

63

PEARSON

9

1.956

64

WESTERING

10

1.910

65

WATERKLOOF

12

1.908

66

BRANDWAG

8

1.850

67

HANS MOORE

10

1.830

68

DIE ANKER

11

1.827

69

DURBANVILLE

13

1.777

70

BELLVILLE

8

1.750

71

NORTHWOOD

12

1.675

72

DALE COLLEGE

13

1.569

73

GRAEME COLLEGE

12

1.458

74

HOPEFIELD

6

1.433

75

WITTEBERG

12

1.425

76

HUGENOTE WELL

8

1.383

77

MONTANA PTA

13

1.362

78

MARITZBURG COLLEGE

11

1.291

79

NORTHCLIFF

16

1.181

80

BRACKENFELL

13

1.131

81

RANDBURG

7

1.100

82

RANDPARK

13

1.092

83

ELDORAIGNE

14

1.086

84

HERMANUS

7

1.029

85

MIDDELBURG HS

10

1.010

86

ZWARTKOP

15

0.993

87

ST DAVIDS

11

0.982

88

UNION HS

10

0.940

89

VOORTREKKER BETH

10

0.900

90

CENTURION

7

0.886

91

NOORDHEUWEL

12

0.883

92

WESTVILLE

10

0.760

93

MARAIS VILJOEN

12

0.708

94

KLERKSDORP

8

0.700

95

POTCH GIM

11

0.645

96

ST BENEDICTS

12

0.592

97

PARKTOWN

13

0.577

98

ST ANDREWS SCHOOL

12

0.558

99

ELLISRAS

7

0.514

100

STIRLING

9

0.456
FIRST XV RANKINGS 4 JUNE, 2018
RANK
TEAM
PLAYED
AVG BONUS POINTS
1
PAUL ROOS GYM
12
7.792
2
GREY COLLEGE
10
7.060
3
GLENWOOD
13
6.938
4
PAARL GIM
14
6.207
5
HILTON COLLEGE
12
5.475
6
TRANSVALIA
14
5.414