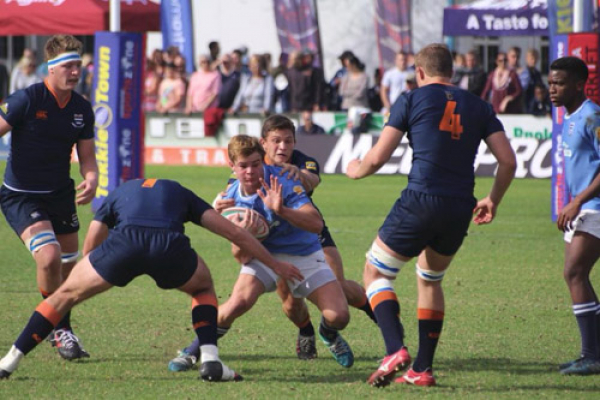 After a lengthy absence from the field Grey College turned on the taps in a massive display against Grey High School that will send shockwaves to their remaining opponents Glenwood and Paul Roos Gym.
As the fixture list for Grey College will have it, Grey will face the leading two teams, and arguably the strongest teams in the country in their final two matches. Grey College would want to have it no other way and we could witness what amounts to the playoffs for who takes the No.1 position on the SA School Sports Top 100 Rankings for 2018.
Paul Roos Gym who still lead the rankings remain unbeaten after brushing aside a motivated Rondebosch side and Glenwood took the week off to prepare for their season crescendo against Grey. If Grey College can pull of two victories we could have seen one of the best timed surges to the top in recent times. All three teams are unbeaten in 2018 but it will be difficult to believe it will remain that way by time the dust settles on the season.
Please send through your First XV results to [email protected]
FIRST XV RANKINGS 30 JULY, 2018

RANK

TEAM

PLAYED

AVG BONUS POINTS

1

PAUL ROOS GYM

14

7.793

2

GLENWOOD

15

7.260

3

GREY COLLEGE

11

7.236

4

PAARL GIM

16

6.425

5

SELBORNE COLLEGE

17

5.653

6

HILTON COLLEGE

14

5.329

7

TRANSVALIA

16

5.206

8

JEPPE

15

4.960

9

HELPMEKAAR

15

4.780

10

OAKDALE

13

4.669

11

BOLAND LANDBOU

15

4.460

12

BEN VORSTER

15

4.227

13

PAARL BOYS HIGH

13

4.208

14

AFFIES

13

4.192

15

FRAMESBY

15

4.160

16

GARSFONTEIN

18

4.156

17

MONUMENT

20

4.010

18

BISHOPS

13

4.008

19

HTS DROSTDY

16

3.944

20

GREY HIGH SCHOOL

14

3.814

21

WYNBERG BH

13

3.808

22

KINGSWOOD COLLEGE

15

3.667

23

ST ANDREWS COLLEGE

16

3.656

24

ST ALBANS COLLEGE

16

3.550

25

DHS

16

3.406

26

OOS MOOT

17

3.382

27

FRIKKIE MEYER

10

3.310

28

MENLOPARK

16

3.294

29

LIGBRON

12

3.242

30

DF MALAN

18

3.172

31

KES

14

3.164

32

STELLENBERG

15

3.147

33

SECUNDA

9

3.067

34

DIE BRANDWAG

15

3.040

35

NELSPRUIT

14

2.993

36

KEARSNEY COLLEGE

17

2.841

37

MARLOW

15

2.767

38

POTCH VOLKIES

15

2.587

39

DIAMANTVELD

15

2.567

40

WOODRIDGE COLLEGE

11

2.545

41

HEIDELBERG VOLKIES

14

2.543

42

HS ALBERTON

12

2.542

43

OUTENIQUA

13

2.523

44

ST STITHIANS

13

2.485

45

WELKOM GYM

13

2.477

46

RONDEBOSCH

14

2.436

47

PRETORIA BOYS HIGH

15

2.427

48

DURBANVILLE

16

2.425

49

LEEUWENHOF

13

2.423

50

BARBERTON

10

2.420

51

BELLVILLE

10

2.360

52

ST JOHNS COLLEGE

14

2.307

53

GOUDVELD

14

2.300

54

CLIFTON

13

2.277

55

NICO MALAN

17

2.276

56

HUDSON PARK

18

2.244

57

ST CHARLES COLLEGE

10

2.240

58

DALE COLLEGE

15

2.220

59

RUSTENBURG

13

2.169

60

DESPATCH

16

2.081

61

PIONIER

11

2.009

62

KING DAVID

4

2.000

63

LYDENBURG

15

1.980

64

BRANDWAG

9

1.922

65

DIE ANKER

11

1.827

66

OVERKRUIN

8

1.813

67

PEARSON

13

1.708

68

NORTHWOOD

12

1.675

69

WESTERING

14

1.671

70

GRAEME COLLEGE

16

1.644

71

ELDORAIGNE

17

1.629

72

EG JANSEN

15

1.620

73

WATERKLOOF

14

1.614

74

DUINEVELD

8

1.588

75

HANS MOORE

11

1.573

76

WITTEBERG

13

1.492

77

MIDDELBURG HS

12

1.475

78

MONTANA PTA

17

1.418

79

DR MALAN

8

1.363

80

SACS

14

1.314

81

LICHTENBURG

13

1.285

82

NOORDHEUWEL

15

1.260

83

BRACKENFELL

14

1.250

84

HERMANUS

8

1.188

85

MARAIS VILJOEN

15

1.187

86

UNION HS

14

1.186

87

NORTHCLIFF

16

1.181

88

WESTVILLE

11

1.145

89

RANDPARK

13

1.092

90

VOORTREKKER BETH

12

1.050

91

HUGENOTE WELL

8

1.013

92

CAMBRIDGE

14

0.929

93

MARITZBURG COLLEGE

14

0.921

94

PARKTOWN

15

0.853

95

RANDBURG

8

0.788

96

KEMPTON PARK

15

0.780

97

ST BENEDICTS

14

0.743

98

ST DAVIDS

14

0.714

99

KLERKSDORP

8

0.700

100

POTCH GIM

11

0.645