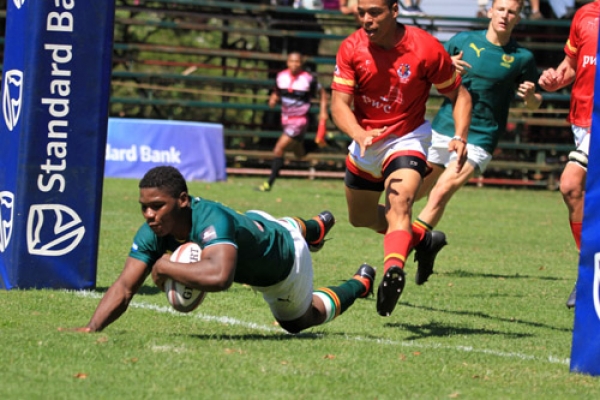 A bye weekend for Paul Roos Gym and Grey College allowed Glenwood to nudge a little bit closer to the two leaders after a comprehensive win by a motivated DHS side.
DHS have been in good form this season but were not match for the Green Machine who pummelled the try line and even when they went down to 14 players were able to score. Glenwood will want to try peak at the right moment when the take on Grey College later this season in what could be one of their best chances of taking a prized victory over the Bloemfontein powerhouse.
Selborne College moved up the table on the First XV Rugby Top 100 following their win over St Andrews College and Bishops dealt Wynberg's hope for advancement a blow when they narrowly outscored them in the death.
Transvalia continue to impress with last gasp win over Monnas and Oakdale gave their hopes of finishing in the top ten a boost with a solid win over Outeniqua.
Please send your outstanding results to [email protected]
FIRST XV RANKINGS 28 MAY, 2018

RANK

TEAM

PLAYED

AVG BONUS POINTS

1

PAUL ROOS GYM

11

7.864

2

GREY COLLEGE

10

7.060

3

GLENWOOD

13

6.938

4

PAARL GIM

13

6.185

5

TRANSVALIA

13

5.977

6

HILTON COLLEGE

11

5.436

7

SELBORNE COLLEGE

12

4.942

8

FRAMESBY

12

4.925

9

WYNBERG BH

10

4.910

10

JEPPE

12

4.642

11

OAKDALE

10

4.580

12

GREY HIGH SCHOOL

11

4.555

13

BOLAND LANDBOU

12

4.325

14

PAARL BOYS HIGH

9

4.300

15

HELPMEKAAR

10

4.190

16

BISHOPS

9

4.122

17

GARSFONTEIN

15

4.027

18

AFFIES

11

4.018

19

BEN VORSTER

12

3.992

20

ST ANDREWS COLLEGE

9

3.989

21

NELSPRUIT

11

3.873

22

ST ALBANS COLLEGE

14

3.743

23

HTS DROSTDY

14

3.686

24

DHS

12

3.658

25

MONUMENT

15

3.633

26

KINGSWOOD COLLEGE

10

3.410

27

MENLOPARK

11

3.282

28

FRIKKIE MEYER

8

3.275

29

PRETORIA BOYS HIGH

12

3.208

30

LIGBRON

9

3.189

31

WOODRIDGE COLLEGE

8

2.975

32

OOS MOOT

13

2.946

33

KES

11

2.927

34

MARLOW

12

2.925

35

DIE BRANDWAG

12

2.925

36

KEARSNEY COLLEGE

13

2.754

37

STELLENBERG

11

2.736

38

RONDEBOSCH

10

2.700

39

OUTENIQUA

10

2.680

40

ST STITHIANS

11

2.582

41

SECUNDA

7

2.571

42

HS ALBERTON

9

2.567

43

NICO MALAN

14

2.536

44

RUSTENBURG

9

2.511

45

LYDENBURG

12

2.500

46

CLIFTON

10

2.470

47

GOUDVELD

12

2.467

48

DIAMANTVELD

13

2.454

49

ST JOHNS COLLEGE

11

2.436

50

BARBERTON

10

2.420

51

POTCH VOLKIES

12

2.383

52

HEIDELBERG VOLKIES

13

2.346

53

WELKOM GYM

12

2.342

54

SACS

10

2.250

55

DESPATCH

11

2.191

56

LEEUWENHOF

9

2.189

57

BELLVILLE

7

2.186

58

HUDSON PARK

14

2.086

59

PIONIER

11

2.009

60

WATERKLOOF

11

1.918

61

WESTERING

9

1.889

62

LICHTENBURG

10

1.780

63

PEARSON

8

1.738

64

DIE ANKER

9

1.689

65

ST CHARLES COLLEGE

7

1.671

66

EG JANSEN

12

1.667

67

HANS MOORE

9

1.667

68

DF MALAN

10

1.650

69

DURBANVILLE

12

1.617

70

UPINGTON

7

1.571

71

MONTANA PTA

12

1.567

72

BRANDWAG

7

1.471

73

NORTHWOOD

11

1.445

74

WITTEBERG

12

1.425

75

DUINEVELD

6

1.417

76

HUGENOTE WELL

8

1.383

77

MIDDELBURG HS

9

1.244

78

GRAEME COLLEGE

11

1.236

79

NORTHCLIFF

15

1.160

80

RANDPARK

12

1.142

81

ELDORAIGNE

13

1.100

82

DALE COLLEGE

12

1.083

83

BRACKENFELL

12

1.075

84

MARITZBURG COLLEGE

10

1.030

85

HERMANUS

7

1.029

86

UNION HS

9

1.011

87

ZWARTKOP

14

1.007

88

WESTVILLE

9

0.956

89

VOORTREKKER BETH

10

0.900

90

KLERKSDORP

8

0.700

91

ST DAVIDS

10

0.660

92

NOORDHEUWEL

11

0.636

93

CAMBRIDGE

10

0.620

94

ST BENEDICTS

11

0.618

95

PARKTOWN

13

0.577

96

ST ANDREWS SCHOOL

12

0.558

97

MARAIS VILJOEN

11

0.482

98

STIRLING

9

0.456

99

FLORIDA

9

0.378

100

SENTRAAL

10

0.31