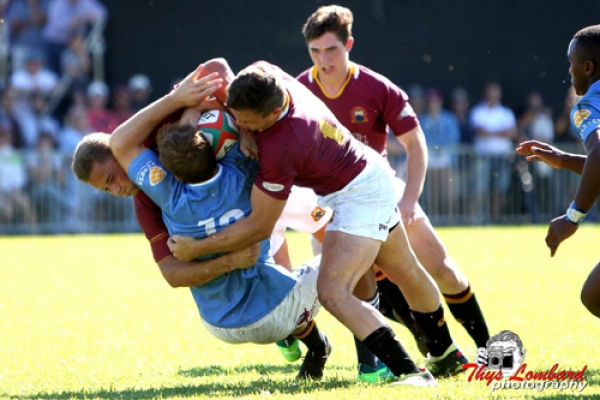 Paul Roos Gym continues to occupy the No. 1 position on this week's SA School Sports Top 100 Ranking for First XV's.
PRG took on a motivated Grey High School last week and not only won but bossed the high scoring game virtually from the start only allowing Grey HS a single opportunity to breach their line and score. Paul Roos remain unbeaten at this stage of the season and are clearly the form team in SA school rugby so far.
Paarl Boys High had a bit of a scare when they faced a rejuvenated Wynberg side that have been playing some vintage rugby this year. At the end Boishaai just had enough in the tank to fashion a 32-28 point win, but it may be that the high standards set by Boishaai in the recent past might be difficult to emulate in 2018. Time will tell.
There were good wins for Glenwood and Boland Landbou who secure their location amongst the top five and look out for Jeppe who are knocking on the door of the top 10 leading teams after a frantic and fast paced win over Westville.
Please continue to send through any of your team's outstanding results to [email protected]
FIRST XV RANKINGS 22 APRIL, 2018

RANK

TEAM

PLAYED

AVG PTS

1

PAUL ROOS GYM

6

7.800

2

PAARL GIM

7

7.286

3

GLENWOOD

8

7.100

4

GREY COLLEGE

5

7.060

5

BOLAND LANDBOU

6

6.200

6

HELPMEKAAR

5

6.000

7

BISHOPS

5

5.680

8

TRANSVALIA

9

5.633

9

WYNBERG

6

5.500

10

HILTON COLLEGE

7

5.471

11

JEPPE

7

5.286

12

PAARL BOYS HIGH

5

5.160

13

MONUMENT

9

5.156

14

MENLOPARK

6

4.917

15

SELBORNE COLLEGE

7

4.700

16

FRAMESBY

8

4.688

17

DHS

7

4.557

18

OAKDALE

6

4.450

19

AFFIES

6

4.417

20

ST ANDREWS COLLEGE

4

4.375

21

HTS DROSTDY

9

4.222

22

GREY HIGH SCHOOL

6

3.950

23

ST ALBANS COLLEGE

8

3.913

24

BEN VORSTER

8

3.713

25

KES

5

3.520

26

GARSFONTEIN

9

3.144

27

OUTENIQUA

5

3.120

28

EG JANSEN

6

3.083

29

RUSTENBURG

6

3.067

30

PEARSON

6

2.850

31

PRETORIA BOYS HIGH

7

2.729

32

DIE BRANDWAG

8

2.650

33

ST STITHIANS

5

2.640

34

LYDENBURG

7

2.529

35

HS ALBERTON

7

2.486

36

DIAMANTVELD

8

2.475

37

RONDEBOSCH

6

2.467

38

NICO MALAN

8

2.438

39

SACS

6

2.433

40

CLIFTON

6

2.433

41

HUDSON PARK

8

2.325

42

MARLOW

8

2.300

43

FRIKKIE MEYER

5

2.280

44

LIGBRON

7

2.243

45

ST JOHNS COLLEGE

5

2.220

46

KEARSNEY COLLEGE

8

2.200

47

POTCH VOLKIES

8

2.113

48

KINGSWOOD COLLEGE

5

2.080

49

STELLENBERG

5

2.080

50

BELLVILLE

4

2.050

51

SECUNDA

5

2.040

52

GOUDVELD

8

2.025

53

OOS MOOT

9

1.989

54

DESPATCH

7

1.929

55

BRANDWAG

4

1.900

56

WELKOM GYM

8

1.900

57

MONTANA PTA

8

1.775

58

FLORIDA

7

1.771

59

PIONIER

6

1.667

60

ZWARTKOP

9

1.656

61

NOORD KAAP

4

1.650

62

UPINGTON

7

1.571

63

LICHTENBURG

6

1.567

64

ST BENEDICTS

7

1.557

65

UNION HS

7

1.500

66

DIE ANKER

7

1.471

67

LEEUWENHOF

5

1.460

68

NORTHWOOD

7

1.386

69

HTS MIDDELBURG

8

1.313

70

WESTVILLE

7

1.286

71

HANS MOORE

7

1.286

72

GRAEME COLLEGE

6

1.283

73

DURBANVILLE

7

1.210

74

NORTHCLIFF

6

1.133

75

DF MALAN

6

1.100

76

ST DAVIDS

4

1.100

77

MIDDELBURG HS

6

1.050

78

LILYFONTEIN

4

1.000

79

WITTEBERG

9

0.978

80

ST CHARLES COLLEGE

4

0.975

81

WATERKLOOF

6

0.867

82

NOORDHEUWEL

9

0.822

83

RANDBURG

4

0.800

84

MARITZBURG COLLEGE

7

0.729

85

WESVALIA

4

0.650

86

VEREENIGING GIM

4

0.625

87

VOORTREKKER BETH

6

0.583

88

DALE COLLEGE

7

0.543

89

JIM FOUCHE

4

0.500

90

POTCH GIM

6

0.467

91

NELSPRUIT

7

0.329

92

STIRLING

5

0.320

93

KEMPTON PARK

9

0.122

94

CURRO NELSPRUIT

6

0.100

95

PARKTOWN

7

0.086

96

MARAIS VILJOEN

9

0.067

97

ST ANDREWS SCHOOL

7

0.043

98

BERGVLAM

4

-0.050

99

MICHAELHOUSE

6

-0.050

100

ELDORAIGNE

9

-0.167