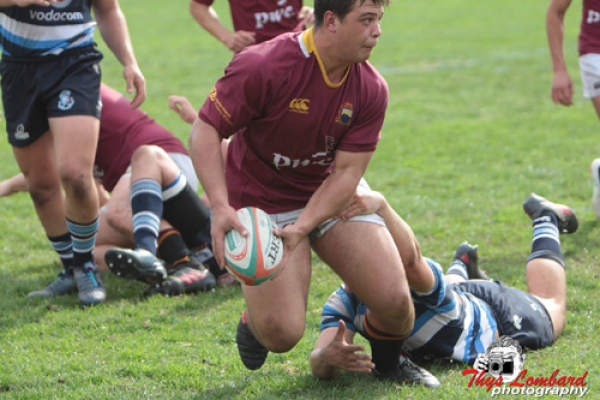 It was a thunderous display from Paul Roos Gym who proceeded to clinically dispose of Paarl Boys High this weekend, a team who have ridden the crest of school rugby for the past few years, but this time were made to look out of sorts.
Many of late have asked just how good is this Paul Roos Gym team, who SA School Sports tipped as the number team in the country way back in March when the first Top 100 Rankings were published. To be viewed as the best they have to beat the best and this is what PRG have done systematically from the start of the season. There are still at least two big guns that lay ahead for PRG, Grey College and Glenwood who are also still unbeaten and if they can hold their nerve against those two powerhouses of school rugby we might be able to propose that this Paul Roos Gym team is one of the best teams in recent history.
There is however still plenty of rugby to be played in 2018 and it remains to be seen who will move up the table as the weeks tick by. Boishaai who will be bruised but not beaten by their loss to PRG and find themselves in the uncustomary position of being outside the top 10 but they have the ability to bounce back and we believe they will.
Boland Landbou inch close to the leading ten teams following their win over Bishops and DHS put one over their old rivals Maritzburg College in what has become a rarity of late. DHS are enjoying perhaps their best season for years and are good value for their top 20 position.
Glenwood, Grey College and Paarl Gim all recorded healthy wins although Paarl Gym got a shock from Oakdale who came close to upsetting their apple cart.
Are you results with us? Please send them to [email protected]
FIRST XV RANKINGS 21 MAY, 2018

RANK

TEAM

PLAYED

AVG BONUS POINTS

1

PAUL ROOS GYM

11

7.864

2

GREY COLLEGE

10

7.060

3

GLENWOOD

12

6.867

4

PAARL GIM

12

6.258

5

TRANSVALIA

12

6.042

6

WYNBERG

9

5.278

7

HILTON COLLEGE

10

5.270

8

JEPPE

11

4.918

9

FRAMESBY

11

4.891

10

SELBORNE COLLEGE

11

4.773

11

ST ANDREWS COLLEGE

8

4.600

12

BOLAND LANDBOU

11

4.573

13

OAKDALE

9

4.467

14

GREY HIGH SCHOOL

10

4.450

15

PAARL BOYS HIGH

9

4.300

16

DHS

11

4.291

17

HELPMEKAAR

9

4.167

18

NELSPRUIT

10

4.080

19

BISHOPS

8

4.063

20

AFFIES

10

3.890

21

HTS DROSTDY

13

3.862

22

MONUMENT

14

3.843

23

GARSFONTEIN

14

3.793

24

BEN VORSTER

11

3.773

25

MENLOPARK

10

3.750

26

KINGSWOOD COLLEGE

9

3.533

27

ST ALBANS COLLEGE

13

3.400

28

FRIKKIE MEYER

8

3.275

29

MARLOW

11

3.200

30

PRETORIA BOYS HIGH

11

2.982

31

DIE BRANDWAG

12

2.925

32

LIGBRON

8

2.850

33

OOS MOOT

12

2.842

34

OUTENIQUA

9

2.833

35

ST STITHIANS

10

2.790

36

DIAMANTVELD

12

2.767

37

BELLVILLE

6

2.733

38

WOODRIDGE COLLEGE

7

2.729

39

RUSTENBURG

8

2.713

40

STELLENBERG

10

2.660

41

KEARSNEY COLLEGE

12

2.650

42

HS ALBERTON

8

2.625

43

LYDENBURG

11

2.573

44

SECUNDA

7

2.571

45

KES

10

2.570

46

NICO MALAN

13

2.500

47

RONDEBOSCH

9

2.467

48

BARBERTON

10

2.420

49

DESPATCH

10

2.370

50

HEIDELBERG VOLKIES

13

2.346

51

WELKOM GYM

12

2.342

52

HUDSON PARK

13

2.338

53

LEEUWENHOF

9

2.189

54

GOUDVELD

11

2.182

55

CLIFTON

9

2.156

56

SACS

9

2.111

57

POTCH VOLKIES

11

2.109

58

LICHTENBURG

9

2.078

59

PIONIER

9

2.056

60

ST JOHNS COLLEGE

10

2.000

61

PEARSON

8

1.738

62

DIE ANKER

9

1.689

63

NORTHWOOD

10

1.670

64

HANS MOORE

9

1.667

65

WESTERING

8

1.650

66

UPINGTON

7

1.571

67

MONTANA PTA

12

1.567

68

BRANDWAG

7

1.471

69

DF MALAN

8

1.438

70

HOPEFIELD

6

1.433

71

DURBANVILLE

11

1.427

72

WITTEBERG

12

1.425

73

DUINEVELD

6

1.417

74

HUGENOTE WELL

8

1.383

75

WATERKLOOF

10

1.330

76

WESTVILLE

8

1.313

77

NORTHCLIFF

13

1.292

78

DALE COLLEGE

11

1.282

79

MIDDELBURG HS

9

1.244

80

NOORDHEUWEL

10

1.170

81

ST CHARLES COLLEGE

6

1.117

82

MARITZBURG COLLEGE

10

1.030

83

HERMANUS

7

1.029

84

ST ANDREWS SCHOOL

11

1.027

85

UNION HS

9

1.011

86

ELDORAIGNE

12

1.000

87

ST DAVIDS

8

0.938

88

EG JANSEN

11

0.927

89

ST BENEDICTS

10

0.900

90

GRAEME COLLEGE

10

0.890

91

RANDBURG

6

0.883

92

ZWARTKOP

13

0.862

93

PARKTOWN

12

0.850

94

RANDPARK

10

0.830

95

POTCH GIM

9

0.556

96

VOORTREKKER BETH

9

0.544

97

KLERKSDORP

7

0.471

98

HTS MIDDELBURG

13

0.469

99

MICHAELHOUSE

8

0.463

100

STIRLING

8

0.413

101

FLORIDA

9

0.378

102

BRACKENFELL

11

0.355