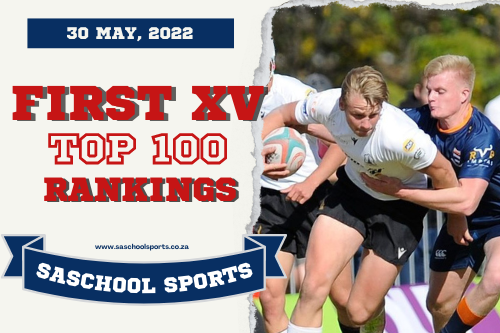 Grey College remain at the helm of this week's SA School Sports First XV Rugby Rankings after another competent display against Monument.
Boishaai brushed aside the challenge from Bishops with relative ease and the KZN powerhouse Hilton College seemingly had no problems in beating Maritzburg College on Goldstones.
Wynberg are now relishing the prospect of securing the Triple Crown having already beaten two of the three Southern Suburb schools and it is only SACS that now stand in their way. A determined 24-15 victory over Rondebosch, who earlier this season managed to beat Boishaai, closes the gap on Bishops as they look for their highest placing for years.
Many schools will be taking a break for a few weeks as the examinations get underway, but we can still expect some matches to be played in the weeks to come.
Please send through your First XV Results to [email protected]
FIRST XV RANKINGS 30 MAY, 2022

RANK

TEAM

PLAYED

AVG BONUS POINTS

1

GREY COLLEGE

12

8.783

2

PAARL GIM

10

8.610

3

PAARL BOYS HIGH

12

8.192

4

HILTON COLLEGE

10

7.660

5

AFFIES

12

7.642

6

 GARSFONTEIN

11

7.555

7

BISHOPS

12

7.100

8

WYNBERG BH

11

6.909

9

OUTENIQUA

9

6.322

10

RONDEBOSCH

11

6.173

11

PAUL ROOS GYM

11

6.073

12

KES

12

5.983

13

STELLENBERG

12

5.967

14

OAKDALE

9

5.911

15

DHS

12

5.467

16

BOLAND LANDBOU

12

5.275

17

GREY HIGH SCHOOL

13

5.123

18

SELBORNE COLLEGE

15

5.120

19

MONUMENT

12

5.075

20

NOORDHEUWEL

14

5.050

21

MICHAELHOUSE

11

5.000

22

GLENWOOD

13

4.869

23

HELPMEKAAR

13

4.792

24

WATERKLOOF

12

4.600

25

 MARLOW

13

4.577

26

WESTVILLE

14

4.543

27

QUEENS COLLEGE

13

4.269

29

MARITZBURG COLLEGE

14

4.244

30

VRYBURG

9

4.233

31

BRANDWAG

9

4.222

32

JEPPE

13

4.162

33

CHARLIE HOFMEYR

15

4.140

34

MERENSKY

13

4.138

35

FLORIDA

10

4.120

36

FRAMESBY

11

4.118

37

PRETORIA BOYS HIGH

13

4.100

38

 ELDORAIGNE

14

4.086

39

BASTION

9

4.011

40

WORCESTER GYM

12

3.983

41

HTS DROSTDY

14

3.979

42

NORTHCLIFF

10

3.930

43

DIE ANKER

12

3.917

44

SECUNDA

11

3.909

45

 NELSPRUIT

11

3.909

46

KINGSWOOD COLLEGE

11

3.882

47

HTS WITBANK

8

3.813

48

DIE BRANDWAG

15

3.773

49

GRAEME COLLEGE

13

3.754

50

WITTEBERG

8

3.725

51

WOLMARANSSTAD

11

3.700

52

CORNWALL HILL

11

3.664

53

HUDSON PARK

12

3.658

54

MIDDELBURG HS

11

3.636

55

SACS

12

3.625

56

DIAMANTVELD

10

3.610

57

PEARSON

11

3.582

58

EG JANSEN

11

3.582

59

BURGERSDORP

6

3.550

60

DF MALAN

7

3.514

61

 RUSTENBURG

11

3.491

62

OVERKRUIN

7

3.471

63

VOORTREKKER BETH

12

3.408

64

ST ANDREWS COLLEGE

13

3.369

65

TRANSVALIA

10

3.350

66

OOS MOOT

9

3.322

67

ST JOHNS COLLEGE

13

3.292

68

LEEUWENHOF

9

3.278

69

CLIFTON

10

3.260

70

MONTANA PTA

11

3.218

71

KEARSNEY COLLEGE

14

3.207

72

WESVALIA

9

3.133

73

DURBANVILLE

15

3.100

74

FRIKKIE MEYER

9

3.033

75

STRAND

15

3.020

76

KLERKSDORP

10

3.010

77

AUGSBURG

13

3.008

78

ROBERTSON

11

2.982

79

NORTHWOOD

14

2.921

80

MELKBOSSTRAND

13

2.915

81

PENRYN COLLEGE

10

2.910

82

RANDBURG

10

2.840

83

MUIR

8

2.838

84

HUGENOTE WELL

7

2.814

85

WELKOM GYM

12

2.800

86

SENTRAAL

12

2.733

87

LIGBRON

6

2.717

88

MIDSTREAM

9

2.633

89

CURRO NELSPRUIT

6

2.617

90

BRITS

9

2.611

91

UNION HS

9

2.611

92

OVERBERG

8

2.575

93

 NICO MALAN

12

2.558

94

DALE COLLEGE

9

2.544

95

DINAMIKA

11

2.500

96

HTS MIDDELBURG

11

2.491

97

ERMELO

11

2.364

98

PORTERVILLE

12

2.308

99

HOPEFIELD

11

2.273

100

OTTO DU PLESSIS

12

2.200

101

HEIDELBERG VOLKIES

8

2.125

102

SWARTLAND

9

2.111

103

LABORI

11

2.100

104

ST ALBANS COLLEGE

7

2.057

105

BEN VILJOEN

6

2.033

106

STIRLING

6

1.917

107

DUINEVELD

7

1.900

108

HOTTENTOTS HOLLAND

8

1.838

109

CURRO HILLCREST

10

1.800

110

MENLOPARK

10

1.750

111

PIKETBERG

10

1.740

112

LANDBOUDAL

13

1.692

113

SCHOONSPRUIT SEC

9

1.678

114

BERGSIG

10

1.670

115

LANGENHOVEN GIM

9

1.656

116

VOLKSKOOL

7

1.586

117

TOM NAUDE

10

1.580

118

WINTERBERG

8

1.575

119

ASHTON COLLEGE

6

1.567

120

EMPANGENI

9

1.522

121

ZWARTKOP

12

1.517

122

POTCH GIM

8

1.500

123

WESTERING

9

1.489

124

SWELLENDAM

6

1.467

125

JIM FOUCHE

6

1.433

126

KEMPTON PARK

10

1.380

127

CENTURION

11

1.327

128

STANDERTON

10

1.280

129

PIETERSBURG

7

1.257

130

TRIO

10

1.140

131

ELLISRAS

10

1.090

132

ST STITHIANS

12

1.058

133

HTS JOHN VORSTER

6

1.050

134

PARKTOWN

11

0.973

135

GOUDVELD

6

0.967

136

HANS STRIJDOM

7

0.914

137

UPINGTON

6

0.883

138

ST CHARLES COLLEGE

9

0.811

139

LICHTENBURG

12

0.808

140

BEN VORSTER

9

0.744

141

HOOGENHOUT

8

0.738

142

ROB FERREIRA

9

0.733

143

FICHARDTPARK

8

0.650

145

BELLVILLE

11

0.645

146

BRACKENFELL

10

0.640

147

 DANIEL PIENAAR

8

0.600

148

BREDASDORP

8

0.538

149

ST ANDREWS SCHOOL

10

0.520

150

EDGEMEAD

6

0.467

151

HERMANUS

9

0.311

152

HUGENOTE SPRINGS

10

0.250

153

ST BENEDICTS

12

0.233

154

HANS MOORE

12

0.217

155

ST DAVIDS

10

0.190

156

DR MALAN

10

0.050

157

 KRUGERSDORP

9

0.033

158

HS ALBERTON

8

0.000

159

OOSTERLIG

6

-0.050

160

NOORD KAAP

9

-0.078

161

HTS BELLVILLE

6

-0.100

162

 MARAIS VILJOEN 

8

-0.150

163

PIET POTGIETER

8

-0.300

164

PIONIER

10

-0.430

165

CAMPS BAY

6

-0.567

166

FAIRMONT

6

-0.583

167

DRIEHOEK

6

-1.250

168

PAREL VALLEI

11

-1.627

169

JEUGLAND

12

-1.917

170

CAMBRIDGE

9

-2.078

171

FOURWAYS

6

-2.233
Photo: Premier Interschools