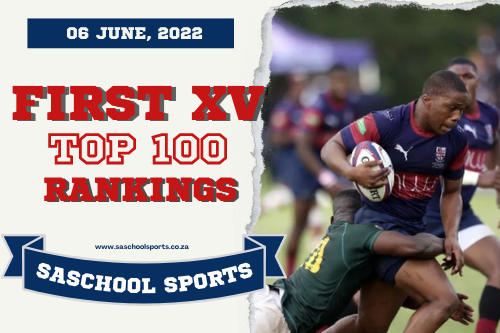 The SA School Sports First XV Ranking for this week has a familiar look to it with no real movement at the top of the table.
Hilton College was given a shock of the season by Glenwood who produced a mammoth effort to push Hilton to the brink of defeat. With a few minutes to play, Glenwood who had their hands on the victory for most to the second half, saw the opportunity to claim the win slip from their grasp. The result underscores the kind of season Glenwood has experienced in 2022, many times just falling short of the win.
Another great result came from Rondebosch who have fired a little hot and cold this season, claiming the scalp of Boishaai but then failing against others. This weekend however they switched on all the lights to record a memorable win over Paul Roos Gym which nudges them up the table.
With many teams poised to take a break to prepare for examinations and recharge the batteries, we can expect an explosive later part of the season.
Please send through your results to [email protected]
FIRST XV RANKINGS 06 JUNE, 2022

RANK

TEAM

PLAYED

AVG BONUS POINTS

1

GREY COLLEGE

12

8.783

2

PAARL GIM

11

8.764

3

AFFIES

12

8.183

4

PAARL BOYS HIGH

13

7.931

5

GARSFONTEIN

12

7.567

6

HILTON COLLEGE

11

7.427

7

BISHOPS

13

6.885

8

RONDEBOSCH

12

6.375

9

WYNBERG BH

12

6.342

10

OUTENIQUA

9

6.322

11

OAKDALE

10

6.210

12

KES

12

5.983

13

STELLENBERG

12

5.967

14

PAUL ROOS GYM

12

5.642

15

DHS

13

5.600

16

BOLAND LANDBOU

12

5.275

17

NOORDHEUWEL

15

5.227

18

GREY HIGH SCHOOL

13

5.123

19

SELBORNE COLLEGE

15

5.120

20

MICHAELHOUSE

12

5.083

21

MONUMENT

12

5.075

22

GLENWOOD

14

5.014

23

MARLOW

14

4.814

24

JEPPE

14

4.543

25

FRAMESBY

12

4.408

26

WESTVILLE

15

4.373

27

MARITZBURG COLLEGE

15

4.360

29

 HELPMEKAAR

14

4.350

30

QUEENS COLLEGE

14

4.336

31

WATERKLOOF

13

4.192

32

CHARLIE HOFMEYR

15

4.140

33

MERENSKY

13

4.138

34

VRYBURG

10

4.130

35

FLORIDA

10

4.120

36

BRANDWAG

10

4.100

37

 ELDORAIGNE

14

4.086

38

BASTION

11

4.073

39

WORCESTER GYM

12

3.983

40

PRETORIA BOYS HIGH

14

3.950

41

DIE ANKER

12

3.917

42

HTS DROSTDY

15

3.913

43

SECUNDA

11

3.909

44

 NELSPRUIT

11

3.909

45

KINGSWOOD COLLEGE

11

3.882

46

GRAEME COLLEGE

14

3.850

47

CORNWALL HILL

12

3.850

48

PEARSON

12

3.825

49

EG JANSEN

12

3.817

50

NORTHCLIFF

11

3.755

51

WITTEBERG

8

3.725

52

WOLMARANSSTAD

11

3.700

53

FRIKKIE MEYER

10

3.650

54

PIET RETIEF

7

3.643

55

MIDDELBURG HS

11

3.636

56

DIAMANTVELD

10

3.610

57

ST JOHNS COLLEGE

14

3.486

58

OVERKRUIN

7

3.471

59

 RUSTENBURG

12

3.458

60

VOORTREKKER BETH

12

3.408

61

TRANSVALIA

10

3.350

62

DF MALAN

8

3.338

63

DIE BRANDWAG

16

3.313

64

CLIFTON

10

3.260

65

KEARSNEY COLLEGE

15

3.260

66

HTS WITBANK

9

3.233

67

MONTANA PTA

12

3.158

68

LEEUWENHOF

10

3.150

69

WESVALIA

9

3.133

70

OOS MOOT

10

3.130

71

SACS

13

3.092

72

HUDSON PARK

13

3.077

73

ST ANDREWS COLLEGE

14

3.043

74

STRAND

15

3.020

75

AUGSBURG

13

3.008

76

ROBERTSON

11

2.982

77

KLERKSDORP

11

2.936

78

MELKBOSSTRAND

13

2.915

79

CURRO NELSPRUIT

7

2.914

80

PENRYN COLLEGE

10

2.910

81

MUIR

8

2.838

82

HUGENOTE WELL

7

2.814

83

WELKOM GYM

12

2.800

84

RANDBURG

11

2.773

85

SENTRAAL

12

2.733

86

DURBANVILLE

16

2.725

87

NORTHWOOD

15

2.713

88

MIDSTREAM

10

2.690

89

DINAMIKA

12

2.617

90

UNION HS

9

2.611

91

OVERBERG

8

2.575

92

 NICO MALAN

12

2.558

93

DALE COLLEGE

9

2.544

94

ERMELO

12

2.450

95

PORTERVILLE

12

2.308

96

ST ALBANS COLLEGE

8

2.300

97

HOPEFIELD

11

2.273

98

BRITS

10

2.230

99

OTTO DU PLESSIS

12

2.200

100

BEN VILJOEN

7

2.129

101

STIRLING

7

2.114

102

SWARTLAND

9

2.111

103

LABORI

12

2.108

104

HEIDELBERG VOLKIES

9

2.044

105

HTS MIDDELBURG

12

1.975

106

HOTTENTOTS HOLLAND

9

1.956

107

DUINEVELD

7

1.900

108

HERONBRIDGE

13

1.885

109

EMPANGENI

10

1.870

110

PIKETBERG

10

1.740

111

CURRO HILLCREST

10

1.700

112

LANDBOUDAL

13

1.692

113

SCHOONSPRUIT SEC

9

1.678

114

BERGSIG

10

1.670

115

LANGENHOVEN GIM

9

1.656

116

ST CHARLES COLLEGE

10

1.644

117

MENLOPARK

11

1.636

118

ELLISRAS

11

1.609

119

VOLKSKOOL

7

1.586

120

STANDERTON

11

1.582

121

WINTERBERG

8

1.575

122

POTCH GIM

8

1.500

123

PIETERSBURG

8

1.500

124

WESTERING

9

1.489

125

KEMPTON PARK

11

1.482

126

CENTURION

11

1.327

127

TOM NAUDE

12

1.158

128

TRIO

10

1.140

129

HANS STRIJDOM

8

1.088

130

PARKTOWN

11

0.973

131

PIONIER

11

0.864

132

BRACKENFELL

11

0.827

133

LICHTENBURG

12

0.808

134

BEN VORSTER

9

0.744

135

HOOGENHOUT

8

0.738

136

ROB FERREIRA

9

0.733

137

FICHARDTPARK

8

0.650

138

BELLVILLE

11

0.645

139

ST STITHIANS

13

0.554

140

BREDASDORP

8

0.538

141

ST ANDREWS SCHOOL

10

0.520

142

HUGENOTE SPRINGS

11

0.436

143

ST DAVIDS

11

0.409

145

ST BENEDICTS

13

0.377

146

HERMANUS

9

0.311

147

 KRUGERSDORP

10

0.280

148

 DANIEL PIENAAR

9

0.256

149

HANS MOORE

12

0.217

150

DR MALAN

10

0.050

151

HS ALBERTON

8

0.000

152

ZWARTKOP

13

-0.038

153

NOORD KAAP

9

-0.078

154

 MARAIS VILJOEN 

8

-0.150

155

PIET POTGIETER

10

-1.050

156

PAREL VALLEI

12

-1.317

157

DRIEHOEK

7

-1.414

158

JEUGLAND

12

-1.917

159

CAMBRIDGE

10

-2.000
PHOTO: WBHS PHotography