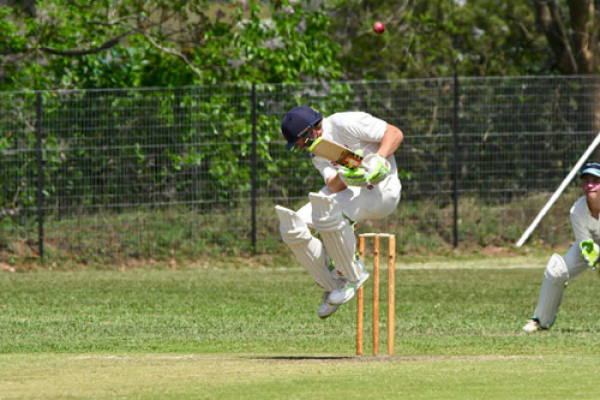 Another crunching win over the weekend by Hilton College over DHS helps to keep the KZN midlands team rock solid at the helm of this week's First XI Top 60 Rankings.
However a quick look at the top ten reveals that matters have tightened up considerably with Rondebosch, KES, Grey High , Maritzburg College and Jeppe all recording wins last week.
Maritzburg College are putting in some top performances recently and took care of a useful Michaelhouse side with a six wicket win which nudges them ever closer to a top five finish.
Grey High School promoted one of their U15 players, George van Heerden, to make his debut for the first team and showed that he can live at this level with a well struck 85 runs against a handy Woodridge College side. Grey HS now inch upwards in a very congested top end of the table.
Bryce Parsons was once again in the runs with a stunning 124 runs for KES in their big win over Pretoria Boys High and Connor Esterhuizen also reached three figures for St John's College in their victory over Helpmekaar.
Please continue to send through your First XI Results to [email protected]
FIRST XI CRICKET RANKINGS 5 November, 2018

RANK

TEAM

PLAYED

AVG BONUS POINTS

1

HILTON COLLEGE

28

10.45

2

RONDEBOSCH

47

10.04

3

KES

32

9.06

4

GREY HIGH SCHOOL

34

8.52

5

GREY COLLEGE

30

8.48

6

MARITIZBURG COLLEGE

19

8.41

7

JEPPE

22

8.39

8

ST ANDREWS SCHOOL

29

7.96

9

AFFIES

29

7.64

10

SELBORNE COLLEGE

25

7.60

11

MENLOPARK

27

7.55

12

CLIFTON

26

7.43

13

WATERKLOOF

39

7.29

14

SACS

32

7.26

15

ST STITHIANS

34

6.79

16

PAUL ROOS GYM

35

6.67

17

PRETORIA BOYS HIGH

29

6.63

18

KEARSNEY COLLEGE

23

6.61

19

NOORDHEUWEL

34

6.49

20

WOODRIDGE

13

6.39

21

ST BENEDICTS

18

6.22

22

PAARL GIM

24

6.15

23

CENTURION

24

6.13

24

MICHAELHOUSE

19

6.06

25

ST ANDREWS COLLEGE

24

5.93

26

WYNBERG

38

5.82

27

POTCH VOLKIES

27

5.77

28

NORTHWOOD

30

5.74

29

ST CHARLES COLLEGE

19

5.68

30

GLENWOOD

26

5.68

31

ST DAVIDS

23

5.63

32

NELSPRUIT

14

5.63

33

HANS MOORE

36

5.49

34

MARAIS VILJOEN

35

5.44

35

GARSFONTEIN

16

5.36

36

ST JOHNS COLLEGE

24

5.35

37

HUDSON PARK

24

5.30

38

GRAEME COLLEGE

25

5.22

39

ST ALBANS COLLEGE

36

5.06

40

BISHOPS

36

4.90

41

PAARL BOYS HIGH

19

4.82

42

MONUMENT

23

4.79

43

PIETERSBURG

10

4.75

44

WESTVILLE

24

4.27

45

RUSTENBURG

18

4.12

46

PINELANDS

9

4.07

47

MONTANA

19

3.94

48

PEARSON

12

3.88

49

MIDSTREAM

9

3.73

50

HELPMEKAAR

18

3.73

51

KINGSWOOD

10

3.67

52

SOMERSET COLLEGE

15

3.58

53

OOS MOOT

8

3.55

54

FRAMESBY

14

3.31

55

CAMBRIDGE

20

3.28

56

DHS

16

3.15

57

BEN VORSTER

10

3.11

58

QUEENS COLLEGE

10

2.93

59

BOLAND LANDBOU

10

2.79

60

NORTHCLIFF

9

2.68

61

UPLANDS

9

2.64

62

DALE COLLEGE

6

2.62

63

DINAMIKA

10

1.35

64

NOORD KAAP

14

1.09

65

TRINITY HOUSE

6

0.82

66

PARKTOWN

7

0.74