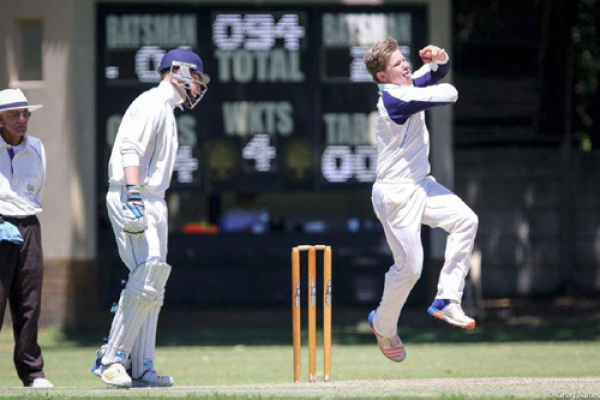 KES put in a huge performance against Affies to close the gap on the leading teams and the Johannesburg team will be hoping for a strong finish to the season and maybe finish as the top team on this year's First XI Top 60 Rankings.
However we are still looking at Hilton College at the number one spot for this week although they were hardly tested in their two soft victories during the past week.
The big shock for some came with Rondebosch having to settle for second place against SACS who put in a big show to humble their neighbours by 6 wickets. Thanks in part to a well struck 73 by Ethan Burger, SACS managed to reach the modest total set by Rondebosch and move up to the top 10 zone for this week.
Grey College notched up another win on the road when they relied heavily on Juan Dee Oliver who struck a fine 87 runs to set up a convincing win over Northwood.
Maritzburg College are playing some exciting cricket in recent times and recorded another win over Westville which is their 5th win on the trot.
Please send through your team's First XI results to [email protected]
FIRST XI CRICKET RANKINGS 30 October, 2018

RANK

TEAM

PLAYED

AVG BONUS POINTS

1

HILTON COLLEGE

26

10.30

2

RONDEBOSCH

46

10.10

3

KES

30

9.08

4

GREY COLLEGE

30

8.48

5

GREY HIGH SCHOOL

33

8.46

6

MARITIZBURG COLLEGE

18

8.12

7

JEPPE

20

8.11

8

ST ANDREWS SCHOOL

29

7.96

9

MENLOPARK

27

7.55

10

SACS

31

7.46

11

AFFIES

28

7.44

12

SELBORNE COLLEGE

22

7.28

13

WATERKLOOF

38

7.21

14

CLIFTON

24

6.97

15

KEARSNEY COLLEGE

22

6.86

16

ST STITHIANS

32

6.84

17

PRETORIA BOYS HIGH

28

6.83

18

PAUL ROOS GYM

35

6.67

19

ST BENEDICTS

17

6.55

20

MICHAELHOUSE

18

6.34

21

PAARL GIM

24

6.15

22

NOORDHEUWEL

32

6.13

23

CENTURION

24

6.13

24

POTCH VOLKIES

26

5.96

25

NORTHWOOD

29

5.91

26

WOODRIDGE

12

5.82

27

GLENWOOD

26

5.68

28

ST DAVIDS

21

5.68

29

ST ANDREWS COLLEGE

23

5.67

30

HANS MOORE

35

5.64

31

NELSPRUIT

14

5.63

32

WYNBERG

37

5.61

33

HUDSON PARK

23

5.50

34

MARAIS VILJOEN

34

5.41

35

GARSFONTEIN

15

5.40

36

GRAEME COLLEGE

25

5.22

37

ST CHARLES COLLEGE

18

5.09

38

ST ALBANS COLLEGE

36

5.06

39

MONUMENT

22

4.98

40

ST JOHNS COLLEGE

23

4.94

41

BISHOPS

36

4.90

42

PAARL BOYS HIGH

19

4.82

43

PIETERSBURG

10

4.75

44

WESTVILLE

24

4.27

45

RUSTENBURG

18

4.12

46

PINELANDS

9

4.07

47

KINGSWOOD

9

3.97

48

MONTANA

19

3.94

49

HELPMEKAAR

17

3.89

50

PEARSON

12

3.88

51

MIDSTREAM

9

3.73

52

SOMERSET COLLEGE

15

3.58

53

OOS MOOT

8

3.55

54

FRAMESBY

14

3.31

55

CAMBRIDGE

20

3.28

56

DAN PIENAAR

4

3.18

57

BEN VORSTER

10

3.11

58

BOLAND LANDBOU

9

2.98

59

STIRLING HS

4

2.88

60

DHS

14

2.77

61

NORTHCLIFF

9

2.68

62

UPLANDS

9

2.64

63

QUEENS COLLEGE

8

1.70

64

DINAMIKA

10

1.35

65

NOORD KAAP

14

1.09

66

PARKTOWN

6

0.72