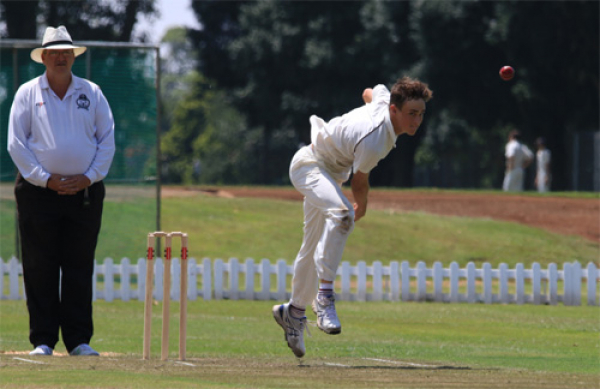 After a busy few weeks which has seen many of the leading teams in action, we are looking at a very tightly bunched top half of the table with Rondebosch fractionally ahead of SACS, Grey HS and Hilton College.
Last week Affies enjoyed a close win over Jeppe with Jaco Beneke in good form as he formed the backbone of the Pretorian's batting line-up with an unbeaten 69 runs.
Bishops were too good for Paul Roos Gym and Hilton College dished out a drubbing to Clifton thanks to Nicholas Hatton and Slade-Lee van Staden who both went to three figures, 118 and 129 respectably.
Other notable performances came from Kearsney's Cade Carmichael who fell just short of a century in his team's win over Glenwood. Matthew Murray (4/26) and Jared Brien (4/28) for Kearsney also were sublime with the ball and played a pivotal role in the victory.
Northwood continue their resurgence with their second consecutive win over Maritzburg College in the 50 over format and move up the table after struggling to get over the line in the first term matches. Ali Hamid fell desperately short of his ton but helped to post a total that was just out of Maritzburg College's reach.
Liam Moster scored a fine century (112) for St Stithians in their win over St Davids Inanda and was ably supported by Billy van Zyl who finished on 91 not out.
There are still several key results outstanding so please send through your teams results to [email protected]
FIRST XI CRICKET RANKINGS 15 October, 2019

RANK

TEAM

PLAYED

AVG BONUS POINTS

1

RONDEBOSCH

31

9.65

2

SACS

26

9.61

3

GREY HIGH SCHOOL

28

9.40

4

HILTON COLLEGE

19

9.19

5

ST STITHIANS

37

9.02

6

ST ANDREWS COLLEGE

31

8.92

7

KES

17

8.50

8

JEPPE

16

8.49

9

GREY COLLEGE

26

8.42

10

PRETORIA BOYS HIGH

26

8.02

11

PAARL GIM

17

7.97

12

MARITIZBURG COLLEGE

20

7.84

13

BISHOPS

22

7.65

14

WESTVILLE

23

7.59

15

KINGSWOOD

13

7.52

16

ST JOHNS COLLEGE

23

7.36

17

ST CHARLES COLLEGE

30

7.30

18

ST ANDREWS SCHOOL

17

7.15

19

NOORDHEUWEL

18

7.14

20

MENLOPARK

14

7.06

21

PAUL ROOS GYM

21

7.01

22

AFFIES

21

6.93

23

WYNBERG

21

6.68

24

MICHAELHOUSE

19

6.62

25

GLENWOOD

19

6.60

26

SELBORNE COLLEGE

23

6.53

27

KEARSNEY COLLEGE

15

6.51

28

CENTURION

17

6.46

29

HELPMEKAAR

14

6.44

30

WATERKLOOF

29

6.09

31

GRAEME COLLEGE

21

6.05

32

HANS MOORE

9

5.78

33

NORTHWOOD

28

5.74

34

HUDSON PARK

36

5.65

35

GARSFONTEIN

9

5.51

36

PAARL BOYS HIGH

17

5.50

37

QUEENS COLLEGE

19

5.39

38

NELSPRUIT

13

5.18

39

DHS

14

5.12

40

MARAIS VILJOEN

22

5.07

41

FRAMESBY

20

4.98

42

ST DAVIDS

17

4.92

43

SOMERSET COLLEGE

13

4.88

44

DALE COLLEGE

16

4.81

45

PEARSON

29

4.81

46

MIDSTREAM

19

4.26

47

CURRO DURBANVILLE

13

4.13

48

ST ALBANS COLLEGE

17

4.12

49

CLIFTON

19

4.12

50

MONTANA

9

4.01

51

POTCH VOLKIES

19

3.97

52

MONUMENT

9

3.77

53

RUSTENBURG

8

3.75

54

MUIR

12

3.74

55

ST BENEDICTS

9

3.66

56

CAMBRIDGE

22

3.52

57

STELLENBERG

9

3.41

58

THOMAS MORE

9

3.33

59

DURBANVILLE

9

3.02

60

STIRLING HS

10

2.90