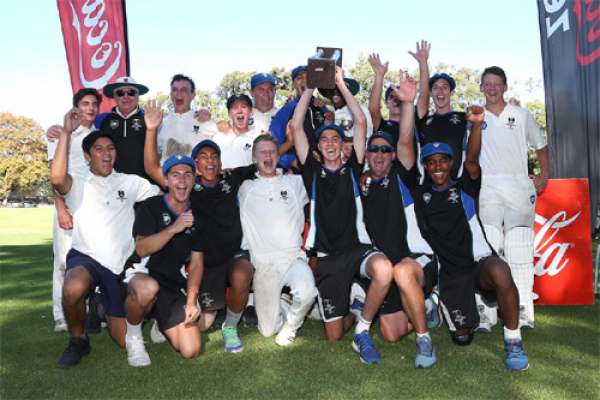 In a season that has seen several twists and turns at the top half of the rankings table the final standings are out with SACS ending the year as the No.1 team in the country.
Several teams held the top spot during the year with Hilton College, Rondebosch and Grey High all enjoying life at the helm at some stage, yet it was SACS who plugged away and capped off their season with a 6 wicket win over Wynberg that tipped the scales in their favour. Rondebosch who had held the leading position narrowly going into last week's matches fell at the final hurdle when they went down in a surprise defeat to Bishops which ultimately has cost them the top position.
Naturally there will be some who disagree which comes with the territory when producing a rankings equation that does not take sentiment or emotion into account but stays true to including vital factors in the equation.
By all account the young SACS team will be a force in 2020 and we look forward to seeing if they are up to defending their status as the top team in SA.
Please send your 2020 result to [email protected]
FIRST XI CRICKET RANKINGS 14 November, 2019

RANK

TEAM

PLAYED

AVG BONUS POINTS

1

SACS

30

9.42

2

HILTON COLLEGE

20

9.35

3

RONDEBOSCH

34

9.23

4

GREY HIGH SCHOOL

33

9.18

5

ST STITHIANS

38

8.82

6

JEPPE

18

8.79

7

KES

20

8.76

8

ST ANDREWS COLLEGE

33

8.72

9

GREY COLLEGE

28

8.34

10

PAARL GIM

18

8.12

11

PRETORIA BOYS HIGH

27

7.99

12

MARITIZBURG COLLEGE

20

7.87

13

ST CHARLES COLLEGE

32

7.56

14

WESTVILLE

25

7.55

15

BISHOPS

25

7.50

16

AFFIES

24

7.29

17

ST JOHNS COLLEGE

24

7.29

18

ST ANDREWS SCHOOL

17

7.15

19

NOORDHEUWEL

18

7.14

20

PAUL ROOS GYM

22

7.03

21

MENLOPARK

16

6.93

22

WYNBERG

25

6.90

23

KEARSNEY COLLEGE

18

6.67

24

SELBORNE COLLEGE

25

6.62

25

MICHAELHOUSE

20

6.53

26

HELPMEKAAR

17

6.49

27

CENTURION

17

6.46

28

GLENWOOD

22

6.39

29

WATERKLOOF

34

6.28

30

KINGSWOOD

14

6.13

31

NORTHWOOD

31

5.87

32

HANS MOORE

12

5.85

33

GRAEME COLLEGE

23

5.80

34

HUDSON PARK

37

5.61

35

GARSFONTEIN

10

5.51

36

PAARL BOYS HIGH

17

5.50

37

QUEENS COLLEGE

20

5.37

38

FRAMESBY

24

5.32

39

MARAIS VILJOEN

24

5.26

40

DHS

16

4.83

41

NELSPRUIT

14

4.82

42

DALE COLLEGE

16

4.81

43

CURRO DURBANVILLE

20

4.81

44

PEARSON

29

4.81

45

ST DAVIDS

21

4.63

46

SOMERSET COLLEGE

14

4.56

47

POTCH VOLKIES

21

4.43

48

MIDSTREAM

19

4.26

49

PINELANDS

8

4.25

50

ST ALBANS COLLEGE

17

4.12

51

CLIFTON

20

3.95

52

THOMAS MORE

11

3.84

53

MUIR

12

3.74

54

ST BENEDICTS

9

3.66

55

MONTANA

10

3.62

56

RUSTENBURG

9

3.56

57

STELLENBERG

11

3.49

58

MONUMENT

10

3.41

59

CAMBRIDGE

24

3.38

60

STIRLING HS

10

2.90

61

NORTHCLIFF

8

2.88

62

DURBANVILLE

10

2.82